Challenges
turning the low-quality and not user-centered first iteration of the product with unclear structure and crashed user flows into a customer-oriented product with fluid design;
alongside the client, establish their brand vision, and tone of voice, as well as define competitors and audience landscape before designing a website;
come up with and validate core design and functionality ideas with minimal client involvement; 
automate and optimize obsolete and time-consuming offline signing contract processes with a wide range of attributes;
create design not only for the client's software according to different user roles but also work on developing the corresponding visual structure and design of their marketing website.
Results
conducted a brand sprint workshop with stakeholders to align around the company's values, goals, and vision;
fully developed a powerful and concrete visual identity for the client's brand and created a stunning product and website design based on it;
made informational architecture that allowed us to validate technical restrictions and opportunities with the developers' team at the early stage;
performed a UX audit of existing iteration of service;
dove into the offline site acquisition process for delivering better results;
early stage validation without mockups to avoid mistakes in further stages and save time and client spending for designing;
created a task management module with a wide template library and the ability to create complex multi-stage roadmaps to save time for setting up new projects and facilitate their management.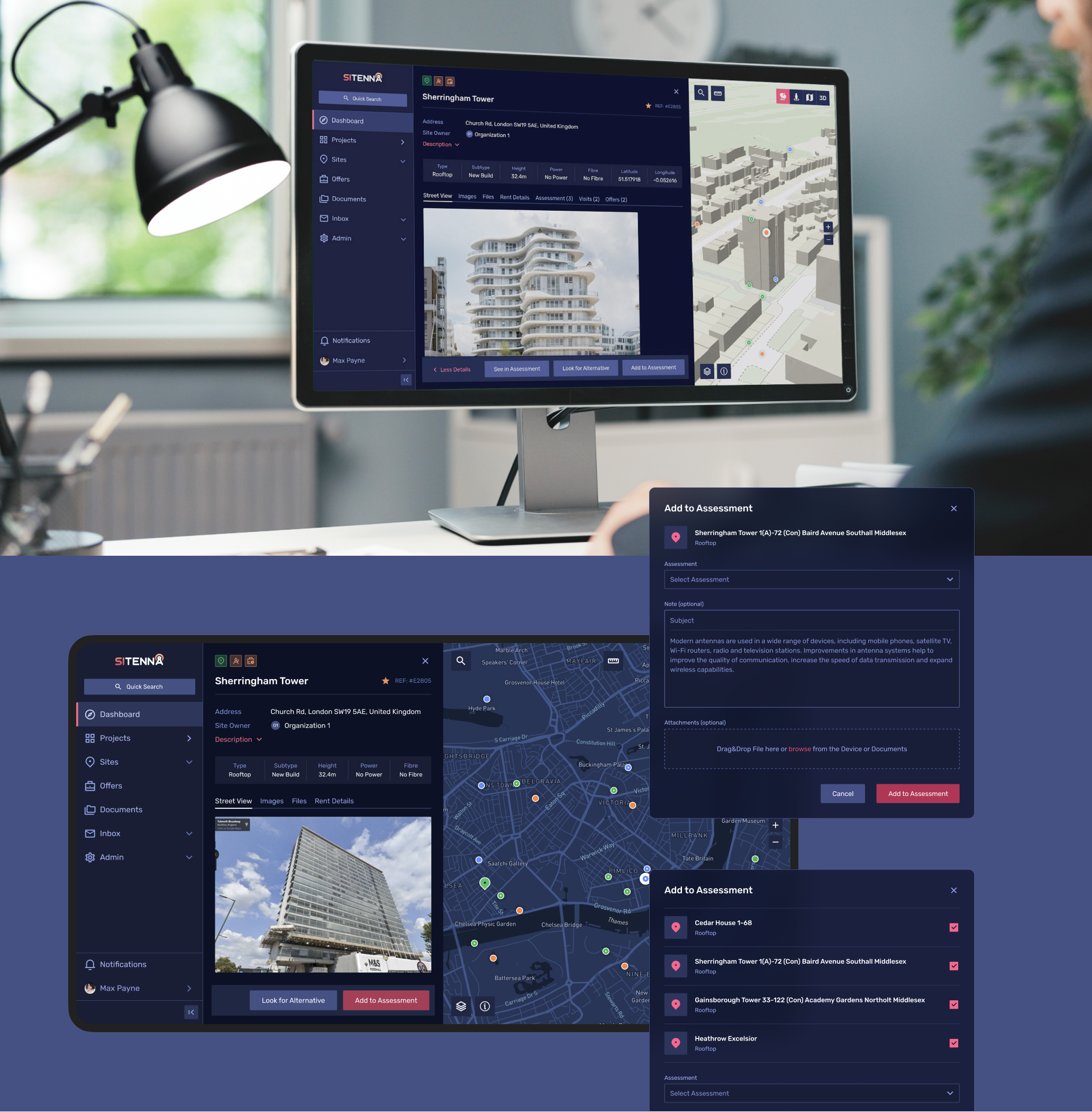 Fundamentally different approach
.
Unlike our competitors, Cieden's designers work closely with business analysts and are knowledgeable in the approaches and work methods of the business analysis themselves. Therefore, their exceptional expertise enables them to focus on delivering well-matching, appealing, and intuitive designs based on the best industry practices that fit the client's needs and requirements.
Main focus of our UX/UI design 
Taking into account the outcomes of our brand sprint as well as deep user needs research and analysis of the competitive environment, we were emphasizing the following work aspects:
solving the end user's problems as well as helping the company in attaining its business goals through effective and engaging product design;

highlighting the brand's visual identity while demonstrating the software functionality and conveying their innovative yet unconventional business approach;

building a comprehensive design system to enable the client easily scale up their product based on their current business needs;

implementing the best practices of the Lean design approach while focusing on user experiences, and making sure the design adds value and meets the fundamental business objectives;

establishing a strong brand personality while making their visual identity coherent and consistent throughout different communication channels: from a website and their marketing materials to the product design itself.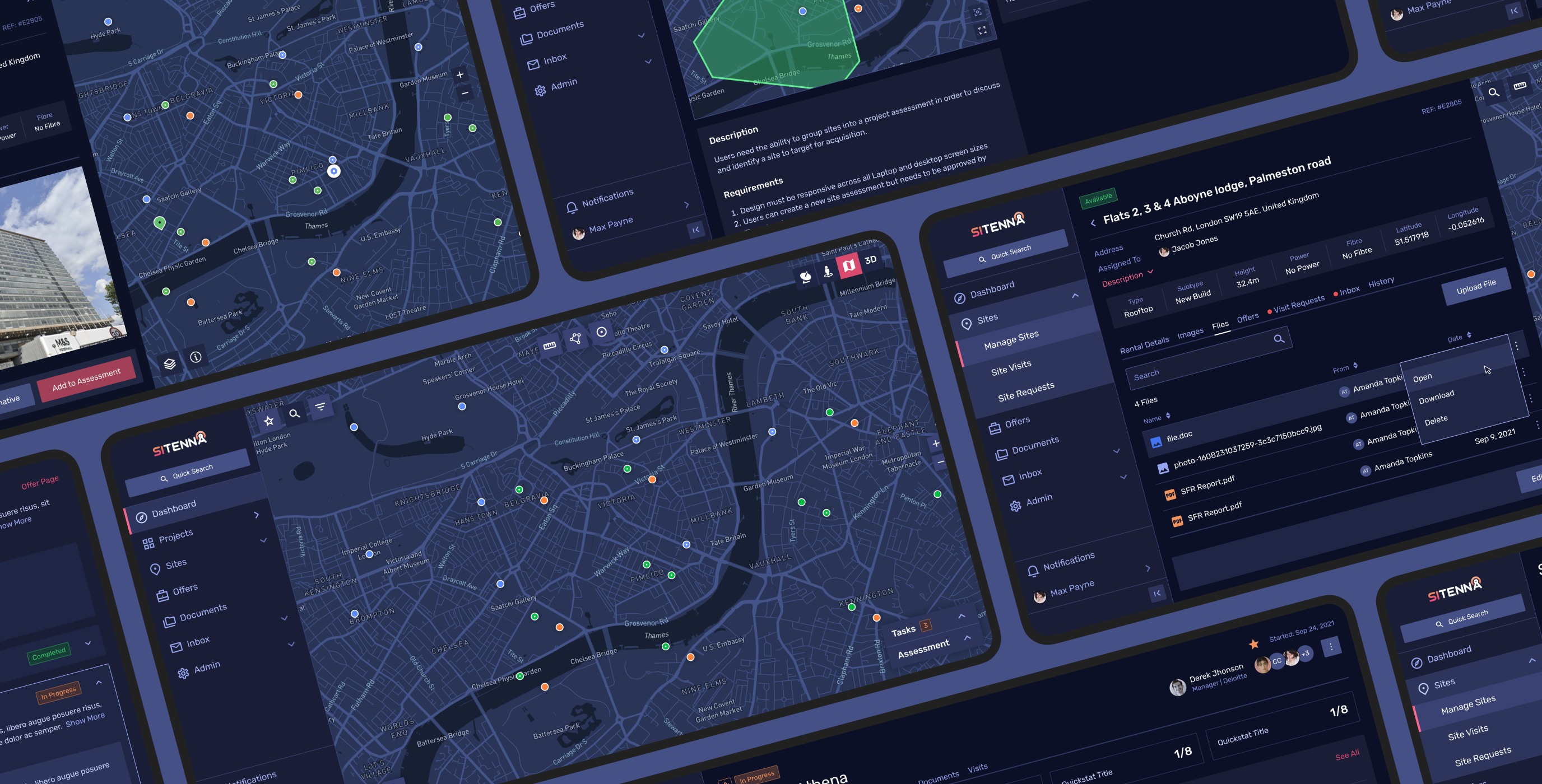 Most of the competitors required the adjustment of business processes to fit the software capabilities.
Project environment 
Every user aka mobile network operator has a full-scale project environment to work with landlords and move through the site acquisition process. No matter how many projects a user has — administering them is very smooth and effortless. They can search for sites in a selected zone or radius and send requests to start acquiring the relevant ones, view and accept proposals, perform site assessments, schedule visits, and so much more.
In-built task management
A suitable task management feature facilitates and automates daily workflows. There is no need to use external project management services as everything a user needs for effective work is already built in Sitenna. It takes only a few clicks to create a task and set deadlines, priorities, and statuses. Tracking the task progress and completion has never been easier. In addition, it's possible to attach any documents related to a certain task for better convenience. And to save time even more, a user can select multiple tasks and make changes to all of them at once.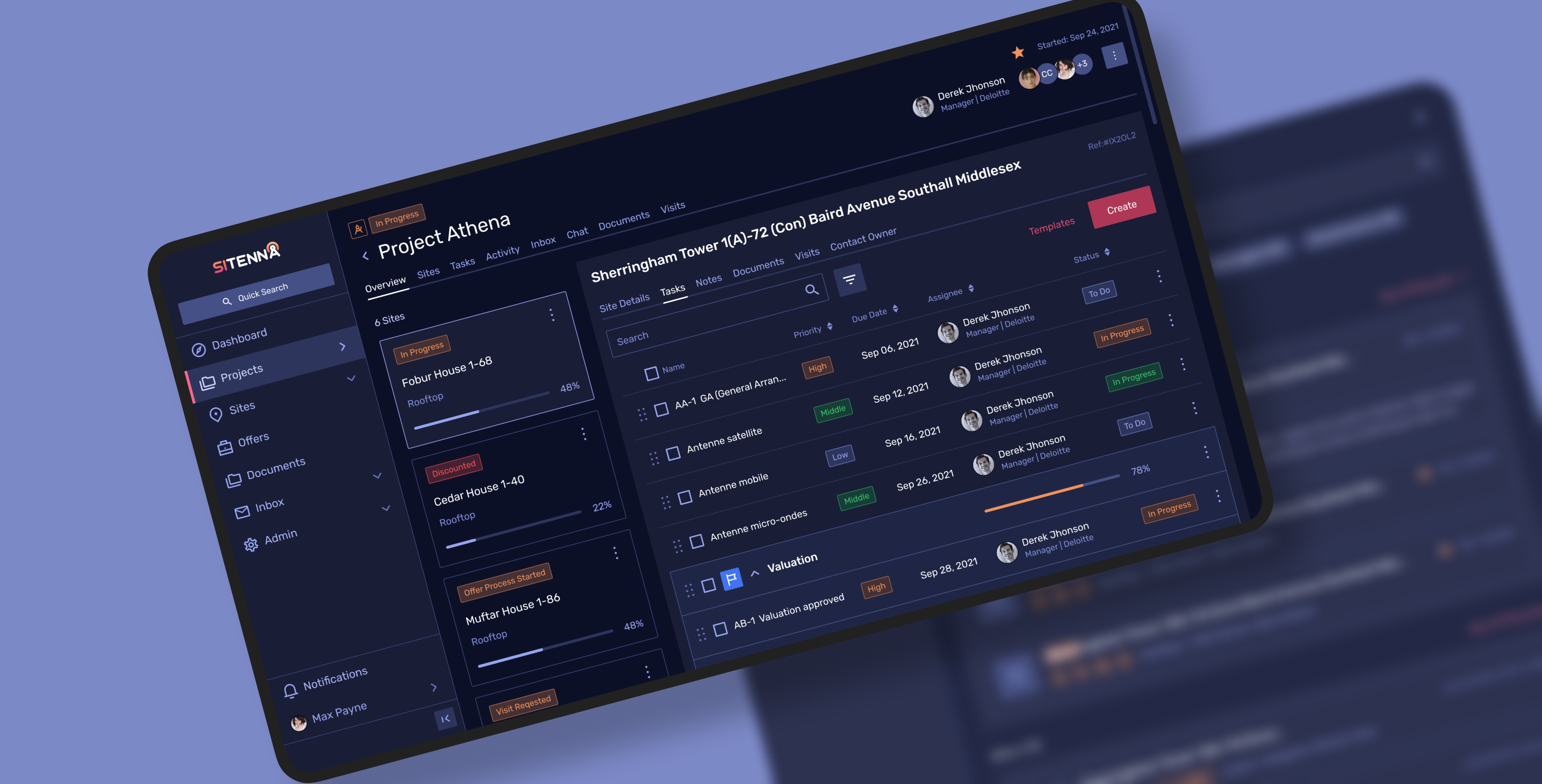 Handy offer management 
Our team dedicated a lot of time and effort to creating the powerful and most importantly automated offer management feature. As signing all site acquisition offers involved plenty of time-consuming paperwork and manual tasks, we made it possible to create, edit, and manage offers inside of Sitenna's system. From now on, the process of offer management is digitized, quick, and straightforward.

Other features available for users include assigning offers; viewing their status, details, and full site characteristics; exchanging offers with site sellers; and signing agreement documents to finalize the site rental with 0 paperwork or phone calls needed.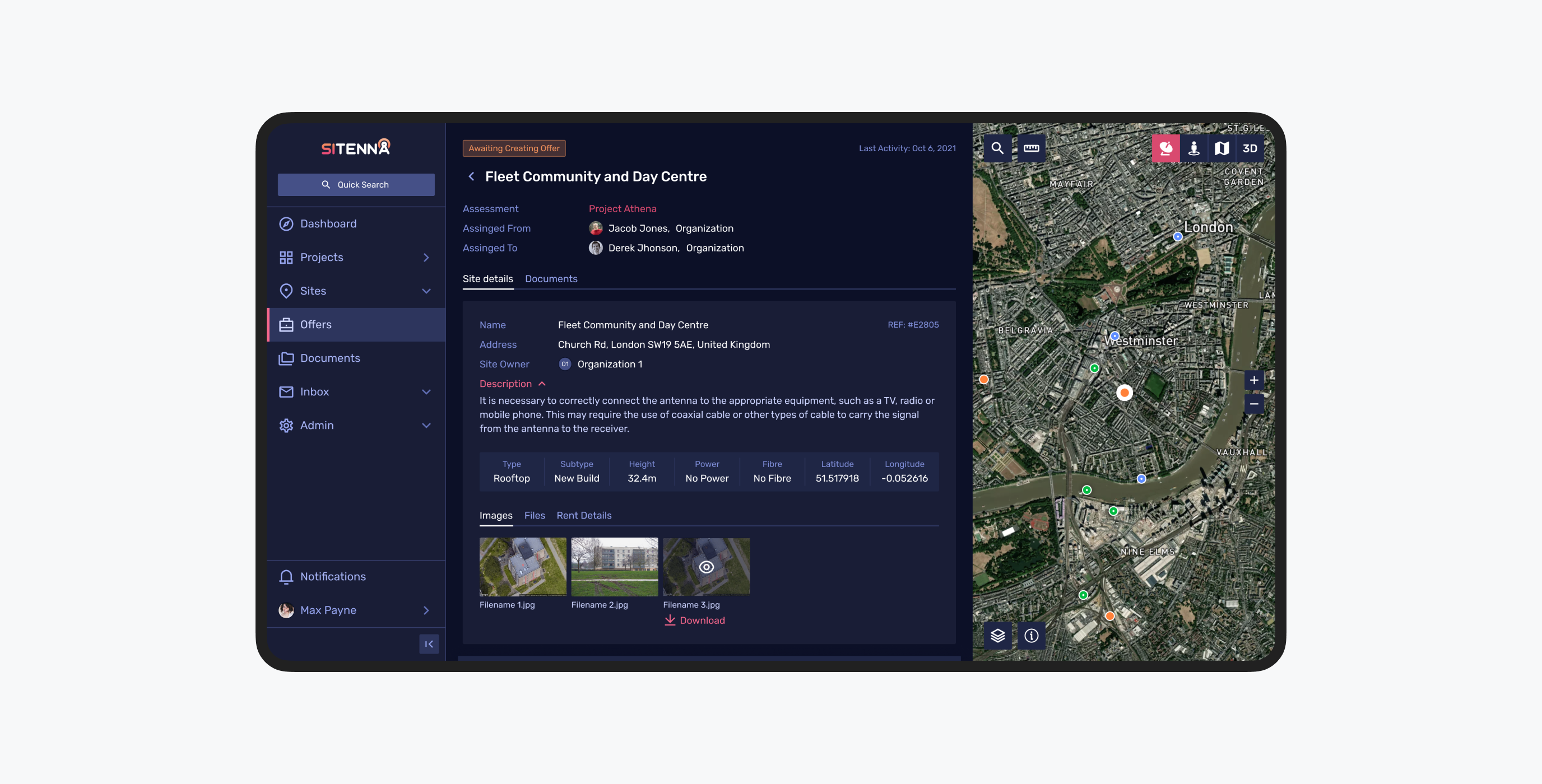 Automated communication through forms
Sitenna's forms are a new unconventional way to automate workflows and communication between mobile network operators and landlords. As the major idea of the product is to significantly save the time needed for site acquisition, forms can automate the offer process and grant quick communication between parties. Instead of writing individual messages to each site landlord, it's possible to create form templates with the request for certain site details and information to streamline the process of scheduling site visits and signing final offers. All the information can be easily gathered and stored in the document repository.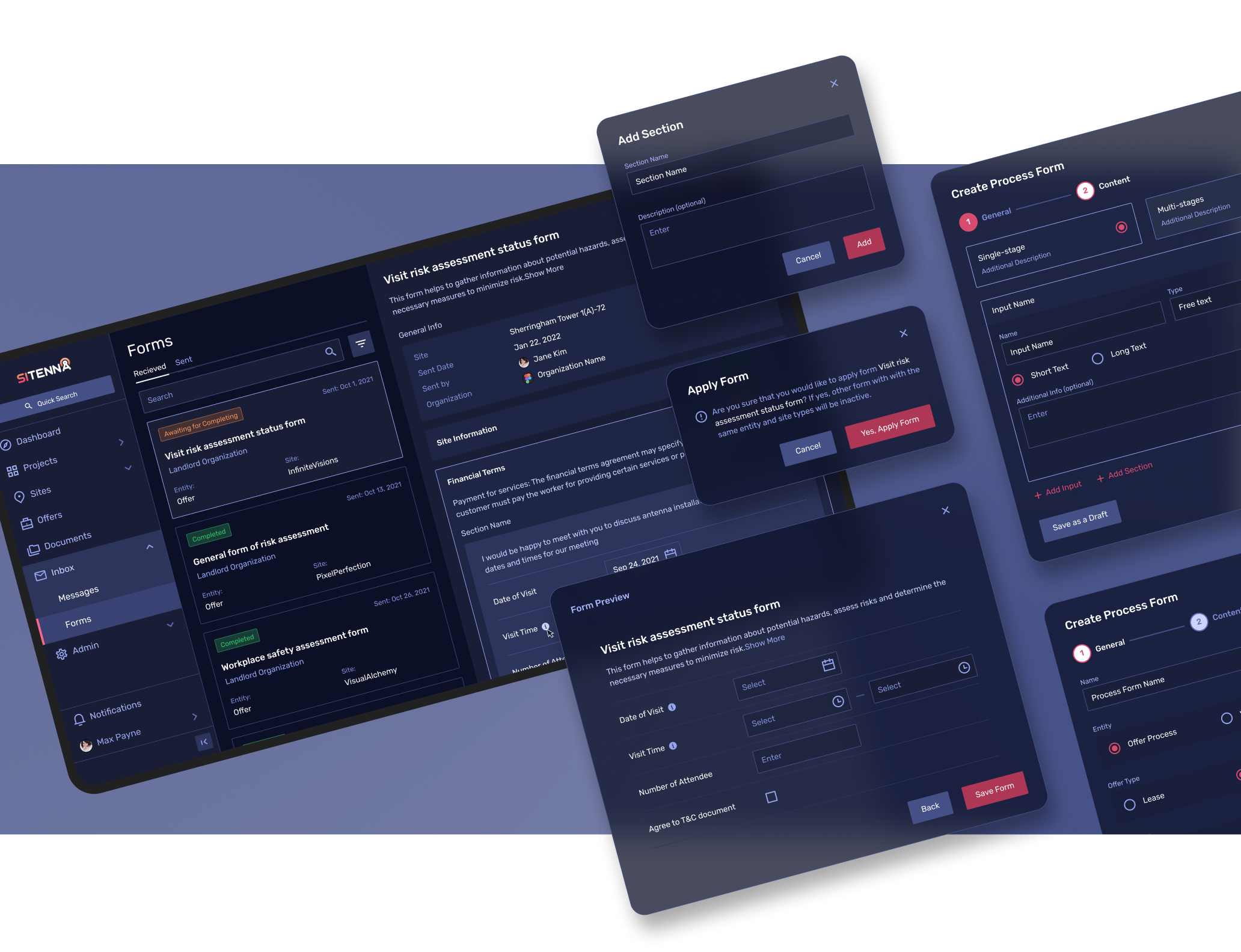 Efficient document management
With the file repository, users across roles can get the most out of a convenient document repository to safely store and manage documents, files, images, and reports inside Sitenna's system with no need to use an external storage system. It's possible to create folders, mark files as favorites for quick and easy search as well as manage people's access to any of the files.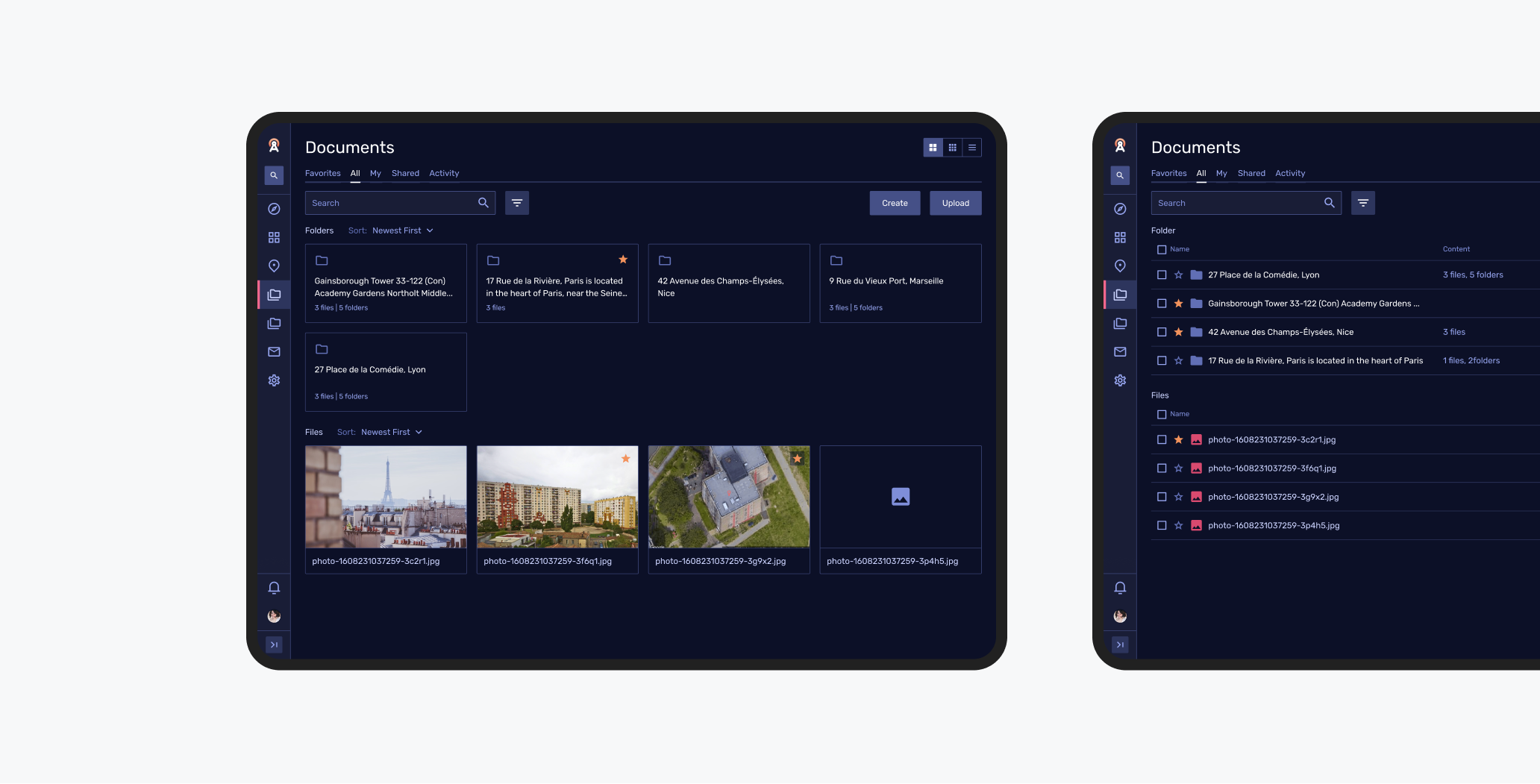 Interactive dashboard
The intuitive and feature-rich dashboard simplifies all the workflows and offers a multidimensional site view. Here, the user can set up convenient filters based on different inputs like location, rental price, search area, distance, etc. to simplify the search. The map allows customers to view sites in the selected area, add favorites not to lose the most matching options as well as tag them to see their status, and skim through the lists more easily and faster.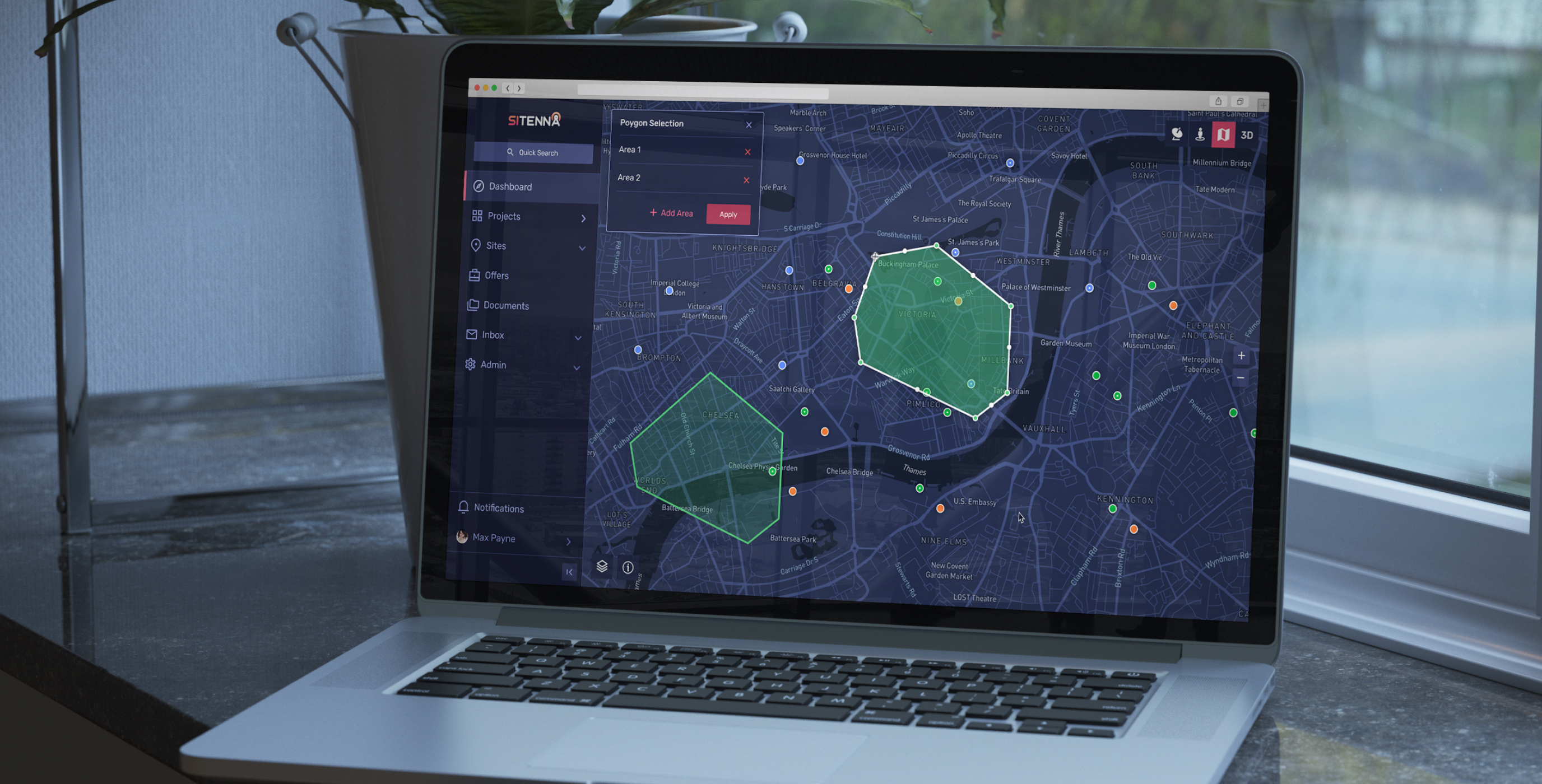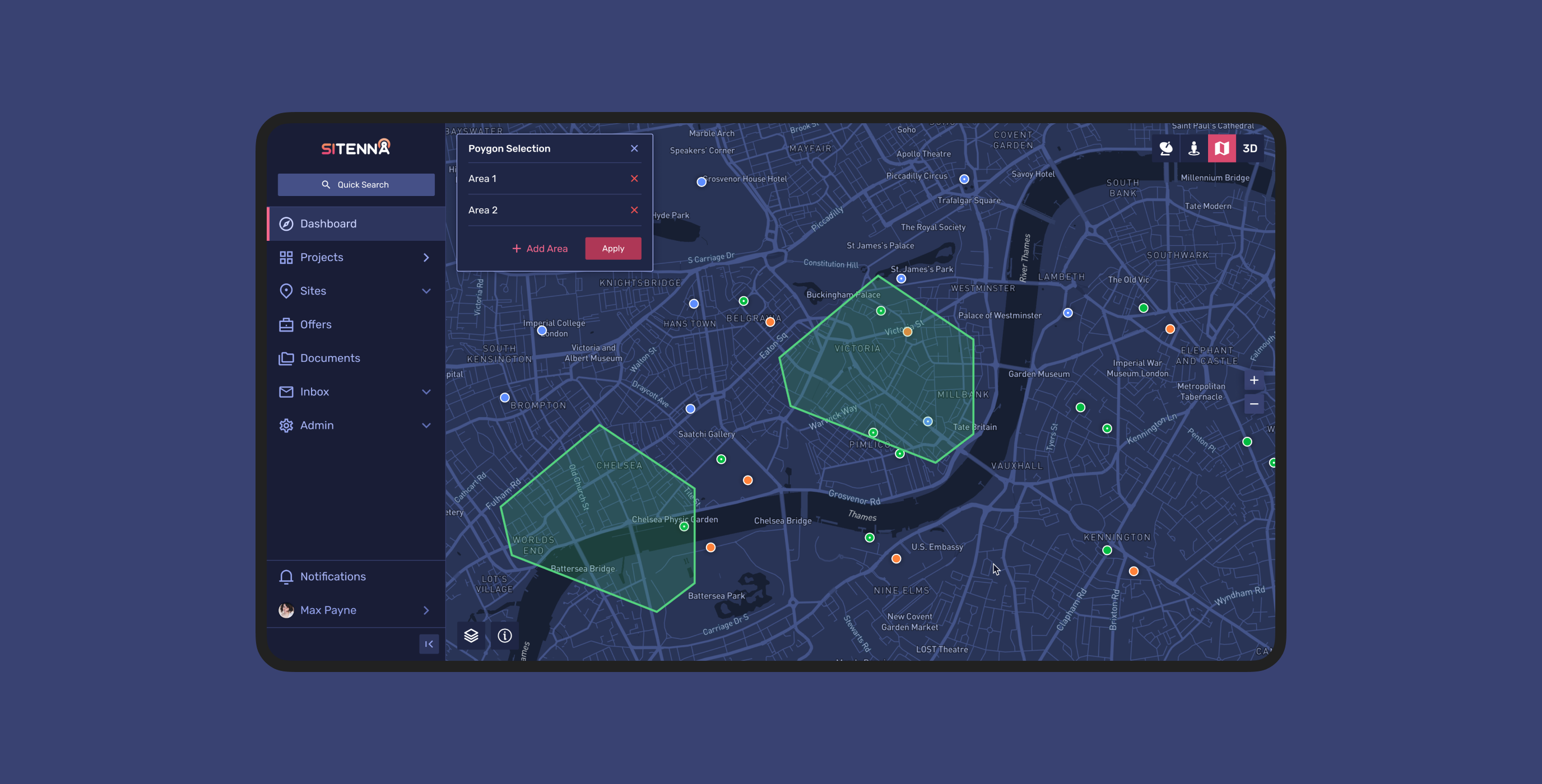 Site management for landlords
Not only mobile network operators can benefit from an extensive range of software perks. Landlords can also appreciate the same functionality and some extra features that enable them to automate the process of their site visits. Moreover, our team designed a cutting-edge feature "Ratecards" that makes it possible for landlords to effortlessly manage rent information, customize pricing options for the site offers, and extra services. The product allows filtering rate cards based on the landlord's needs as well as automatically changing the rates for selected cards in bulk to significantly reduce time spent.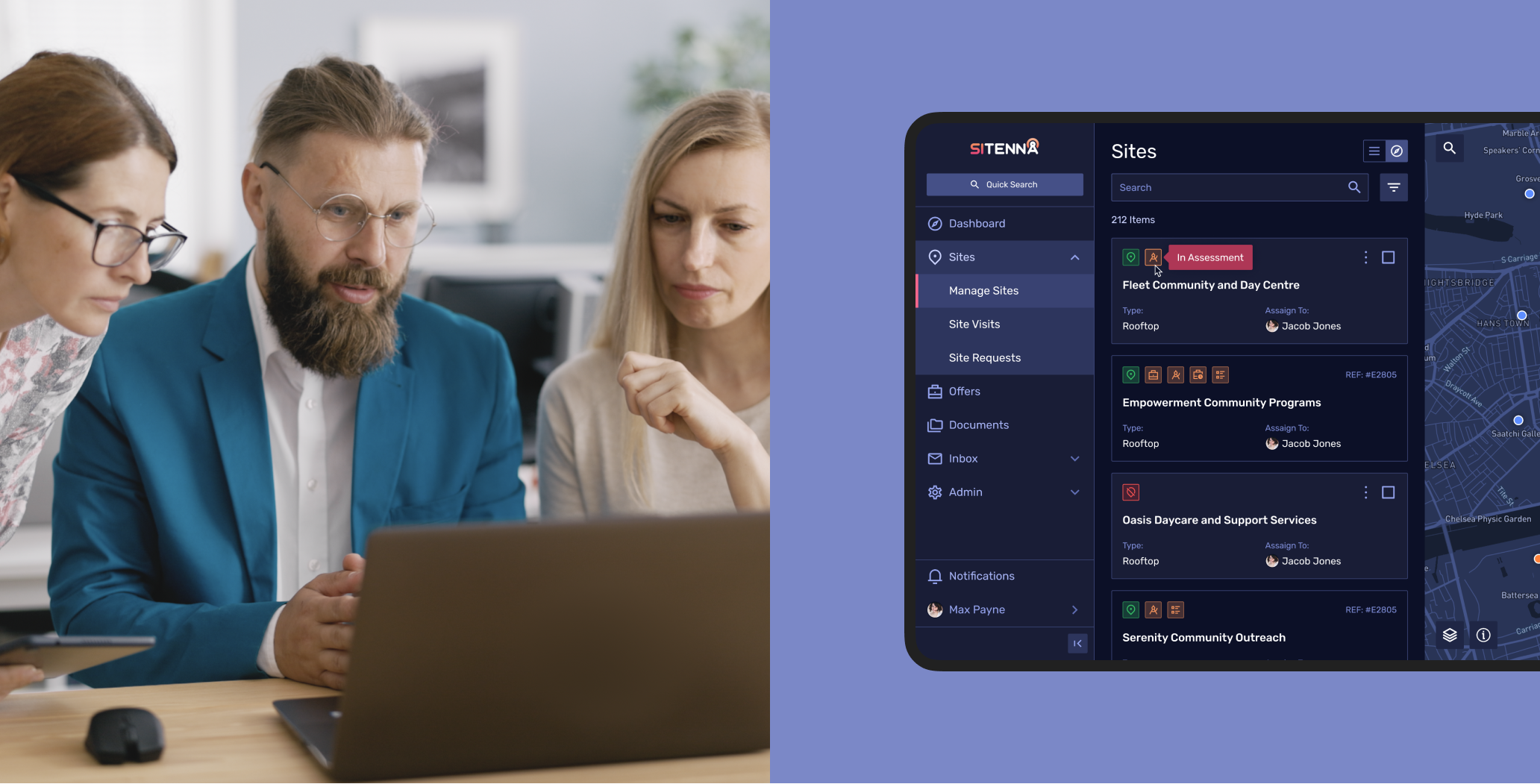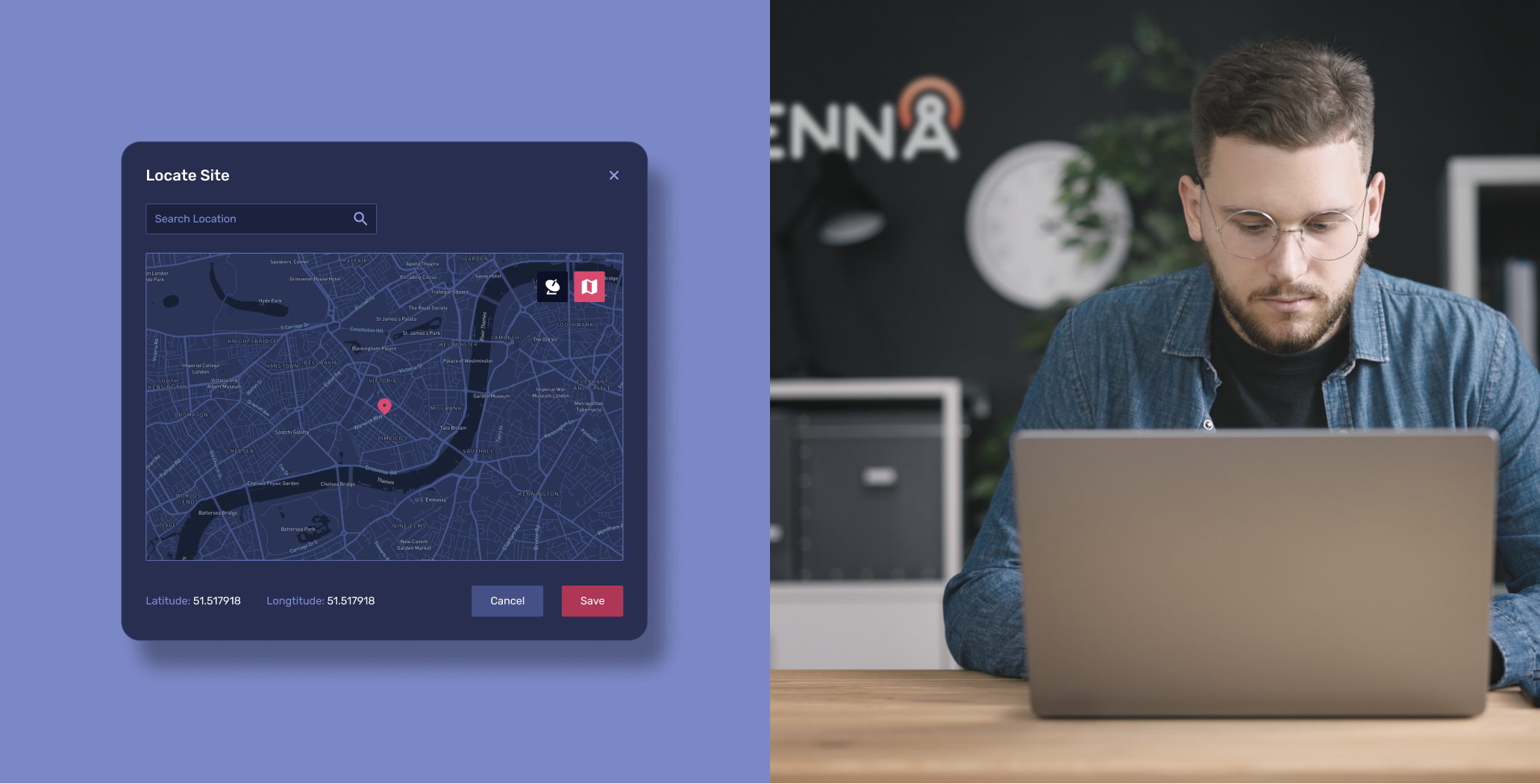 Engaging marketing website 
Cieden also received a request to create a modern-looking website that would also demonstrate the brand vision and identity. To make it happen, our team conducted a brand sprint as the client needed some assistance in defining their visual identity and brand strategy. After analyzing their core competitors it was already possible to set a website structure and design concept. We also invited external SEO specialists to reinforce our effort and make sure the website will work effectively and attract potential clients with ease. The last step was the designing process itself which also included the creation of captivating 3D animation which is now the main manifestation of Sitenna's identity.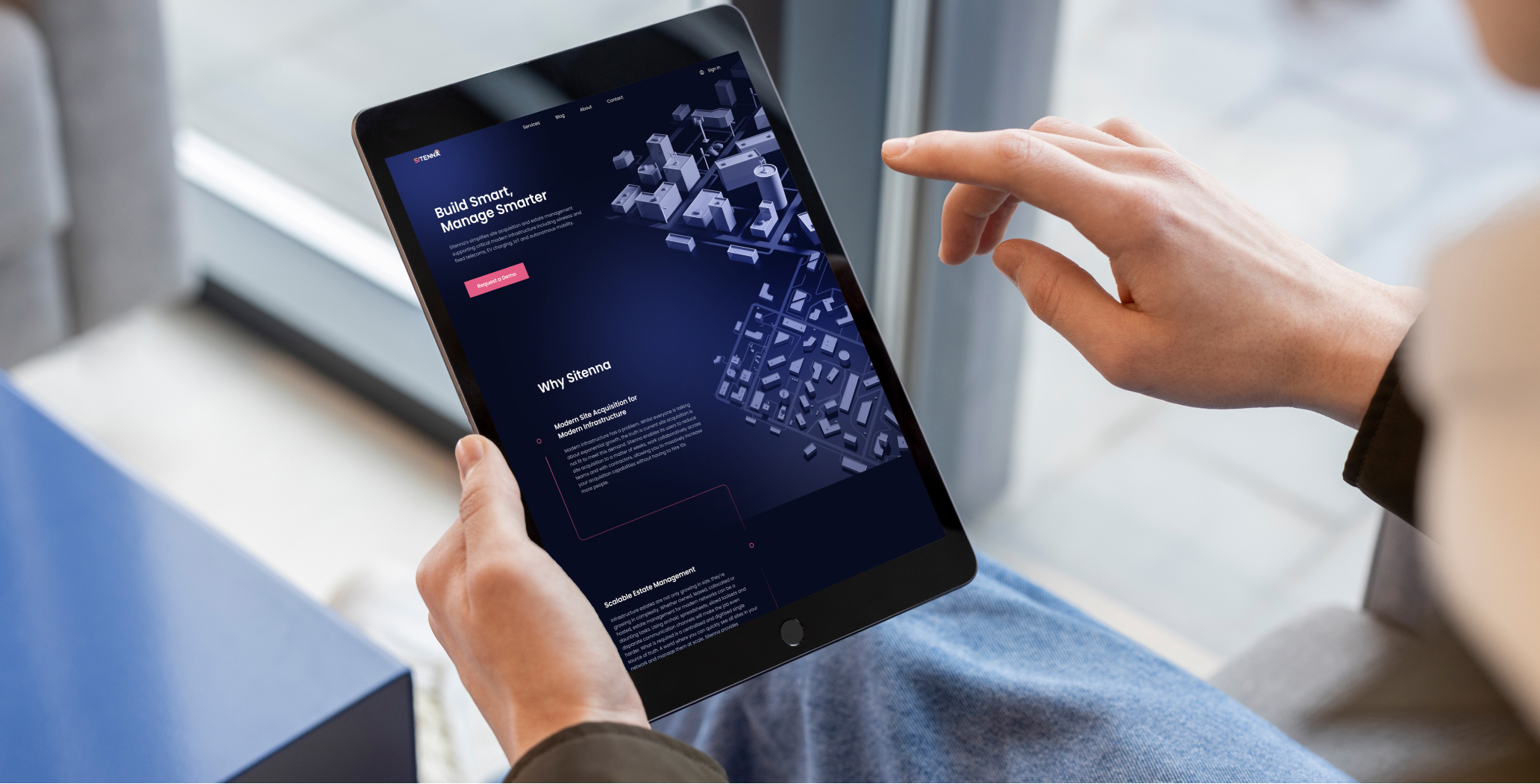 Documentation and dev support
The Cieden team collaborated closely with the client's team members including the CTO and the technical lead which allowed us to support them with any project-related decisions and contribute to the top-notch quality of the result. In addition, we provided the client with an exhaustive design system that included styles, colors, icons, inputs, patterns, navigation, and other integral components needed to build software according to our best practices and incorporating our best ideas. As a result, it allowed Sitenna to seamlessly develop a solution with a sleek and modern design that corresponded to their initial request.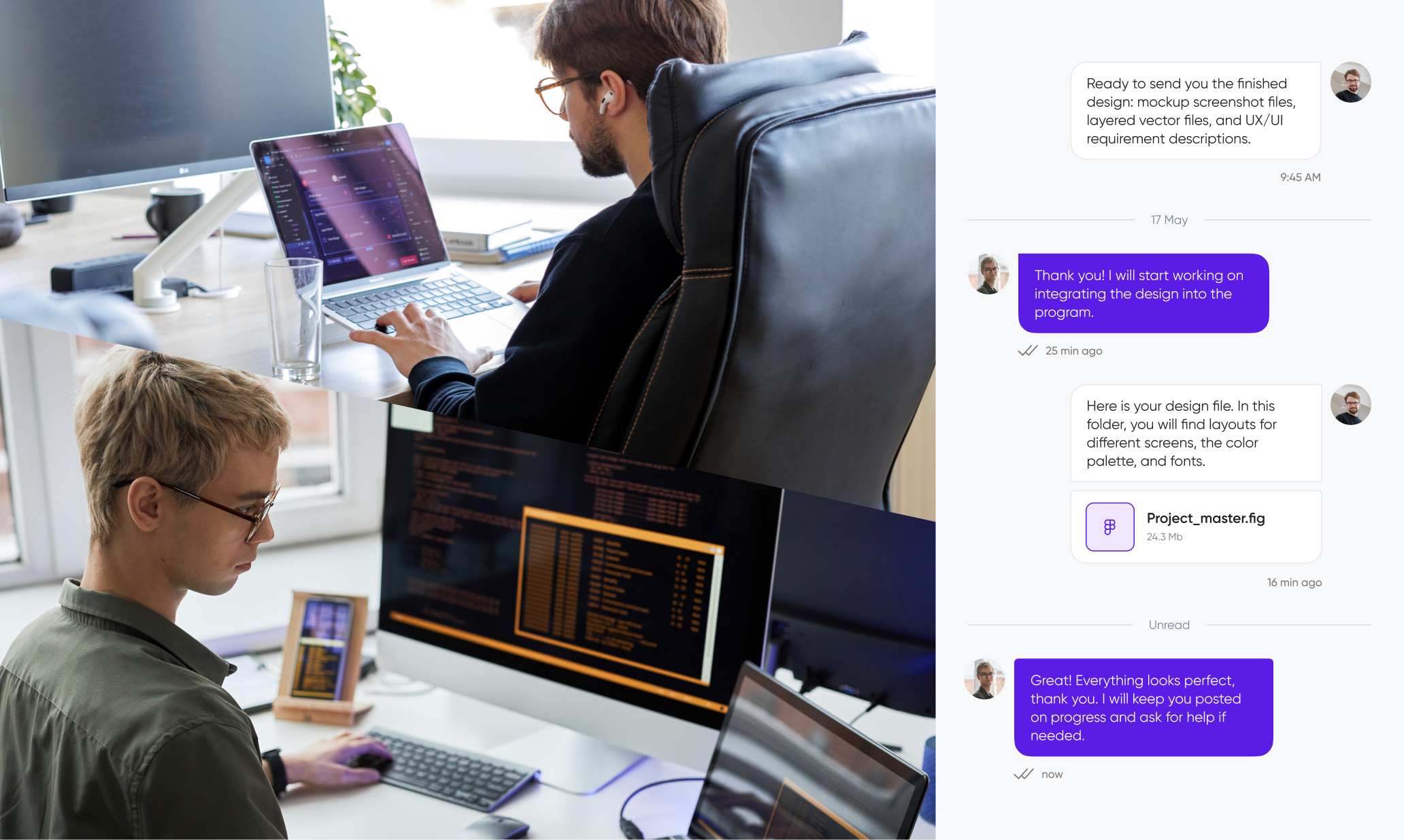 Working with the design team has been an absolute pleasure. I know we are sometimes slow and difficult to get responses from but Demian and Olena are always there looking to progress things. The detail that Demian thinks about in terms of our product is excellent. He is always looking to progress and improve the product. We are very happy with the service.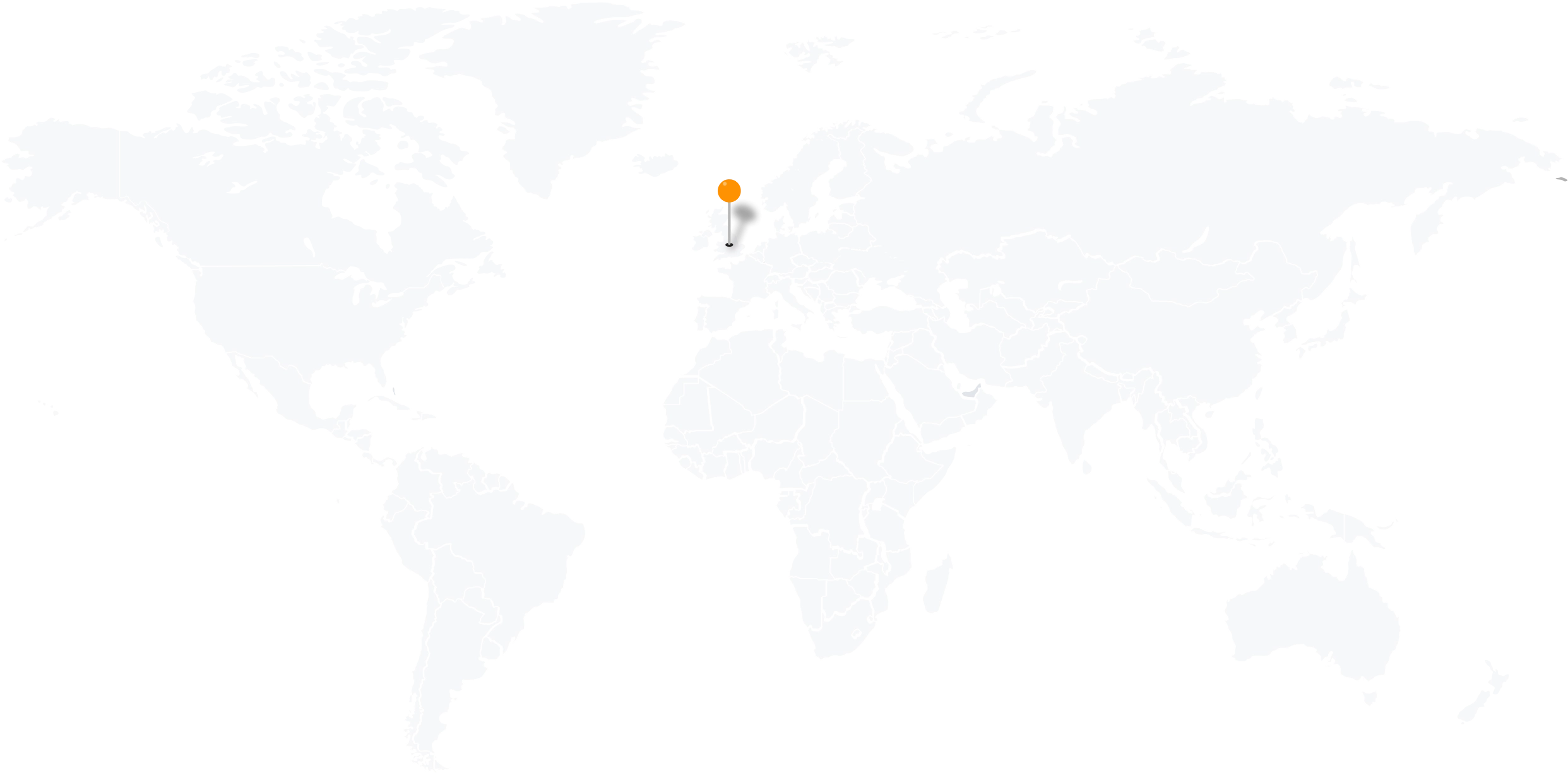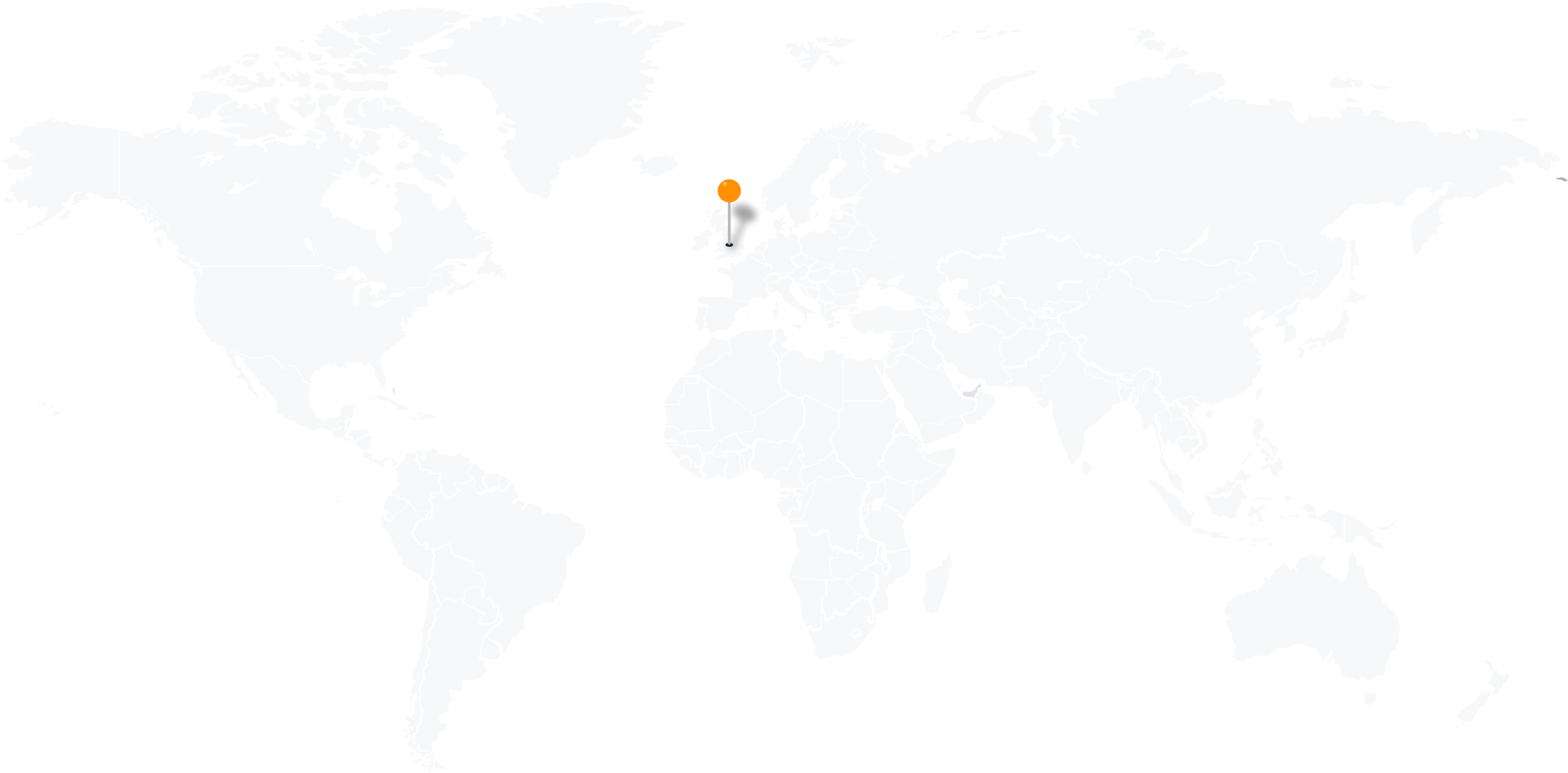 start your project with us
.
Getting in touch
is
easy
.