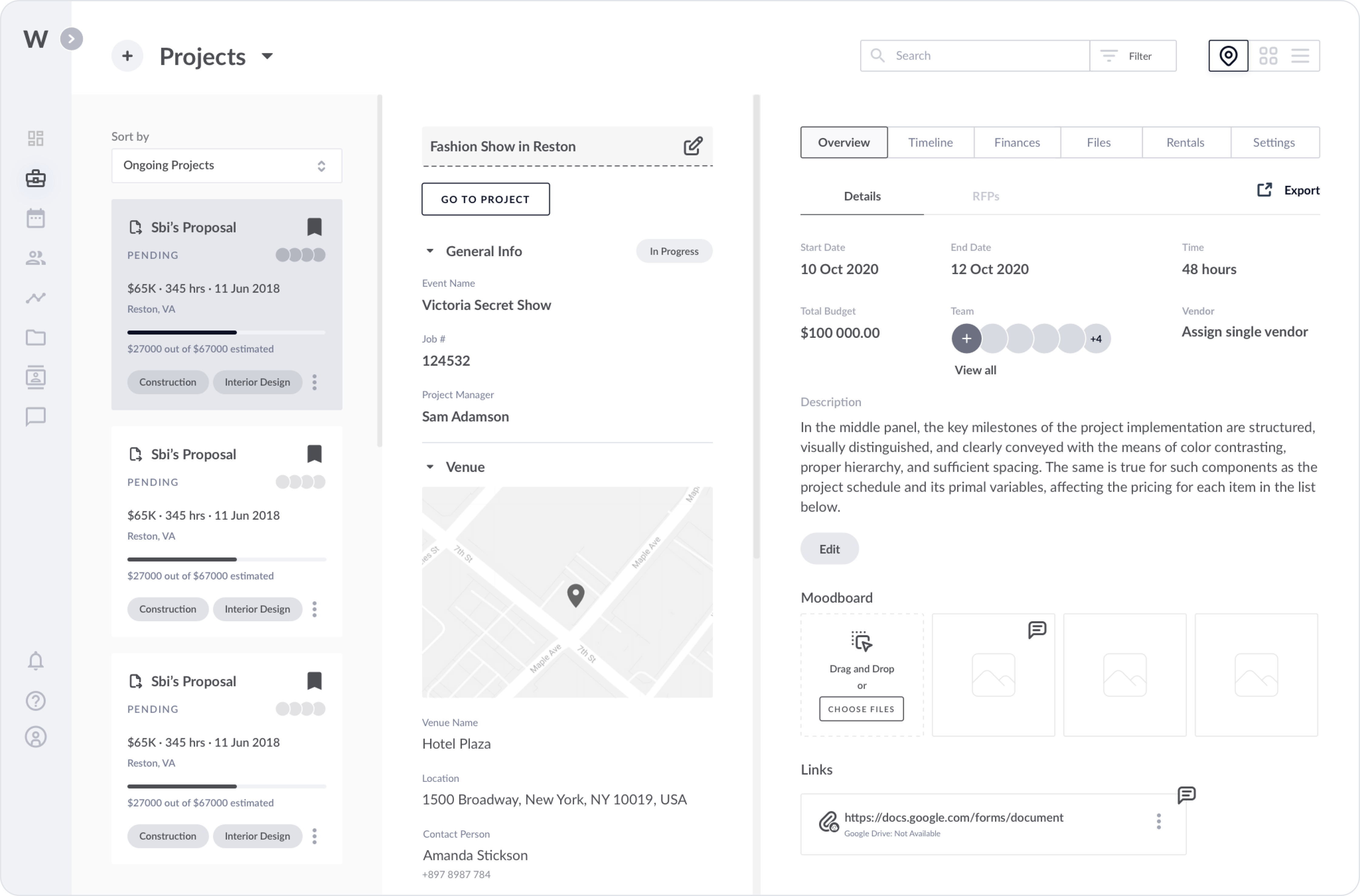 Project Plan
Task
To create initial wireframes of the intended project in the form of webpage-based templates
Team
Design Director, Business Analyst, UX/UI Designer
Duration
3 months (Aug 2019 - Oct 2019) / 187 hrs
Scope
Discovery phase and UX/UI Design for the MVP of a web app
Result
A discovery phase activities in Miro, clickable wireframes and some UI Concepts to be presented to investors
Overview
Construction is a rather conservative industry where opportunities for workflow automation and time optimization are not taken for granted. Any solution in this direction always gets noticed and highly appreciated.
Therefore, our client came up with an idea to create a B2B marketplace enabling the most effective and unhindered collaboration between contractors and clients. Our team concluded that the best way to address this challenge is to equip such a platform with the capacities of a project management application.
As a result, the product allows for creating projects with preset workflows within the network of template-based webpages. A users also receives a number of tools for the team collaboration and management.
Our goal was to give the construction industry a top-notch solution to standardize their proposals and bids, so that they could track and manage projects effortlessly with an intuitive web application.
Benefits
The client's personal experience in the construction industry
The client's trust in our expertise
A gap in the market that enabled us to think outside the box
Engagement of a Business Analyst
Challenges
The construction industry as an uncharted territory for our team
Technically challenging implementation of real-time project collaboration and integration of the builder tool
Uncertainty with the project's funding
Discovery Phase
Faithful to our research-based approach to the design process, we started with clarification of the business requirements on the product and their compliance with the user's needs. In particular, we interviewed the stakeholders on user roles, personas, pain points, goals, tools to be used, expected workload, request of the proposal (RFP), the relevance of 3D models, the environment specifics, and reporting procedures. This data helped us to understand the problems that we were to solve.

Competitor Research
Being fully aware that we enter a mature market with tough competition, we realized that finding a unique niche in the product's usability and features is a vital issue for our client.
Our initial vision was to combine the marketplace platform with the project management tools. Yet first, we needed to find out what other industry players already had in this area.
Therefore, we researched competitors based on the following criteria:
project lists and scope of work in the form of proposals & RFPs;
options for linking them to a project schedule/calendar;
proposal description with pricing and communication of services;
opportunities for projects' storage and sharing, etc.

We also checked other platforms for discovering the standards and guidelines that a user had already adjusted to.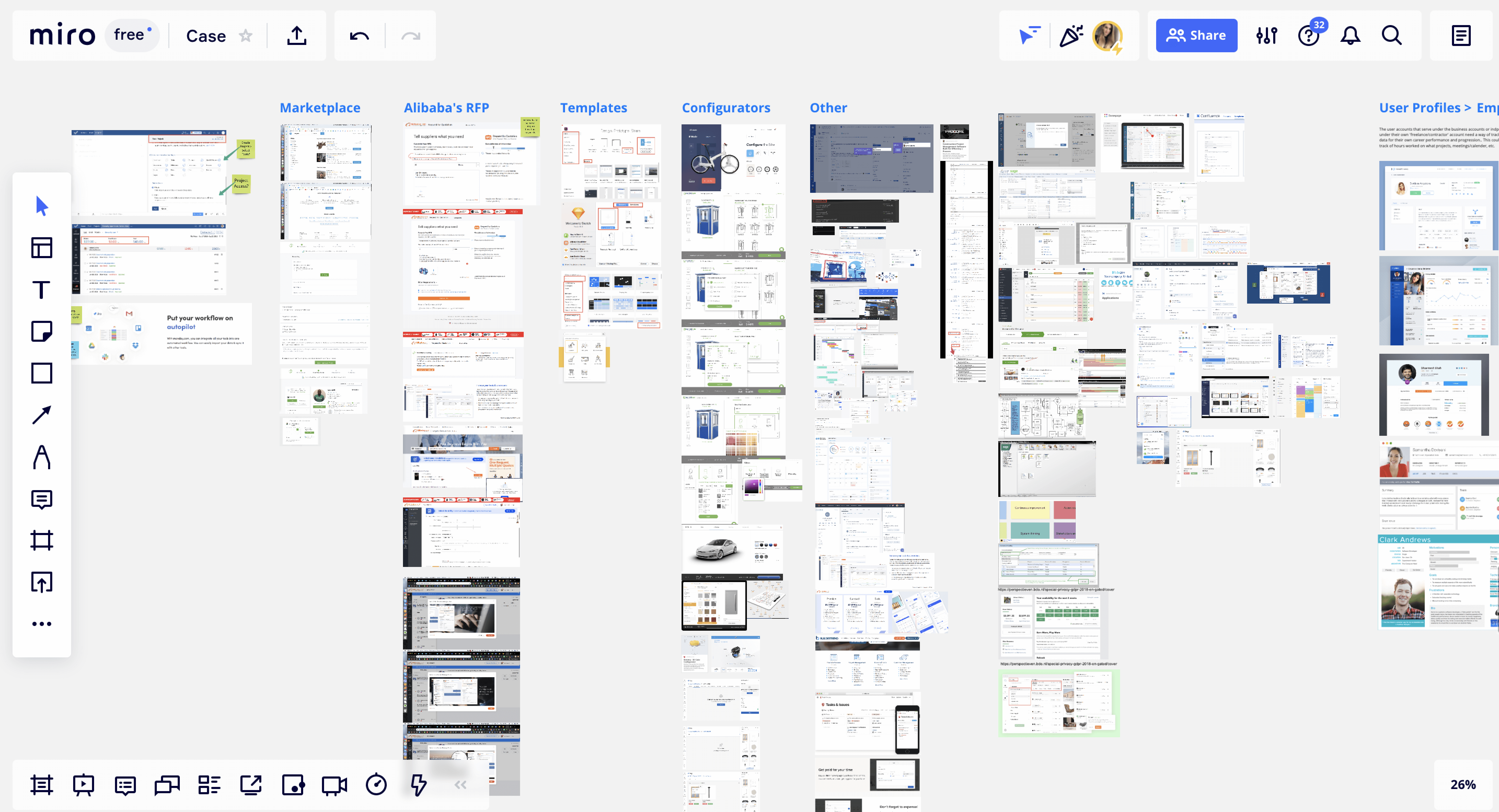 User Flow
You can call us pedantic, but for every project that is done not from scratch, we always start with scrutinizing the materials and files produced up to this point. In this way, we ensure that nothing valuable and essential for a client is missed. Therefore, we explored every piece of the product documentation to understand its intended functionality, including user actions, user flows, and user scenarios.
This process gave us enough moments of insight into ways on how to improve the base flows for speeding up the decision-making process in the negotiations stage between the vendor and the client, as well as adding overall value to the user experience. In this way, we received a proactive foundation for bringing bridges between the clients' needs and budget, on the one hand, and usability grounds, on the other hand.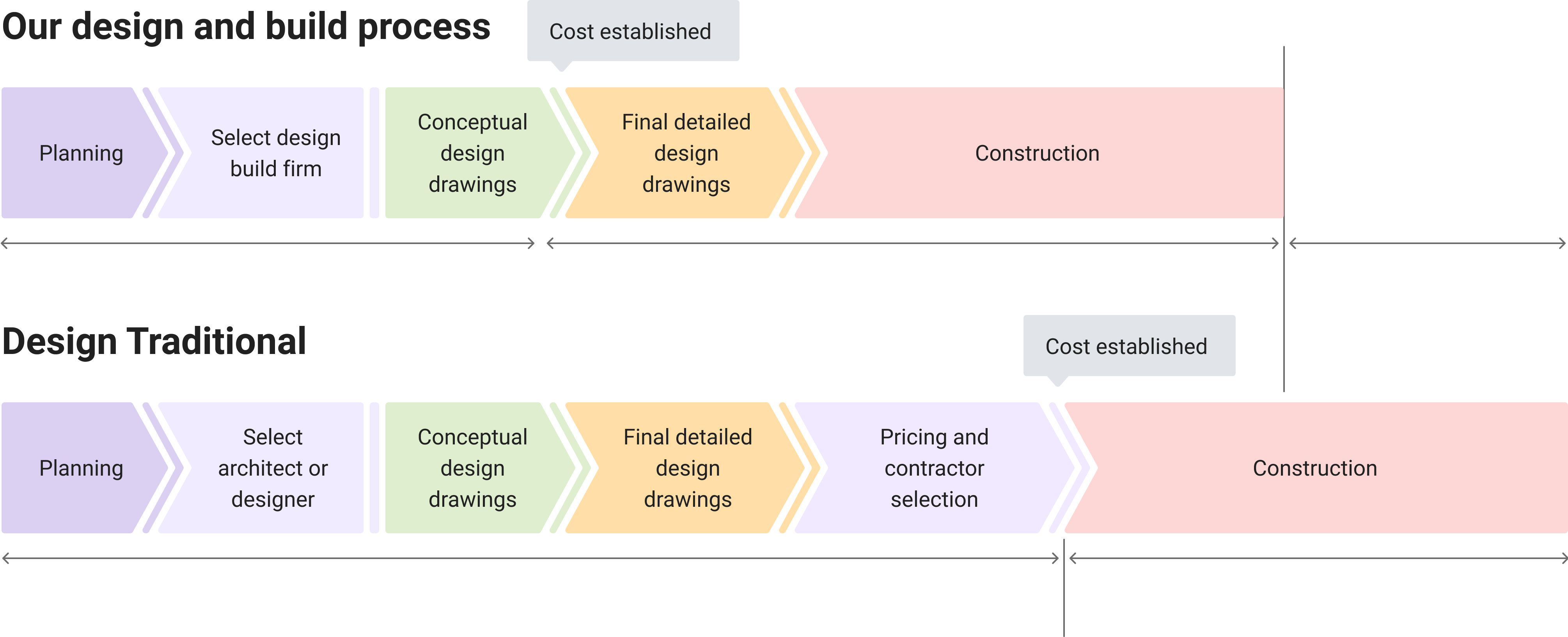 Information Architecture
Although our mission was to design a minimum viable product (MVP), we wanted it to be as functional and good-looking as any full-fledged digital product, capable to compete with the industry leaders.
As the discovery phase provided us with the full understanding of how this can be done, we were fully equipped to create an information architecture that structured and managed data in the most optimal, convenient, and seamless way.
In this way, we received a solid framework for a more nuanced work on the product design. Also, we applied color coding to prioritize the most valuable functionality for the MVP. Less relevant issues were organized in a way to be used later as a product roadmap.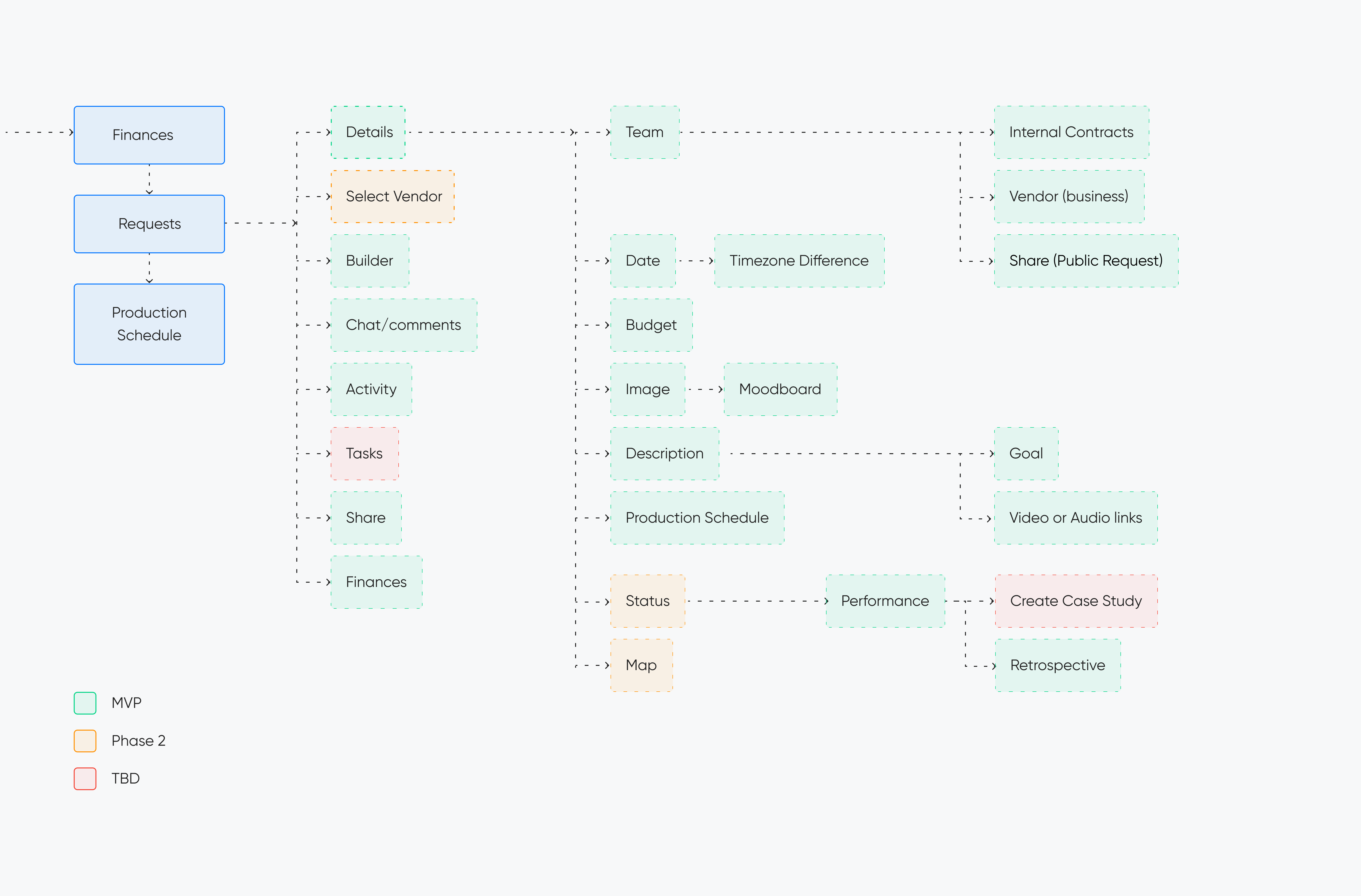 Vendor view. Incoming RFPs
This was our vision for the product's functionality for the vendor view:
A contractor/constructing company is the primary user of our system;
It receives a request(s) for its services, reviews the requirements on the incoming project, and decides to start the bidding process;
Once the decision is made, the managing director assembles a team and assigns tasks;
During and upon completion of different tasks, executives fill in the project fields, until the entire work program is accomplished;
A responsible manager reviews and approves the work done;
The entire system is based on standardized and easy-to-manage templates making the entire process semi-automatic;
All the data is stored in the cloud with real-time project updating.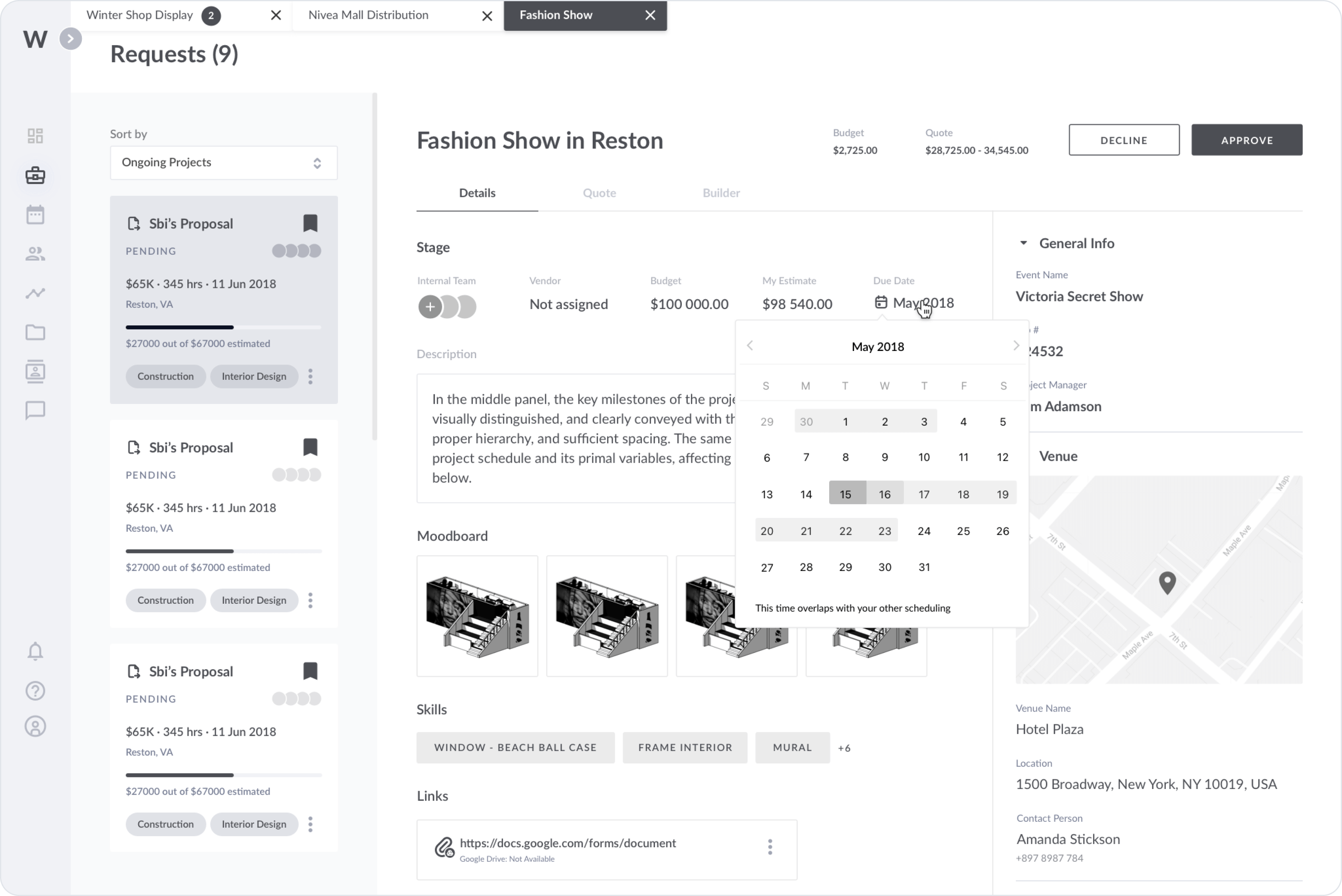 When the data matrix for a project is completed, a user receives tools for displaying data in different forms and for different users, including:
in-house & contracted labor scheduling;
real-time cash flow analysis;
production schedules;
customer estimates;
project inventory, etc.

We found a way to keep both requests and responses within one page, by:
linking all files to folder banks and unique ID;
attaching records to the master and all sub-masters created thereafter;
retaining the possibility for transposing the data between pages.
Such an approach provided inner consistency and integrity for all the checks, balances, boundaries, and constraints within each of the projects created.
We also aspired to envisage unique possibilities on the use of data for the purposes of optimization, communication and education. This includes:
creating video tutorials and experience-sharing webpages;
tools for converting the project data into educational materials and training assets;
algorithms for transforming datasets into dynamic components that can be shared;
template management system for autocomplete quotes and requests;
geopositioning function linking projects with different locations, etc.
Builder
Builder tool allows for unique negotiation opportunities between a creator of the request of proposal (a customer, actually) and a vendor. Along with exchanging information on RFP terms and conditions, all the stakeholders can modify its form, content, and management controls.


How does it work? Very simple:
a client creates RFP before estimating the request for quote (RFQ);
after the builder's basic bullet list is created, the assigned team starts to elaborate on it by adding images and links;
as a result, a user receives an accomplished builder spreadsheet in the form of an illustrative dashboard that can be further modified, exported, or filtered.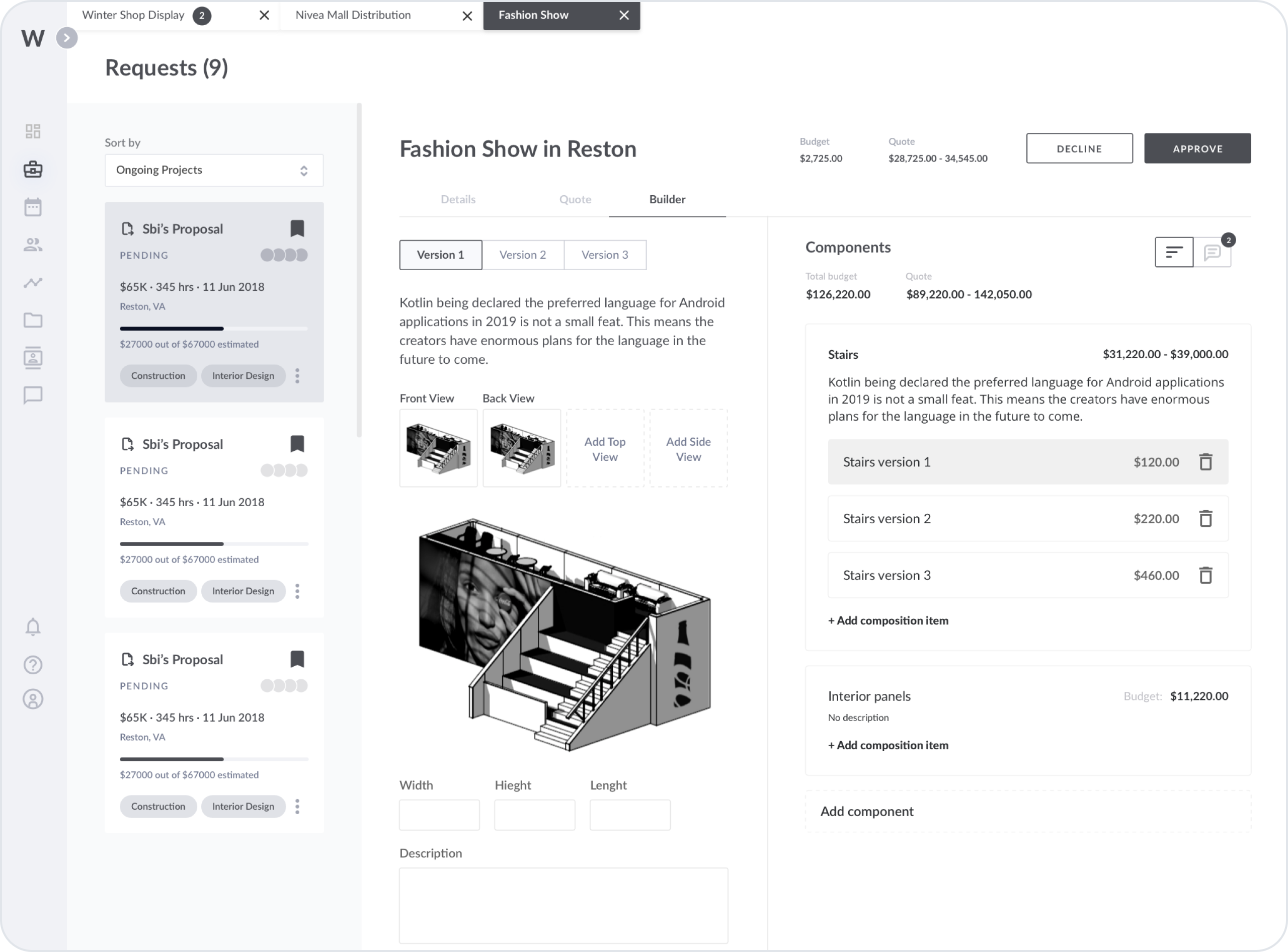 RFQ Order Processing & Fulfilment
The status of active RFPs and operational details from responsible subcontractors are displayed on the left.
In the middle panel, the key milestones of the project implementation are structured and visually distinguished with the means of color contrasting, proper hierarchy, and sufficient spacing.
A user may also easily track approval dates, material selection parameters, rush fees, insurance requirements, and other substantial issues.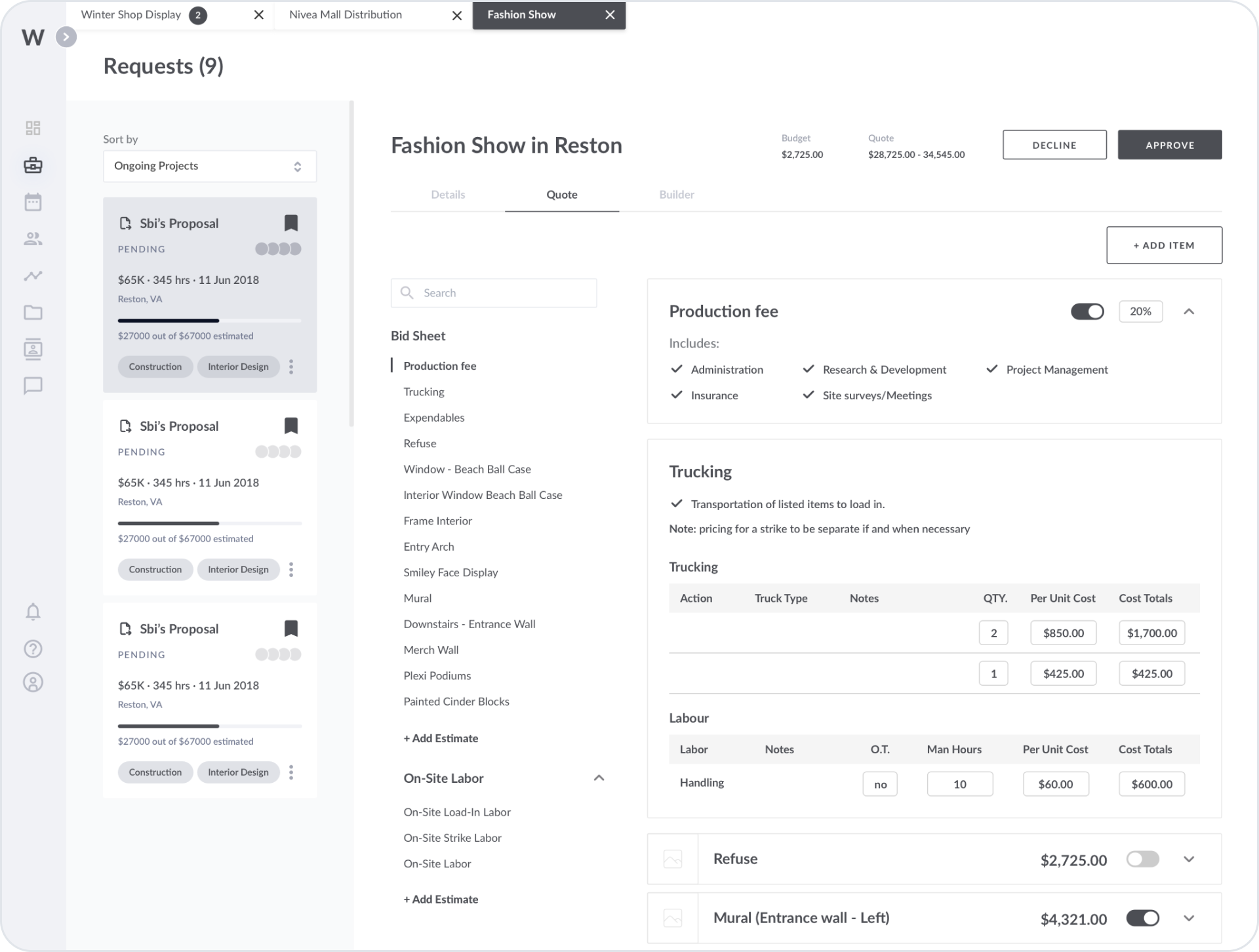 Client View
For a client view, the design focused on the most convenient navigation between RFPs and their revision whenever needed.
When vendors accept a client's request for proposal and start a project, an invitation appears in the proposals section.
Notably, the system of proposals management is exceptionally flexible. A client may go through many iterations, as well as change the number and inner organization of RFP elements.
Our design solutions were fully tailored to the specifics of the construction industry.
The necessity to think ahead of logistics and transportation is one of the most crucial issues. We ensured a user has everything to deal with it, by:
logistics coordination and planning;
GPS tracking of transportation;
labor and equipment resource planning (e.g. hiring trucks and drivers, contracting courier and rental truck companies), etc.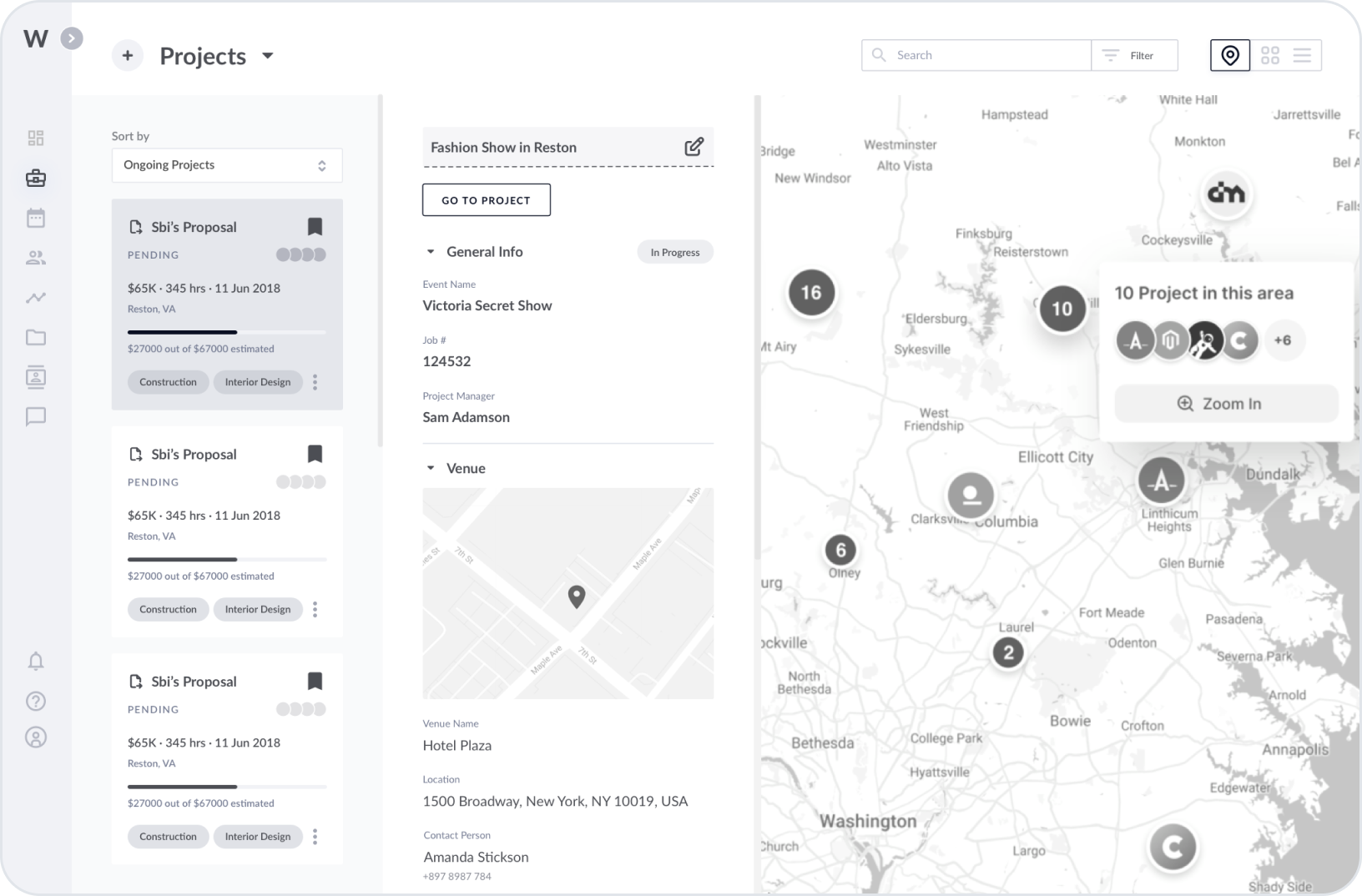 Project Timeline
We also created a customizable calendar tool that represents a production schedule for each project with all the relevant details, team milestones, and checkpoints. This allows clients to track the project's progress and measure its real outcomes along the way.
If additional questions arise during the working process, a client can get in-depth information by zooming in on a selected task. By clicking on it, they additionally see task details, progress tracking, and analytics.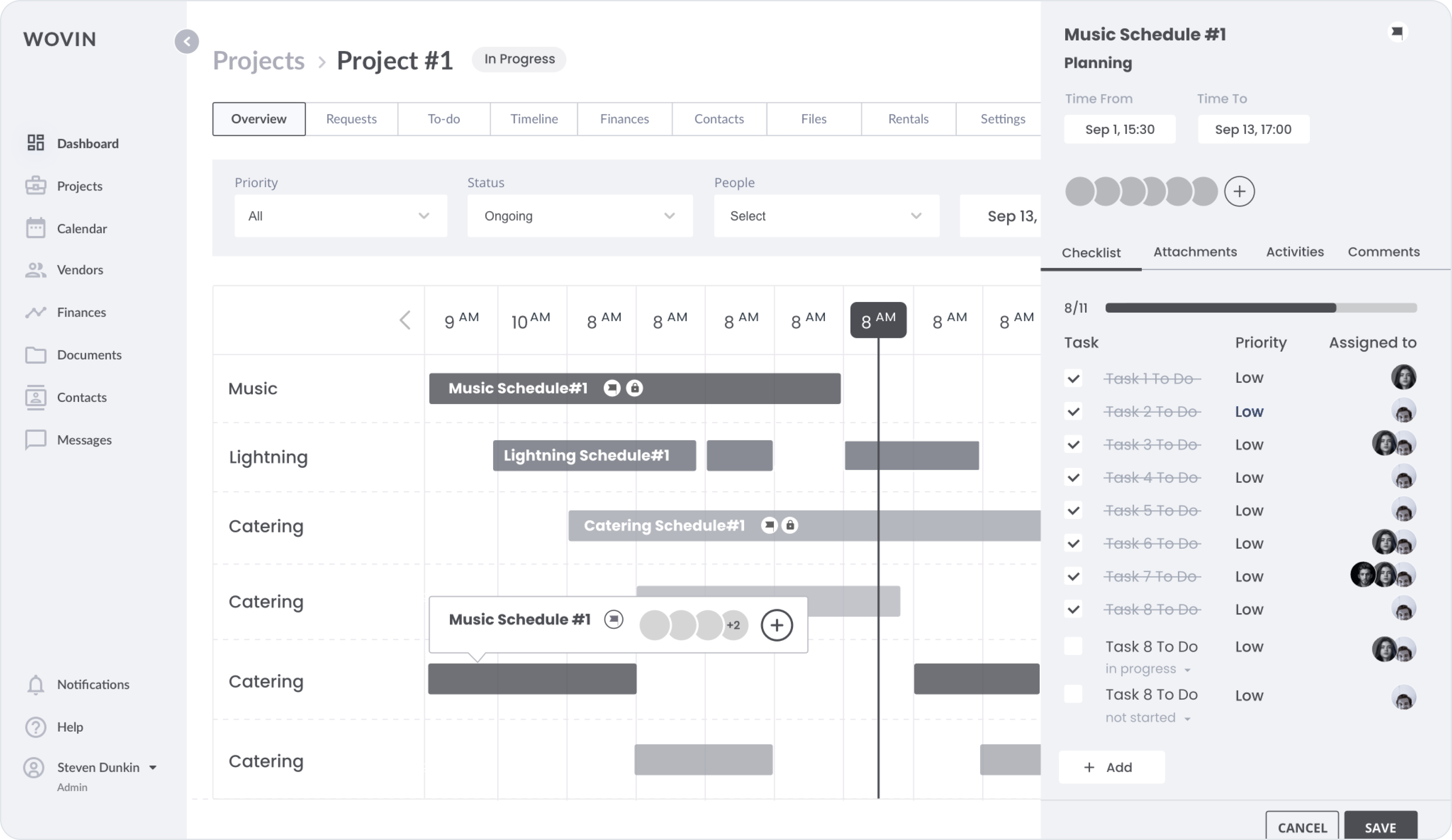 Inventory
Inventory management is one of the pillars of doing business in the construction industry. That is why a simple inventory feature is crucial for watching availability, pricing, and status, as well as evaluating the prospective need for assets and services within each project.
Therefore we designed a custom inventory tool with a calculator that allows a customer to check the parameters of an item/service, estimate and compare their prices, and book whatever is lacking, - everything within one click.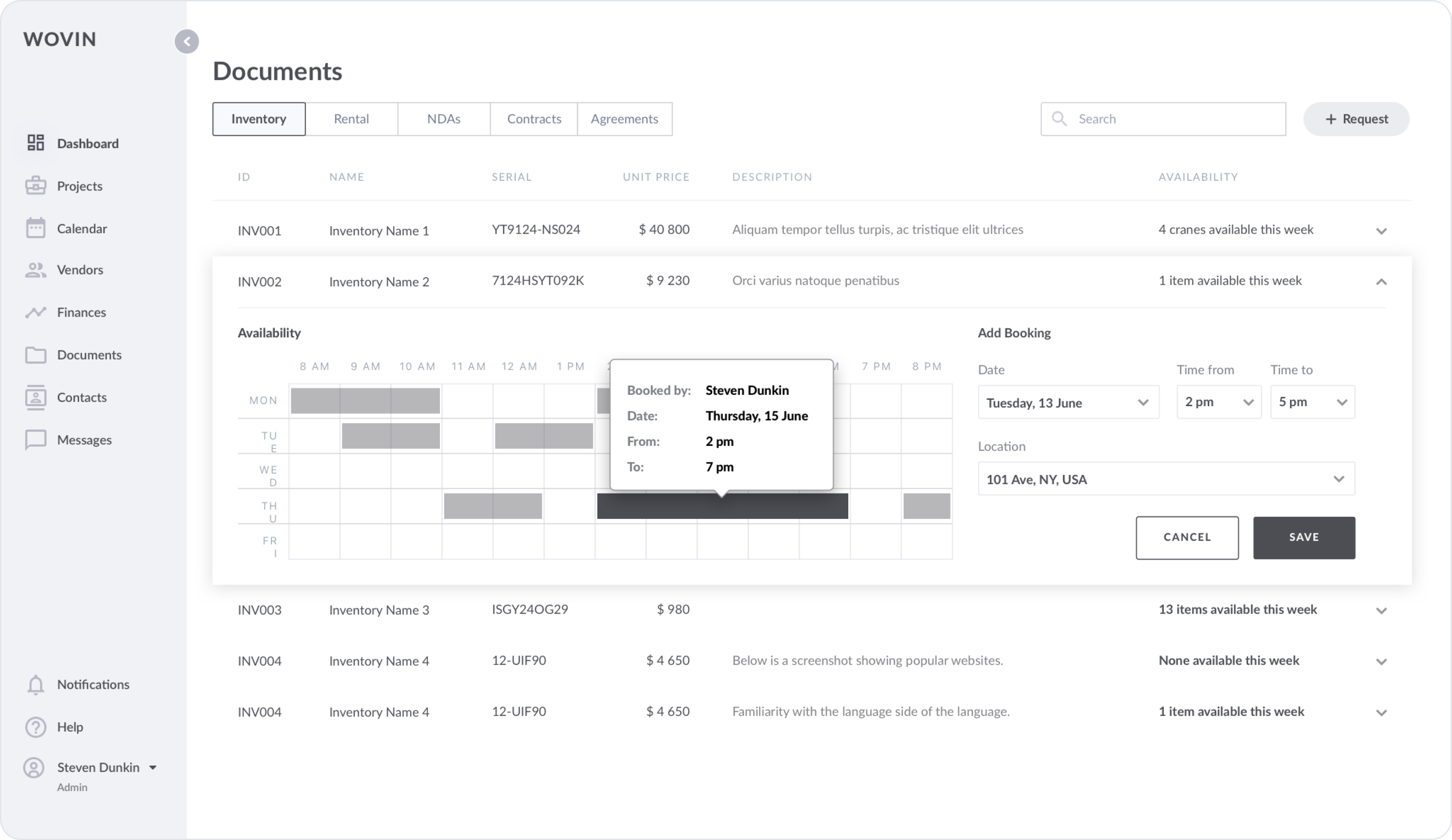 Performance
Although the product aims to provide maximum automation/standardization capacity, it still considers the human factor.
The performance tool provides a framework for continuous evaluation, learning from the mistakes, and self-improvement of each team member.
In particular, every specialist is given feedback on their availability, efficiency, adherence to schedule, cooperativeness, and other criteria.
This data can be further used for retrospective analysis, performance reviews, and producing strategies to enhance efficiency and service quality.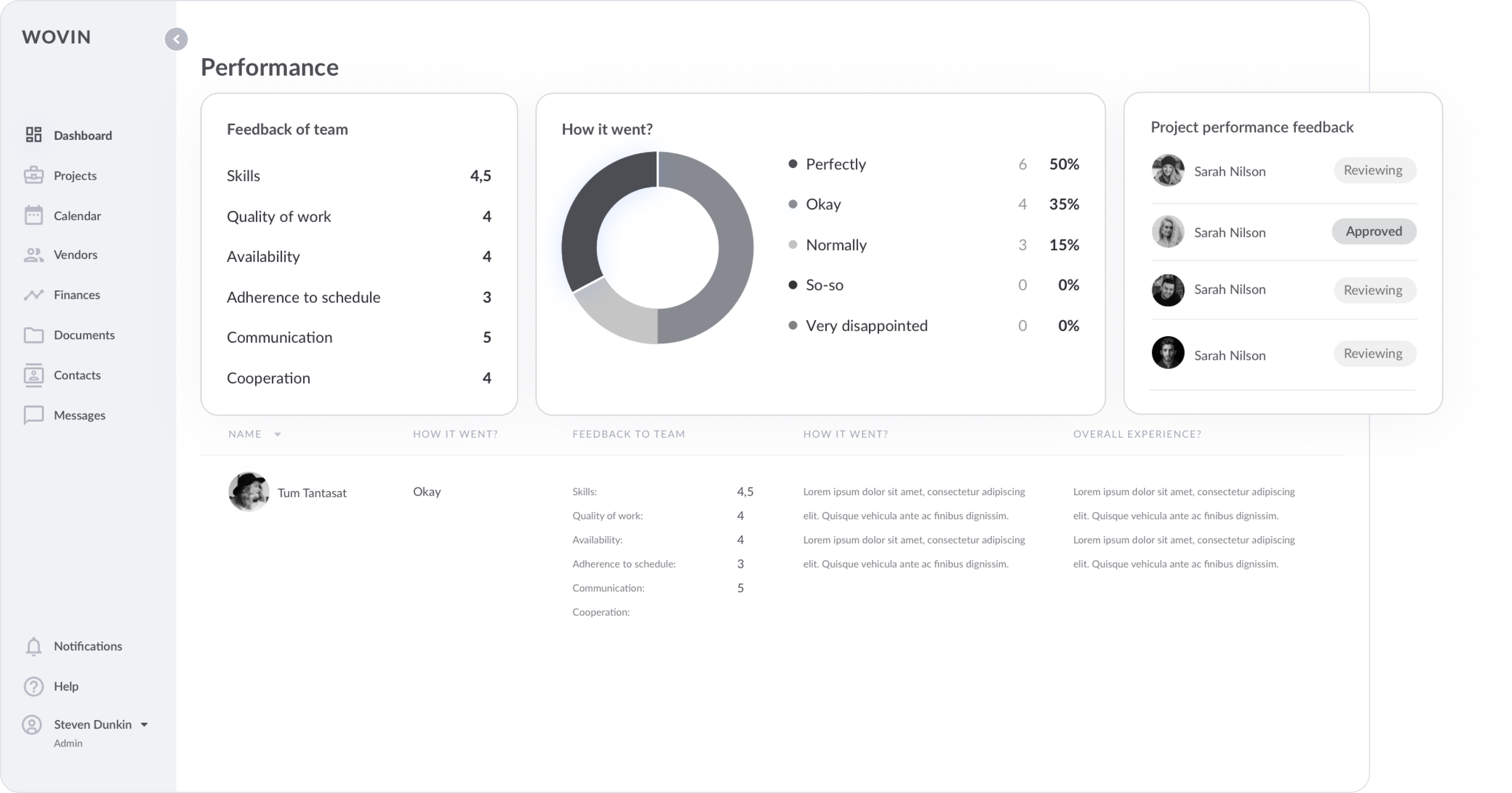 Dashboard
We created a clear and minimalistic dashboard that nonetheless contains all the important accounting, statistical, and analytical data.
This tool is particularly useful for admins and business owners, as they often need to watch and evaluate the entire network activity from a bird's-eye view.
It allows to track monthly revenues and expenditures, manage the full list of vendors/contractors and projects, and come into contact with partners.
Along with saving time on operational activities, the feature is helpful in the decision-making process, keeping all the business factors within one space.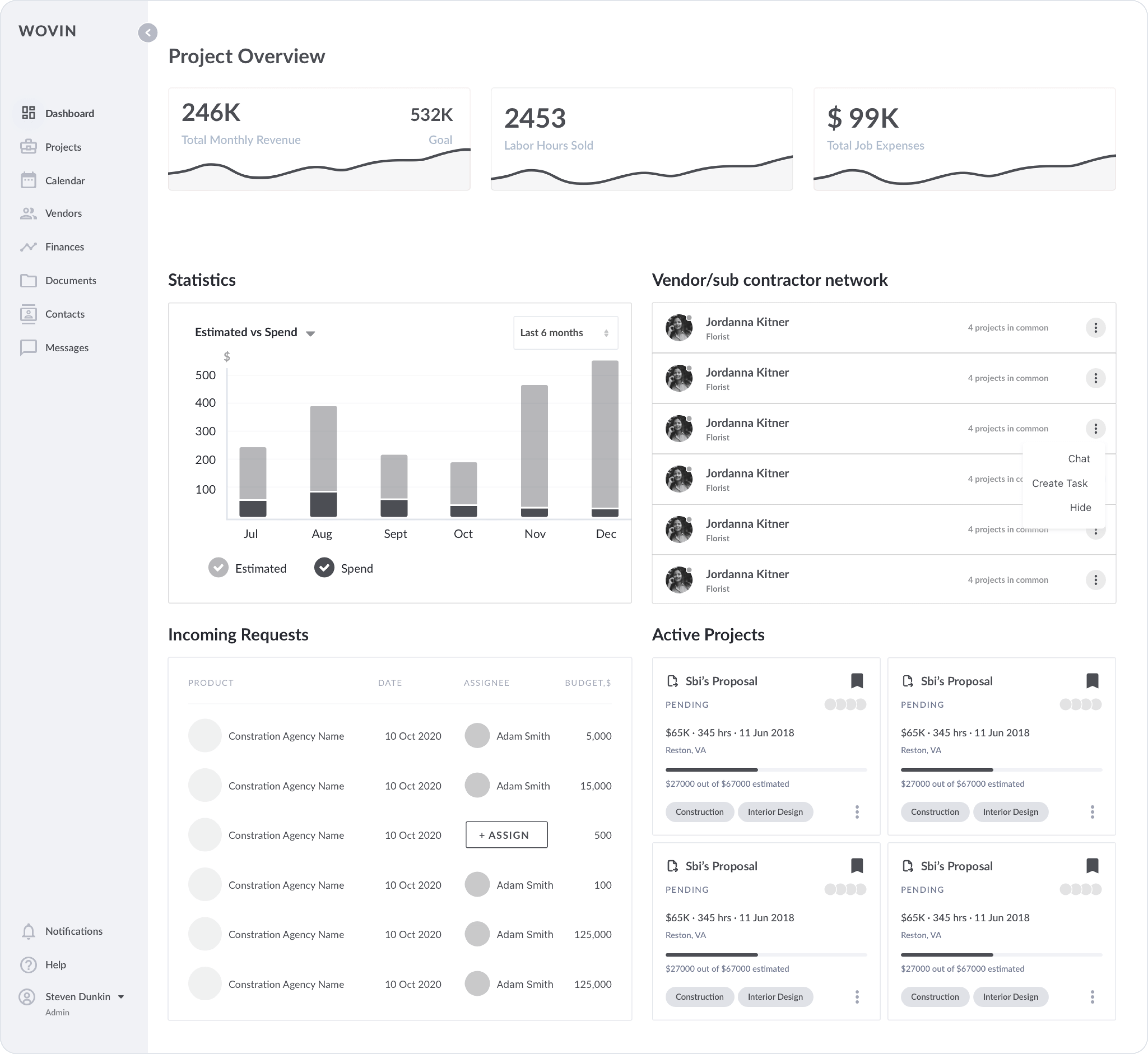 UI concept
After setting down the core functionality, the next step is to wrap it up in "look and feel". We considered that our target audience is modern and techy so UI design was creative, modern, and at the same time minimalistic and neat. We have also applied a cool-to-neutral color palette and geometric orderliness in the layout structure to meet the tastes and aesthetic preferences of our enterprising end-user.
start your project with us
.
Getting in touch
is
easy
.