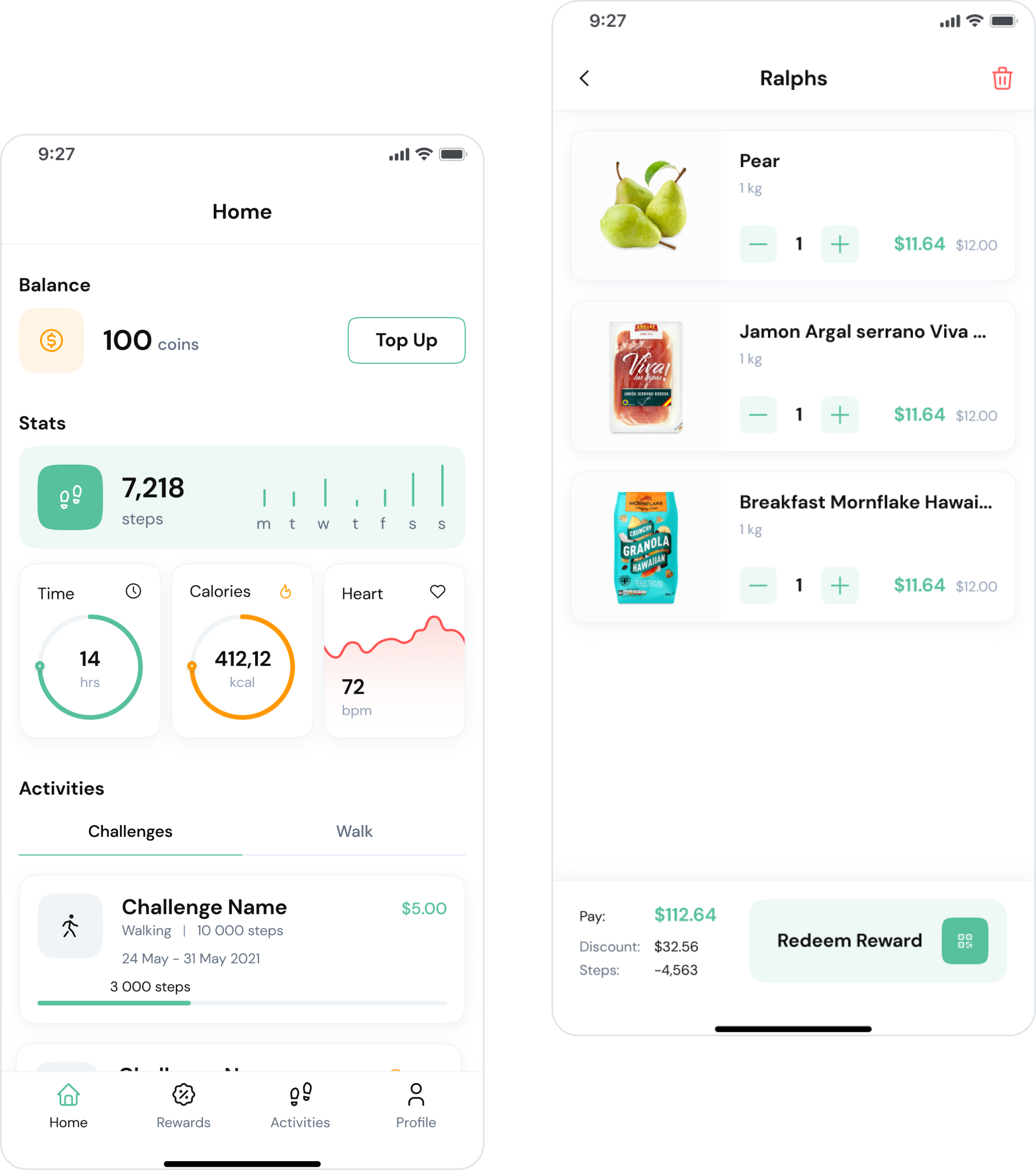 Project Plan
Task
To conduct a discovery phase, create a viable business model, and design the full solution for MVP
Team
Project Manager, UX/UI Designer
Duration
Feb 2021 - Jun 2021
Scope
Discovery phase and the UX/UI Design of the main flows for MVP, primarily Activities/Challenges, Rewards, and Store
Result
A Miro board incorporating findings from the discovery phase, and a clickable prototype of a final product
Overview
Growshr is a unique FitTech solution for encouraging people to commit to a healthier lifestyle, by introducing a material reward system for physical activity.
The lack of physical exercise continues to plague the United States, being reflected in off-scale rates of obesity, diabetes, heart diseases, and poor blood circulation. Tons of socioeconomic, cultural, and political incentives and campaigns are continuously suggested and introduced in U.S. society. But it looks like they were not very helpful to cope with this challenge effectively.
Such a platform required the participation of both consumers as discount beneficiaries, and grocery retailers as sponsors/contributors that would agree to support this initiative.
Accordingly, the product aspires to meet the following targets:
incorporate financial rewards to incentivize physical activity/walking;
eliminate the difficulty of maintaining the habit of weekly physical activity with the hook model, especially relevant in the post-COVID world.
Benefits
User research already conducted by the client
The client's deep understanding of the product roadmap and MVP
The market gap as a space for thinking outside the box and ideating
Challenges
A very tight budget for a self-funded project
The "chicken or the egg" strategy problem, reflected in the need to design a value proposition for two separate groups: consumers and grocery retailers
Little access to retailers that complicated understanding of their pains
Step 1
Discovery phase
Apart from the client's enthusiasm, there was no certainty that the intended app will enable people to intensify their workouts on a lasting basis.
That is why this time the discovery phase was aimed to understand:
the real scope of the problem with physical inactivity in the U.S., to ascertain the market need for this product;
the proven benefits of walking that could motivate users for sure.

For this purpose, we initiated profound research and analyzed tons of popular and scientific data from TedX talks, academic articles, books, and reputable wellness blogs.


"Today, about half of American adults have one or more preventable chronic diseases. Yet nearly 80 percent of adults are not meeting the key guidelines for both aerobic and muscle-strengthening activity, while only about half meet the key guidelines for aerobic physical activity. This lack of physical activity is linked to approximately $117 billion in annual health care costs and about 10 percent of premature mortality." (health.gov)
54.2% of adults in the U.S. meet minimum aerobic physical activity guidelines.
30% of U.S. consumers have installed apps to receive and manage coupons.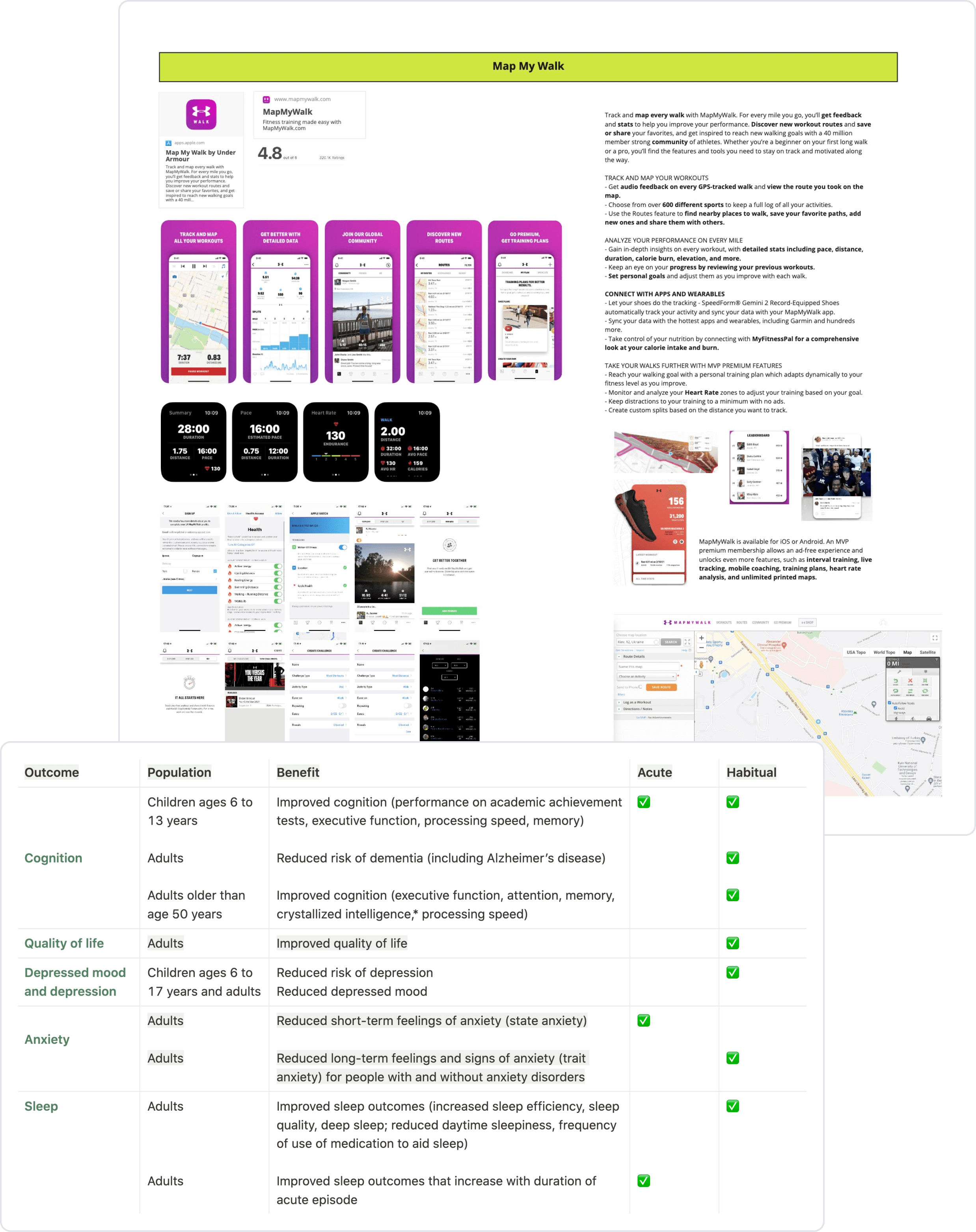 Step 2
Wireframing
The wireframing stage usually aims to generate ideas and validate them fast, by creating an outline of the future UI/UX in broad strokes. But you may notice that our wireframes look very smart and quite capable to work for a clean-cut version.
Our designers were interested to create neat and convenient layouts for a clickable prototype so that the user would enjoy working with it during the testing phase. As a result, we have received quick and high-quality feedback from the target audience, which was in turn used for making usability adjustments and improvements.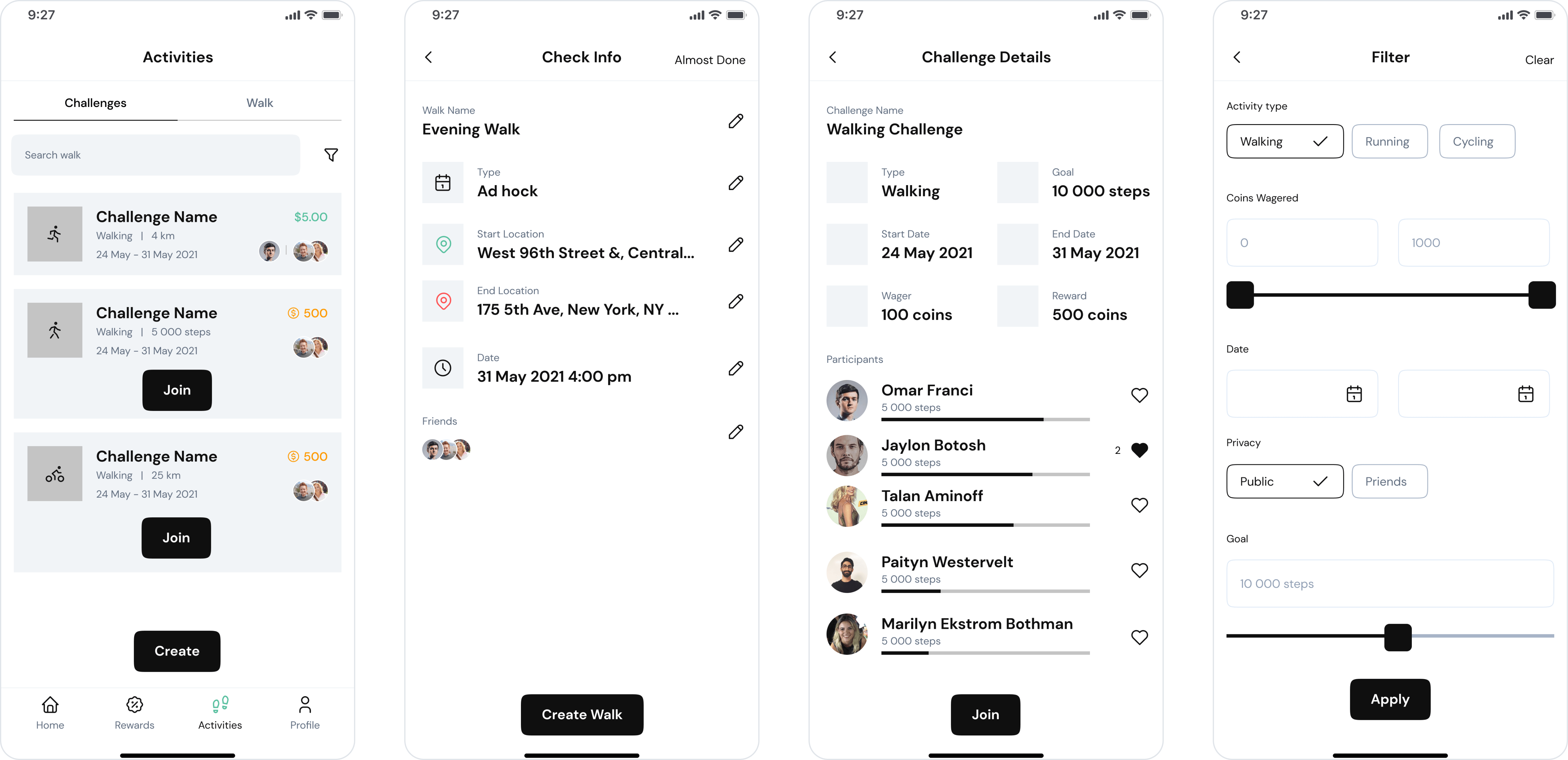 Step 3
UI Design
After a few iterations, we came up with a UI concept that was elegant, minimalistic, and vibrant. Various groups of elements, such as physical activity challenges, grocery shops, discount reward items, geolocation, and others, were organized in a consistent, intuitively clear, and predictable way, all aligned with the brand identity guidelines.

The client highly appreciated the work done and approved the UI solution in one take. Hopefully, our users will love it too. The key product features included Rewards, Shopping List, Challenges, and Create Walking Experience.

Rewards
Proceeding from the client's idea, we strived hard to find the most effective ways to motivate people for taking care of their physical fitness. Wellness philosophy, public activism, media campaigns, coaching, - all this seemed to be futile for most people.

At the same time, a discount for basic foodstuffs in exchange for a couple of extra miles on foot can motivate almost everyone, especially in the case of such a pragmatic nation as Americans. In our feature, users earn special coins by merely collecting steps of walking that are tracked automatically. Upon earning a certain amount of scores, they subsequently can trade them on a discount for a grocery item of their choosing.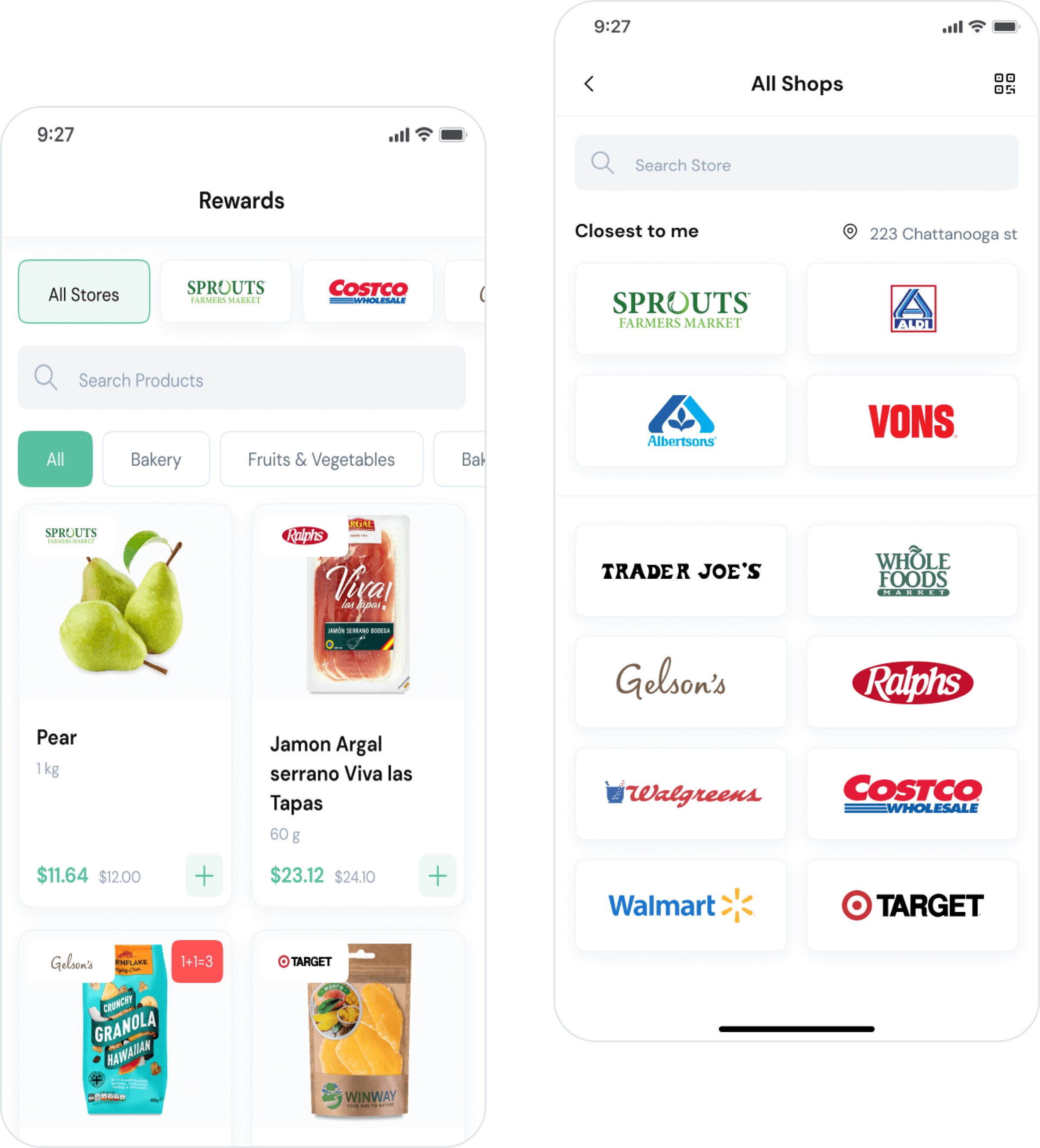 Shopping List
People become even more motivated if they can plan their purchasing strategy in advance. Therefore, we provided an option for creating and managing multiple shopping lists. A user can see and calculate pricing, discounts, and the needed number of walking coins to buy a particular item within that list.
Subsequently, a customer attends the needed store and does the shopping automatically within minutes. They just need to activate the relevant shopping list and enable a transaction.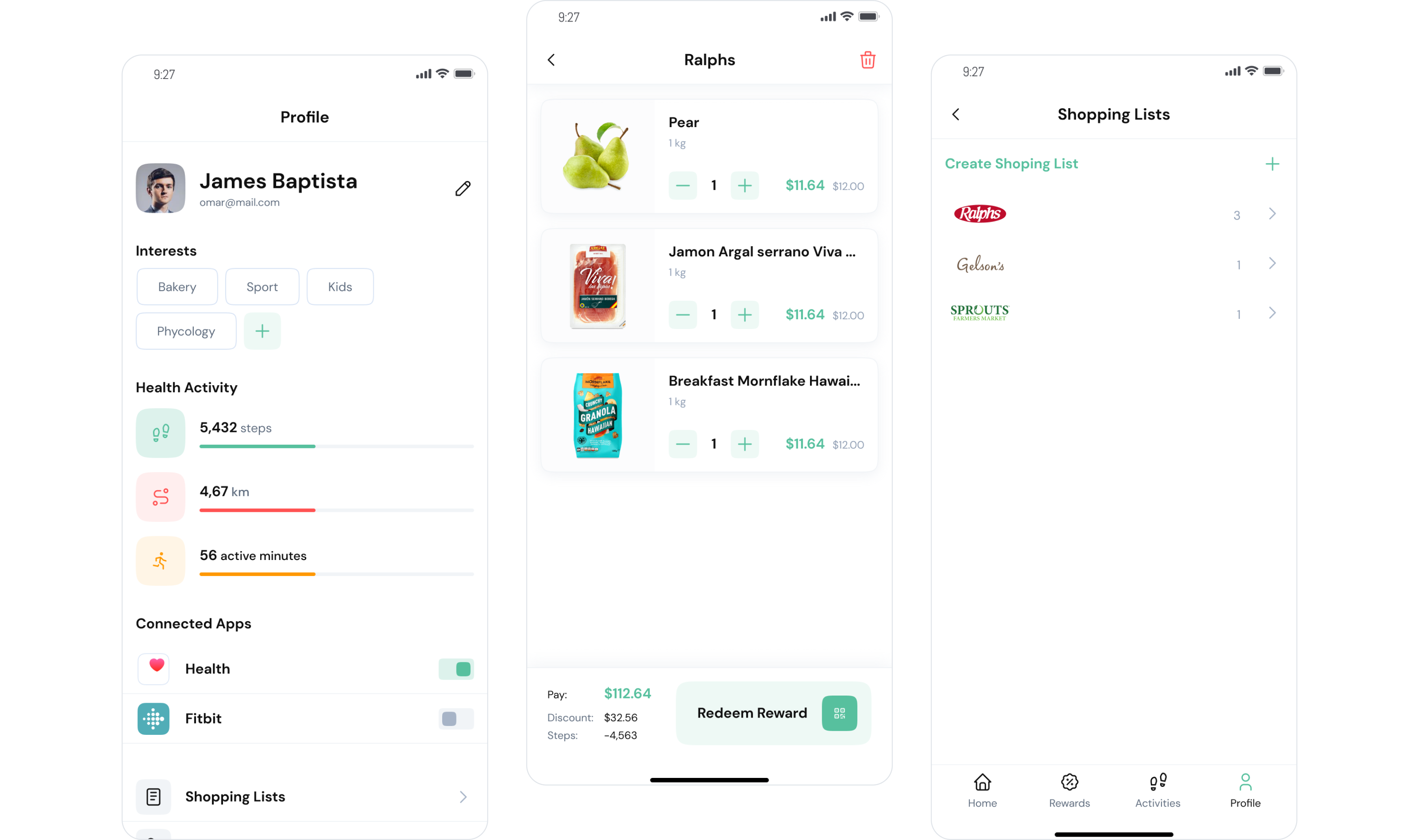 Challenges
We have also come up with an idea of balancing the mercenary nature of financial rewards with a bit of humaneness and heartiness. Where can it be found? Of course, in good company. With our Challenges feature, people can become more encouraged to get themselves out of the door and have some fun along with saving money.
Every user has an opportunity to invite friends, family members, and any other people to join their walking exercises, by creating special "challenge" events. These events are publicly posted within the app network and shared via social media. In addition, a challenge allows for making competitions, with the winner getting extra reward points.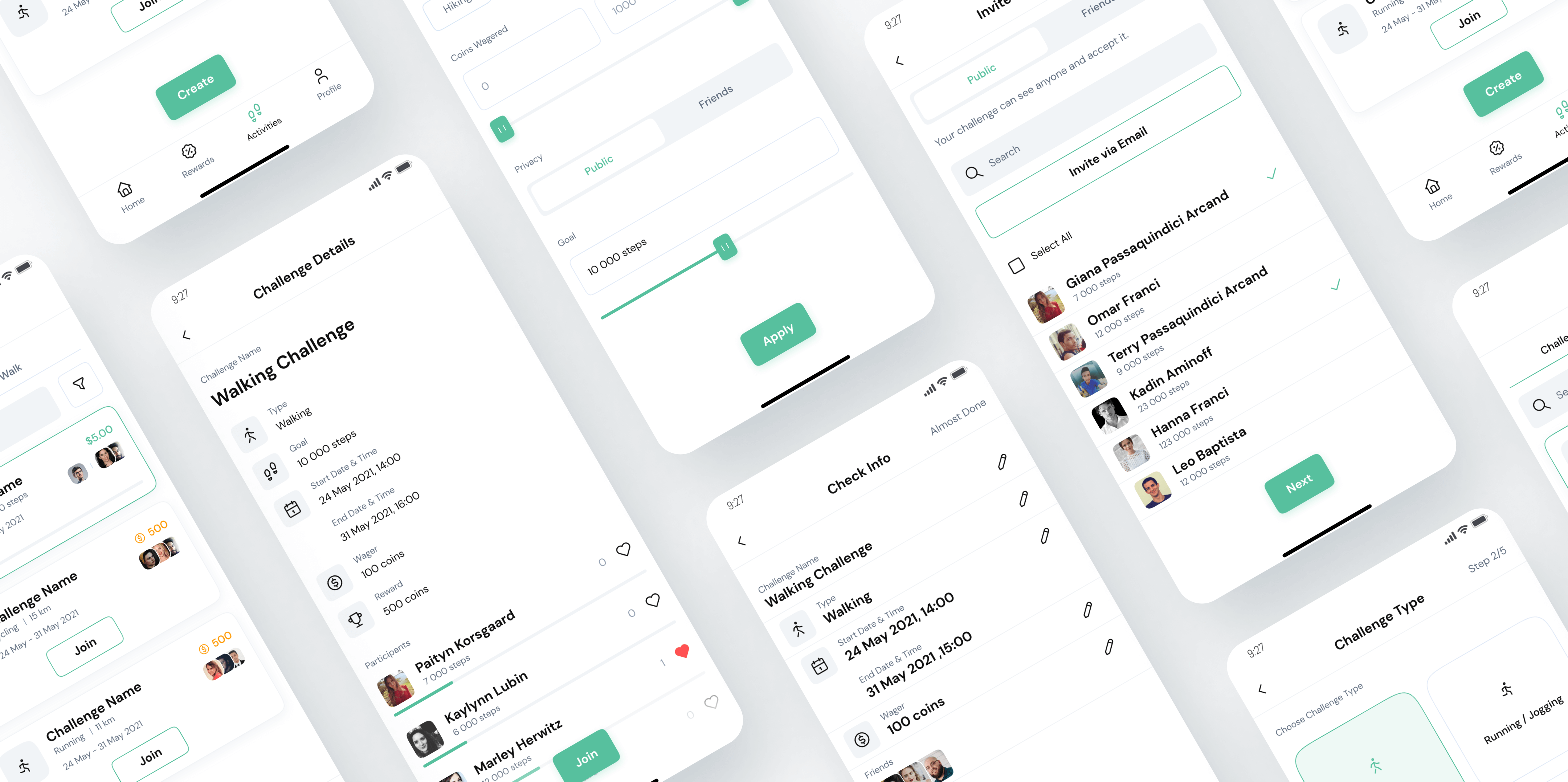 Create Walking Experience
To add some discipline and consistency, a scheduling feature allows a user to create, manage, and take responsibility for intended physical exercises. It is an interactive organizer with a timetable, locations, a walking route, participants, and implementation marking.
Certainly, friends and family may join your ad-hock walk, but this time you become fully accountable for the personal walking experience and results, by coordinating and harmonizing it with your daily routine, location convenience, eating habits, etc.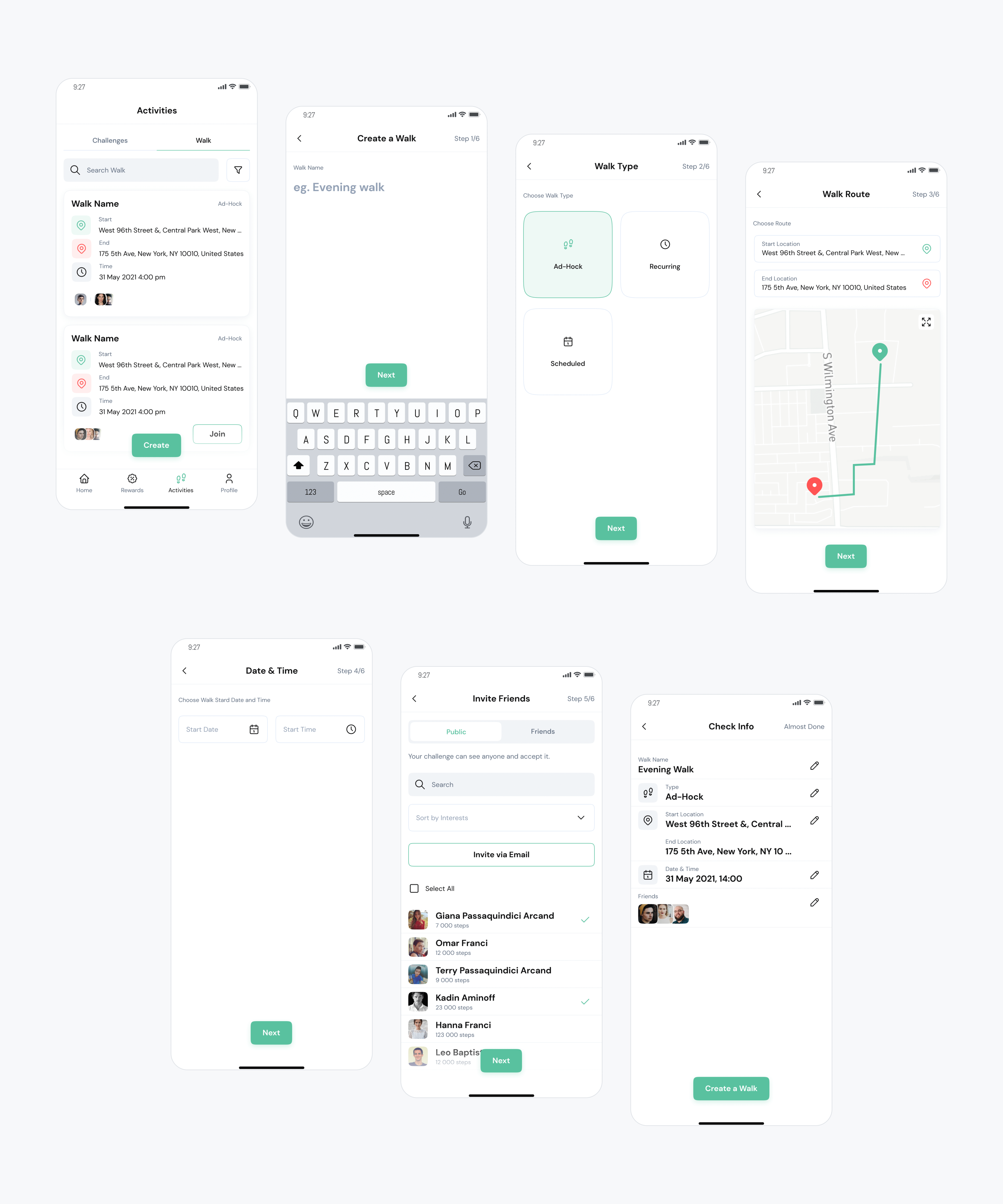 Christian Ramos
Los Angeles, California
Our team searched online for individual freelancers as well as UX/UI design agencies. Based on reviews and prior work, Cieden and Iryna came highly recommended. We were confident with our choice due to the team's track record of success and strong reviews on Upwork. After a few screening calls, we felt comfortable in Iryna and the team's fundamental understanding of UX design and business strategy.
The Cieden team under-promised and over-delivered, completing the project ahead of schedule and exceeding all expectations. Despite worries over the time difference, the team managed the situation effectively, maintaining a seamless flow of communication during the project.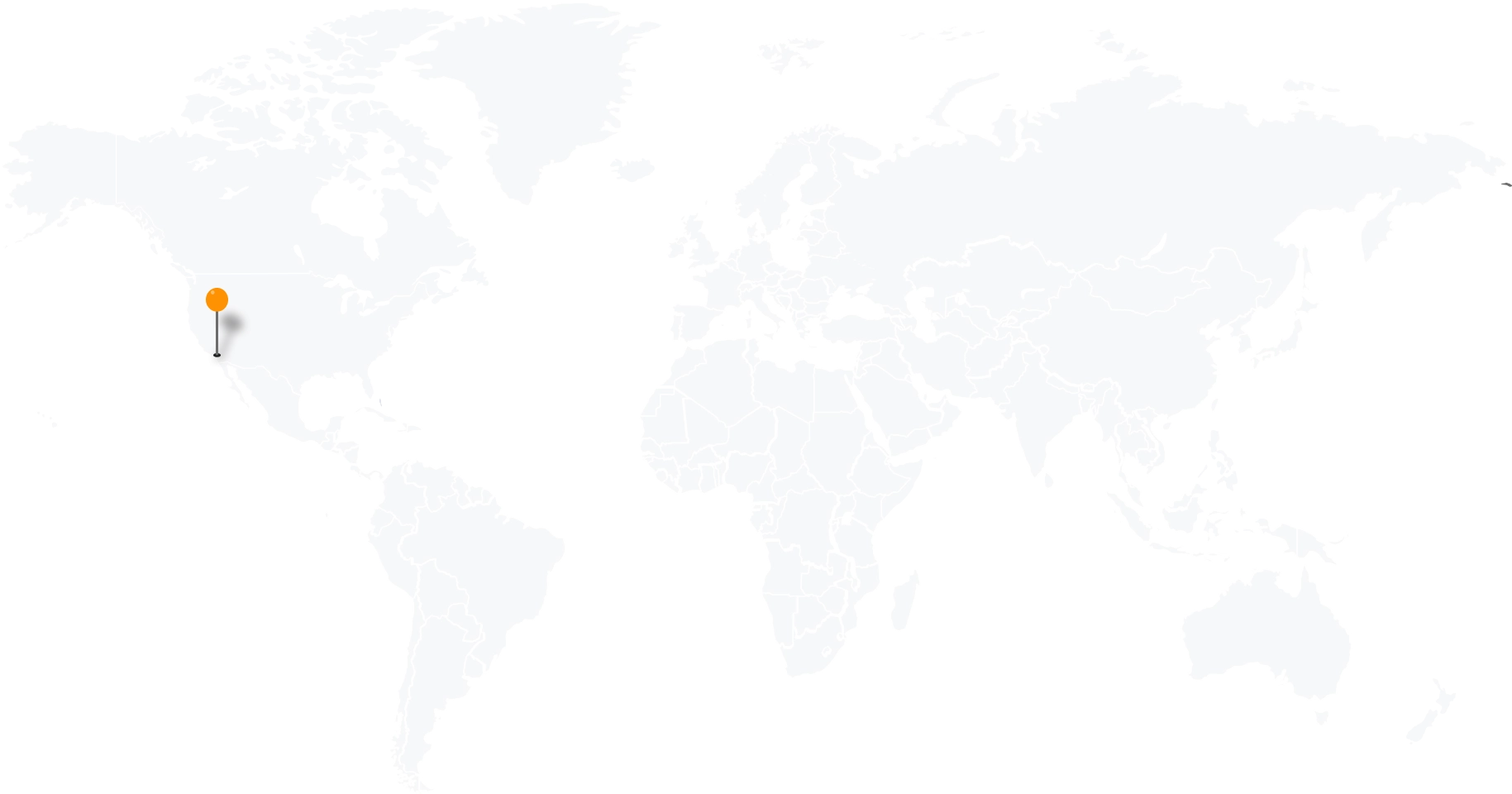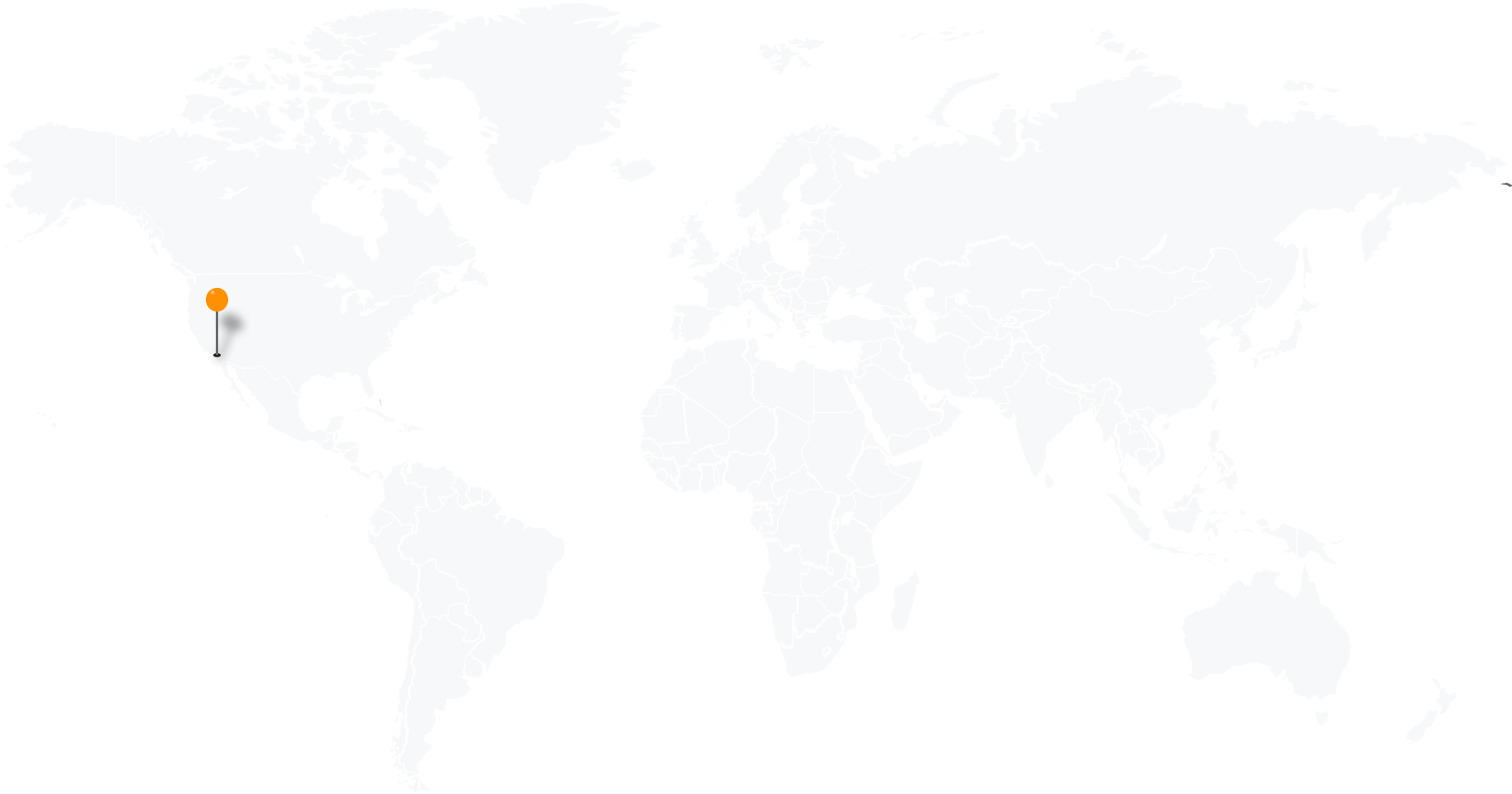 start your project with us
.
Getting in touch
is
easy
.