Intro
H
ello! We assume you landed here because you want to learn about the awareness stage of funnel analysis. Great!
There's a "but" though. Before reading this article, we highly recommend checking out the walkthrough experience we created. This will help you see the bigger picture of what funnel analysis is and why you should do it.
Without further ado, let's jump into the ins and outs of the awareness stage activities.
What is funnel analysis?
In case you need your memory jogged, funnel analysis is the way in which businesses visualize, quantify, and track the different stages their leads go through when:
1) figuring out their need for a product or service;
2) deciding which one is best; and
3) ultimately making the purchase.
Many leads enter into a company's funnel at any given time. And at each purchasing stage, it's understood that some leads will fall off after having decided that the particular company or its offerings are not the best fit for them. The drop-off in leads at every stage, which is defined as the decay rate, is what causes the appearance of a funnel when mapping out the analysis.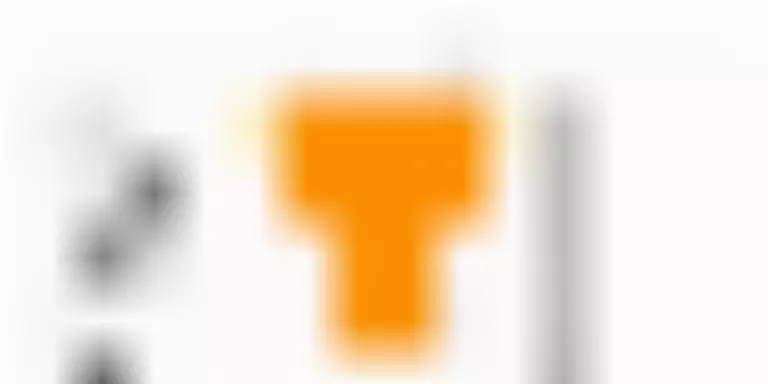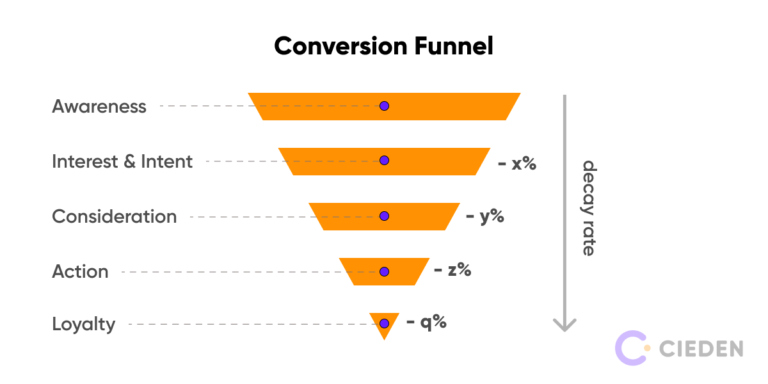 The core value of funnel analysis is being able to identify bottlenecks and leaks that prevent leads from converting. For example, if you see that your drop-off rate is low (which means you have a high conversion rate) then simply putting more of the same-quality leads at the top of the funnel will directly result in more customers. Conversely, if the decay rate is too high and most of your leads do not convert, you should focus on providing a better experience to the leads so more of them will bother to keep learning about your products and services, thereby moving through your funnel and increasing the odds that they convert.
Ok, what about the awareness stage?
The awareness stage is the very first stage a lead goes through before eventually turning into a paying customer.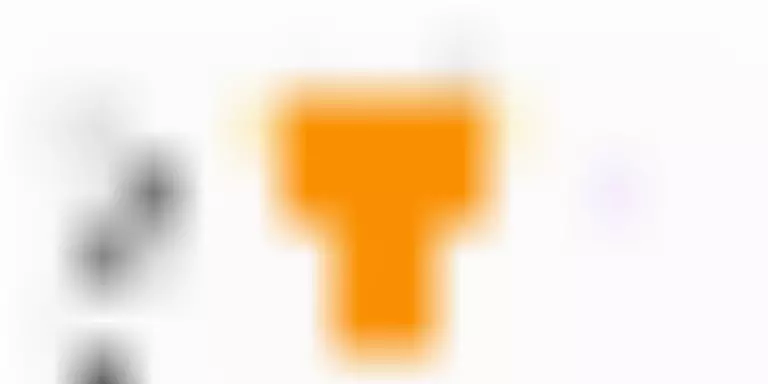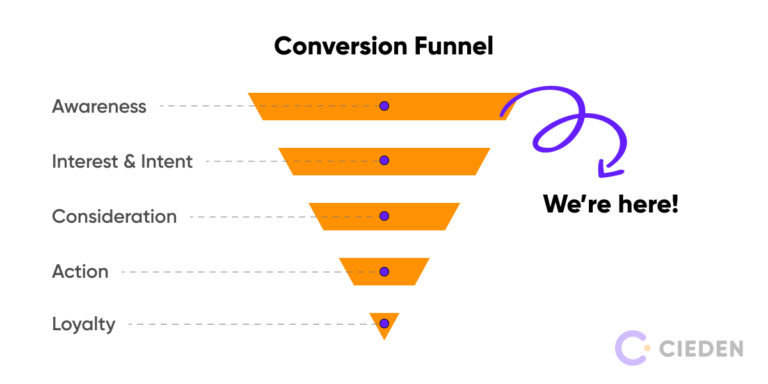 The goal of your marketing efforts at the awareness stage is to simply raise awareness about your brand, the product or service you provide, and the problems you solve. The way you do it is by creating content relevant to the leads who haven't yet realized they have a problem or are not fully aware of how these problems can be solved. This way, when a lead does decide to tackle one of these problems, your company will be top of mind.
The top of your funnel is arguably the most important part of the funnel itself. The reason is simple: if you generate poor-quality leads at the very start, their chances of converting are low. Even if they do convert, they will likely not turn out to be the kind of customers you enjoy working with.
So, how do we make sure that we generate mostly high-quality leads? To answer that question, you need to ask yourself what your ideal customer looks like. Having an ideal customer persona in mind will help you cater your content and outreach efforts to their needs. Plus, it's crucial for guiding them through the whole buyer's journey.
Would you like to learn more about creating an ideal customer persona? Feel free to check out this article by Copper Chronicle.
How do I introduce leads into the top of my funnel?
Now that we're aware of what sales funnels are and why the top of that funnel is so important, the next logical question would be how do I attract leads. This is something that every marketing department likely obsesses over.
It's quite common to split the lead generation activities into 2 groups. Outbound and Inbound efforts. Outbound lead generation is you trying to reach your customers. On the other hand, inbound efforts aim at helping customers find your product.
Through outbound and inbound marketing, you'll be able to generate leads that will go into the top of your funnel.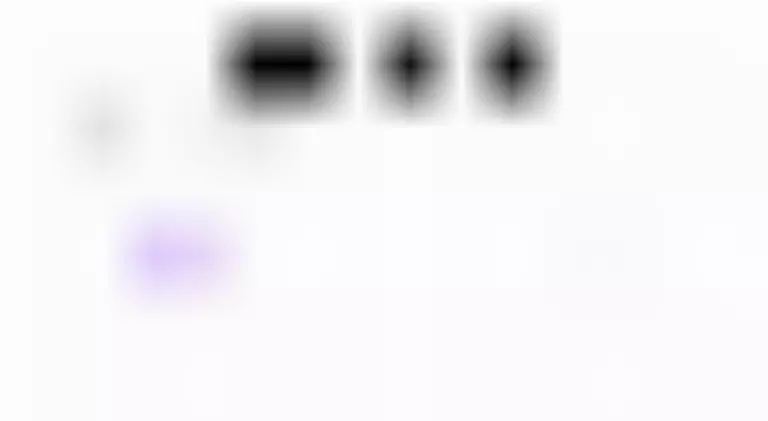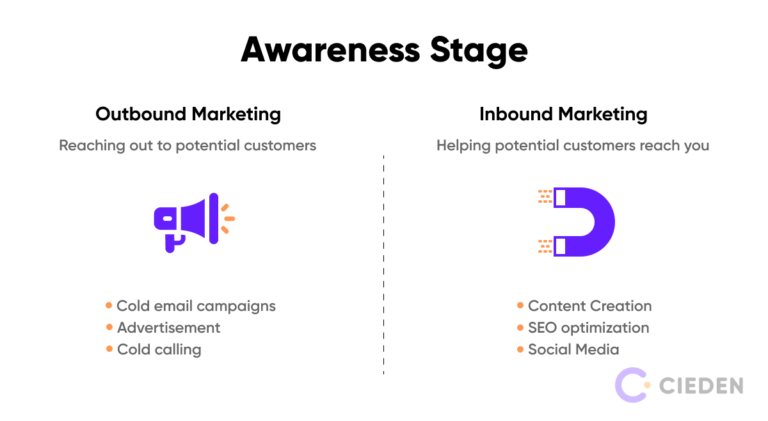 General principles for lead generation
Whether your focus is on inbound or outbound marketing, there are some important principles to keep in mind.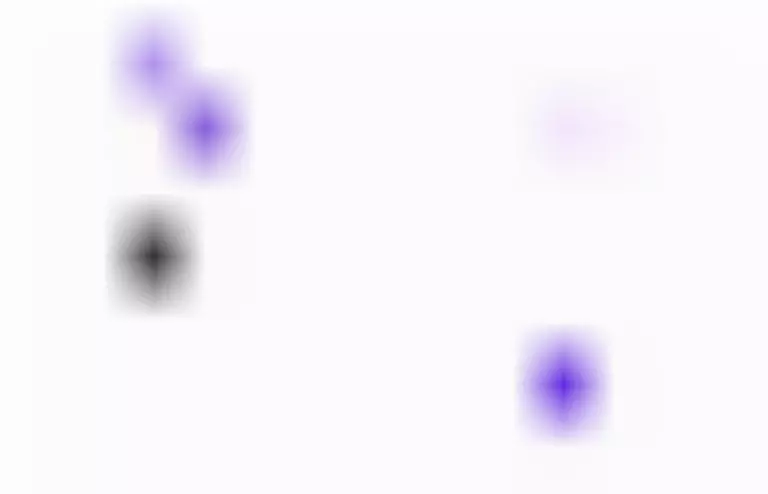 Produce content that answers a question someone might actually ask. If you're selling UX audits, a good article title would be Why are my website users not converting? rather than How UX audit can increase your conversions. At the awareness stage, a lead might not even be aware of the existence of a thing called UX audit, let alone its value.
Don't oversell. An article that exudes desperation or pushiness for sales will do more harm than good. No one likes to feel like they're being pitched to at this stage. A good benchmark is having a piece of content that consists of 90% of helpful information. The other ten could be a subtle sales-related call to action.
If you're starting out, attracting leads to your content will be tough. Make sure to spend at least five times more time promoting your content than it took you to produce it. As good as your content might be, you need to get it in front of as many eyes as you can.
Only use jargon that your customer persona understands. A good benchmark to hit is making the concept easy for a five-year-old to understand. While that remains true, we believe that speaking to your customer's psychographics is most important. If you sell B2B SaaS software that C-suite execs typically use, you should not treat them as you would a five-year-old.
Inbound Marketing at the Awareness Stage
Keeping these principles in mind, let's take a look at some of the content types that will work great at the awareness stage:
One of the things that most modern businesses have adopted is maintaining an online blog. Having a blog is a great way to answer questions while attracting relevant leads who find your website as an answer to their Google searches. Articles and blog posts are the main tools within most SEO strategies (SEO stands for "search engine optimization").
While optimizing the content for your blog is a huge topic, let's focus on some of the best practices to help you get started.
Before picking a topic to write about, make sure you even have a chance to rank in Google search results. Keyword research is what will help you figure that out. It will let you know how many monthly searches are conducted for any given search term, called a keyword. It will also reveal what the level of competition is for any given keyword; after all, if many well-known websites are writing about a topic, then it will be harder for your content to rank higher in the search engine results. Instead, your content will show up after all of the more popular websites. There are a lot of paid tools to help you conduct this research but in case you'd just like to dip your toes into keyword research, there is a free tool called Ubersuggest.
Be sure to make your content easily digestible. Pictures, infographics, and other visual content can further support what you're saying. Also, breaking down the content into dedicated sections with skimmable headlines will help your visitors more easily determine if the article is right for their needs.
Hyperlink your articles to the other pieces of content that both you and other people have produced. Internal links bring people to other articles and content that you have created; external links send people to other websites. This linking of content is a large driver of SEO – when reputable websites link to you, Google's algorithms begin to feel more comfortable about your website's legitimacy, and when you link to your own pages, it shows that you produce a lot of content that naturally flows around a couple of main topics, thereby boosting your own website's authority in that particular domain or industry. A good practice is having one internal and external link for every 500 words.
Video production has never been more relevant when it comes to generating leads, and there are good reasons for that. It's easier to spend three minutes watching a video to learn about someone's products or services than spending ten minutes reading through a website. Not to mention that YouTube has become the web's #2 search engine, after Google of course.
People are using video hosting websites like YouTube more and more to get answers to their questions. Since it's important to be where your leads are, having videos and participating in that platform could be crucial for your success.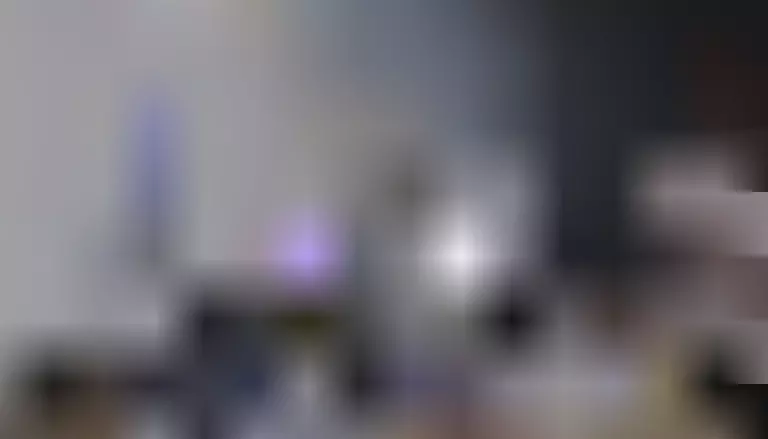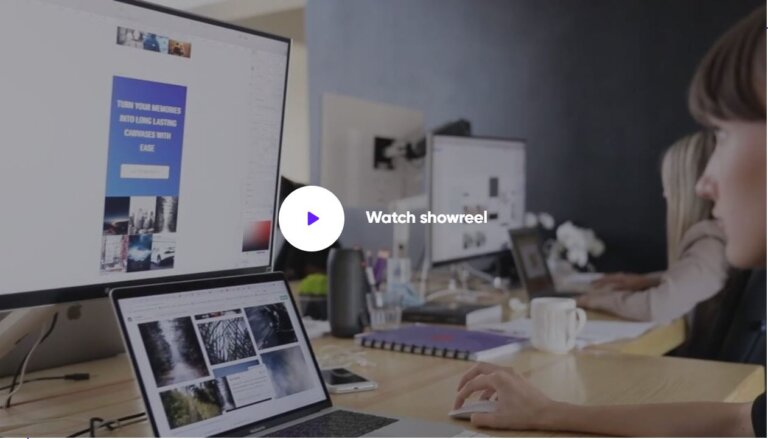 Lead magnets are essentially pieces of content you provide to leads who must take a low-commitment step to access it, like providing their email address or signing up for a newsletter. Using lead magnets is an invaluable way to generate a list of contacts who likely face a problem your product or service can solve.
Again, to create a lead magnet, you should have a clear understanding of who your users are. Otherwise, the leads you are after will not bother to exchange their email address for a piece of content they don't need.
Usually, lead magnets are implemented to a website or an app as a pop-up. You can see an example below. It requests visitors' email addresses in return for a piece of content.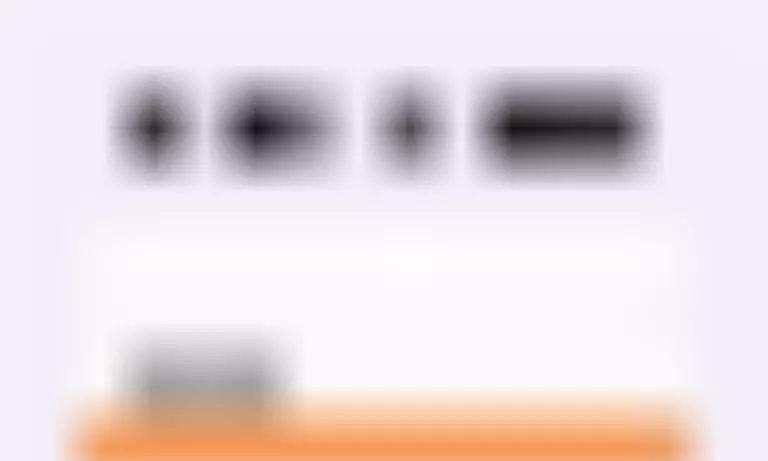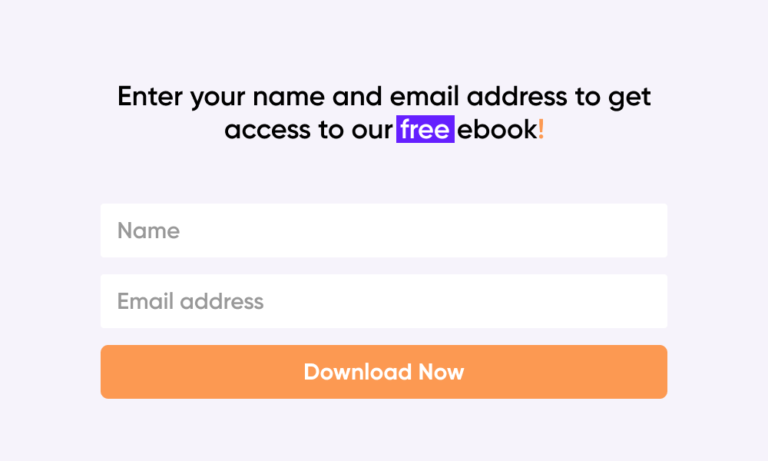 Attracting leads requires you to have a good understanding of what their natural habitat is. Oftentimes, the internet users you'd like to explain your product or services to are active on social media. That means that you should research where your potential customers hang out and try to reach them there.
While Facebook, Instagram, and LinkedIn are often talked about in marketing circles, there are a plethora of other options. In fact, going after smaller or more targeted communities can drastically boost your results. Digital startups, for example, might want to hang out on Product Hunt or Reddit to get their early adopters. Visually-driven companies could benefit from a solid presence on Pinterest. Regardless of the sites and communities you think may be important to your business, it's important to actually hang out in those spaces to better understand the motivators in that community so you can make sure you effectively reach out to the community members.
Outbound Marketing at the Awareness Stage
Outbound marketing is often misunderstood. After all, many people immediately associate outbound marketing with spammy sales email campaigns. However, cold email outreach can actually achieve solid results when done correctly.
To launch a successful cold email campaign, it is essential to first segment your leads into groups. Taking the time to segment your potential audience of leads will allow you to better tailor your messaging to them, thereby making the email seem much more relevant to their current mindset and much less like a pushy sales pitch.

There is a myriad of ways you can conduct your segmentation. Albeit, it always boils down to this asking yourself who your customers are and how can you divide them into groups. Having your past and present customers divided into segments will help you pigeonhole your future targets into similar groups, allowing you to tailor your emails to an extent that these will be unrecognizable from personal hand-typed emails. And that's exactly what you're looking for.
Here are a few ideas of the ways you can segment your potential customers:
Geography (country, city, region, etc.)
Gender
Interests
Age
Industries (applies to b2b)
Having said that, let's break down the core activities you can do in outbound marketing within the awareness stage.
Cold emailing (not spamming)
Before moving forward, let's first present the difference between spam and well-constructed cold email campaigns.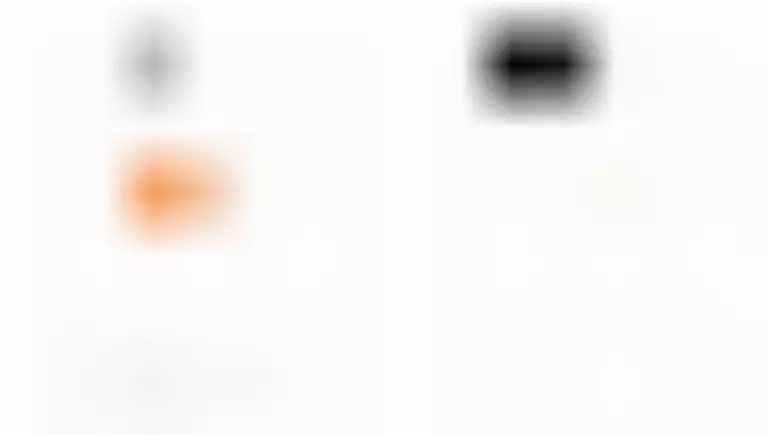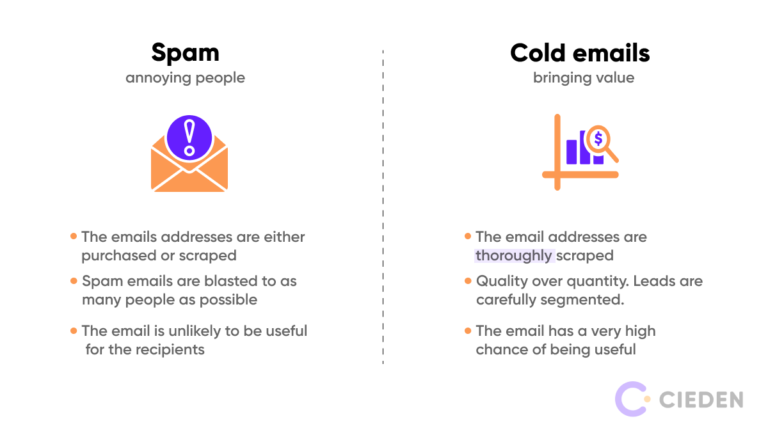 Having segmented your customer types, your goal is to now go out and find the email addresses of your potential customers. 20-40 emails are enough to launch a campaign. So open a spreadsheet and start populating it. Look for people who are likely to be interested in your products or services.
Once you know the name of a person or a company you'd like to pitch to, it is not hard to find an email address. There are a ton of tools you can use to find people's email addresses, like snov.io, hunter.io, and anymailfinder.com, just to name a few.
Ads
Ads are a great way to drive traffic to your website or the top of your funnel. The reason is simple. They allow you to target the groups of people who are likely to be interested in your product or services. There are a number of things to consider before launching an ad campaign, like cost per click, the competitiveness of your products or services compared to other companies, and the channels you think you should advertise on.
Here are a few platforms you can use to run ads. The platform you choose mostly depends on what kind of business you run.
Google AdWords (works for most industries)
YouTube (works for most industries)
Instagram (mostly works for b2c businesses)
Facebook (works for b2c & b2b)
LinkedIn (mostly works for b2b)
Amazon (works for eCommerce)
Etsy (works for eCommerce)
Conclusion
Keep in mind that the list of awareness stage lead generating activities we mentioned is not comprehensive. Plus, what works and what doesn't is subject to change every day. That means you should always be ready to experiment to figure out the best way to move your business forward.
Having acquainted yourself with the range of things you could be doing to bring leads to the top of your funnel, pick a few and start focusing on those. Rather than trying to learn all of the channels and methods right away, focus your efforts on just a few initiatives so you can improve your skills in those specific areas. This will do both you and your business a favor since you'll dedicate the necessary amount of energy to fully testing out each channel and strategy in order to determine what truly works best for you.
Do you feel a little overwhelmed by the amount of information here? If so, feel free to schedule a call with our experts, or else shoot us an email. We'd be happy to help.