Industry Challenge
CRM systems allow restaurants accurately maintain compliance and ensure that health, safety, and service standards are met.

Automation of task management processes helps businesses to consistently meet and exceed brand standards.
Project Plan
Task
To conduct a discovery phase to identify main pain points in managing restaurants in Central Asia, identify opportunities and gaps. Based on the research findings, we designed a new platform to support setting up and scaling the restaurant.
Team
2 UX/UI Designers, BA
Duration
3 Months of active work
Scope
SaaS for restaurant management (Saudi Arabia): web app and mobile app
Result
The solution comprised two products (web app and mobile app) is in active implementation phase
Overview
Managing a business is very complicated work - you must keep an eye on multiple directions simultaneously, have all processes properly set up, and have the proper tools on hand to assist you while monitoring and controlling all moving parts. We tried to create a SaaS solution for an early phase startup focused on small and medium restaurants, that would help to create and run a business in the Middle East region.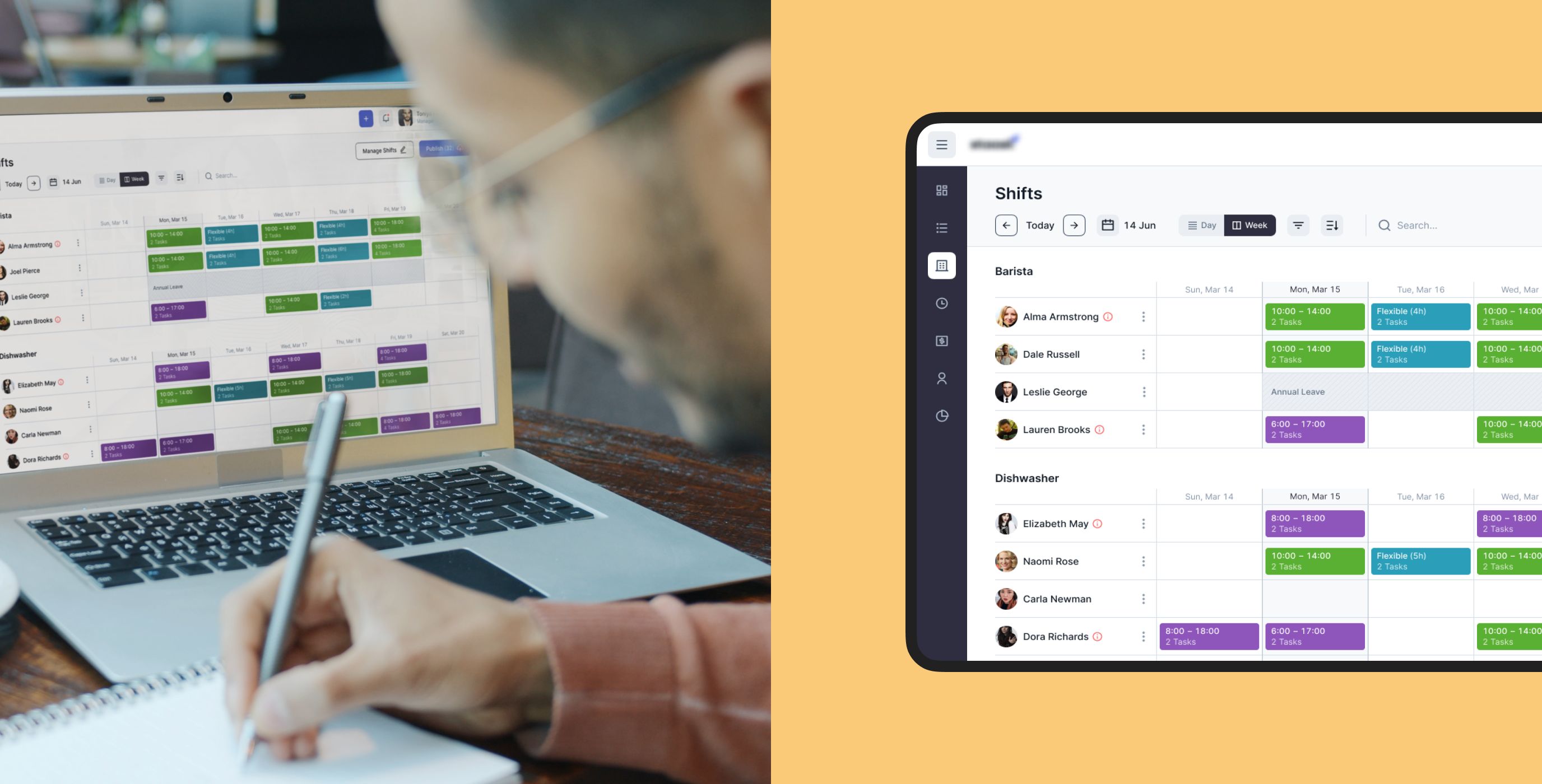 Benefits
Collaborations with knowledgeable subject matter experts
Stakeholders with technical background for validating the feasibility of decisions
Team already had experience in similar domain
Challenges
Bilingual system - English and Arabic
Considering local regulations like requirements on salary calculations in UAE and penalties
Complex business logic with creating working schedules (fixed and flexible)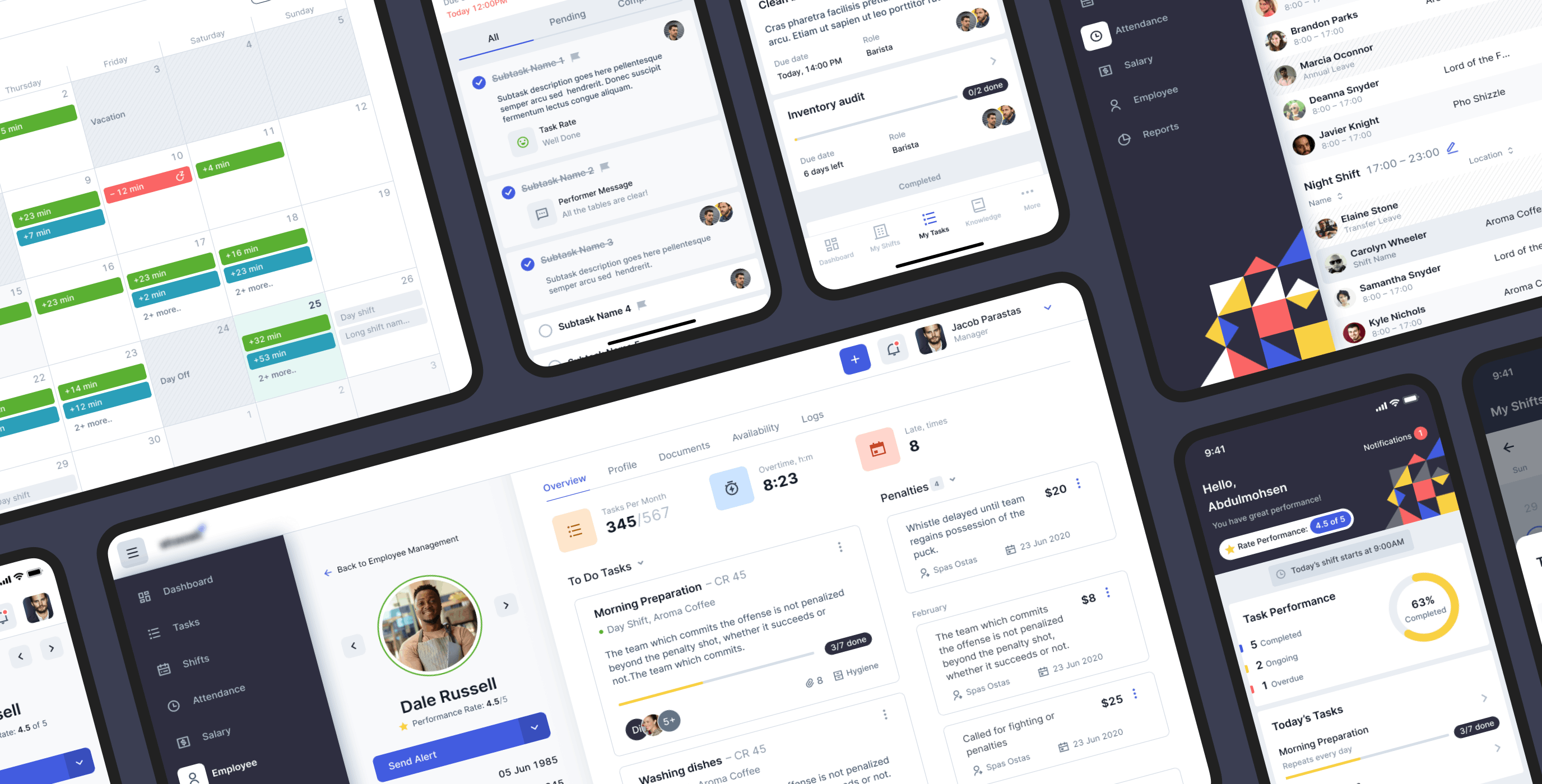 Working Processes Automation
.
We designed simple CRM system for restaurant businesses that allows customers to automate management process. It includes all necessary sings for managers and employees for comfort work in one place.
UX/UI Design
With the desktop design, we aimed to create a simple and straightforward design that would support key features, such as creating a working schedule for a location, adding and managing employee tasks, developing policies and standards, and managing employees and multiple locations. Each of these features was built incrementally and took several iterations to cover all the needs of the end user. We have described in detail the main application features below.
Task management is the most useful feature in every business, not just restaurants. According to the statistics, every manager or teammate starts their work by checking their tasks canvas in the morning, uses it during the day, and ends their workday by checking this stage in the evening. Therefore, we paid a lot of attention to creating the most simple and convenient task management canvas.
All tasks are organized in one place. It is really easy to arrange those on the board. Users can create a new task from scratch or use a template. Also, it is possible to use any type of tasks view: list view with the ability to sort by types and search by keywords, road, and board map.
If we are thinking about restaurant management system, we always understand that it should be connected with staff. Main information about employers which always should be at hands is the schedule. For those needs, our system have a separate page with staff shifts.
Shifts page includes all workers list and their schedule. For faster navigation, we separated shifts into day and night parts. All-staff is also separated to the groups, according to their responsibilities. Managers can easily navigate between different users or dates using quick filters and tabs.
The next important thing is staff attendance control. It is convenient for the manager when all this data is in one place and it is easy to check all workers or quickly find necessary users. That's why we decided to create a separate page for staff attendance monitoring.
Tis page shows the list of loged hours of all the employees. Additionally manager can see weekends, days off, sick lives, lateness and extra hours. It is easy to check attendance by day or by week, sort and search by employee name. Every time slot has detailed report. In addition to viewing mode, manager can edit hours.
Other necessary thing in the restaurant branch is employee management. 
Keeping records of employees is quite a painstaking task, so we tried to make this function as simple and understandable as possible.
So we create a separate page for employee management.
Here we show a list of all employed users and general information about them. Using quick filters and search, it is really easy to find and check necessary details. Every user has a personal profile page with additional information such as contacts, CVs, documents, attendance, and shifts.
We attempted to use an inline user experience when it was possible to make some local changes, as well as a full-screen experience for the creation or editing of complex items with multiple settings and configurations. As a result, we received a system that is highly customizable, flexible, and scalable.
Adaptive Design
Our primary persona never spends the entire working day in front of a computer - their primary environment is restaurants, kitchens, or with visitors, even though most of the organization and setup process takes place behind the computer. Thus with a design, we had to allow users to perform complex features like creating tasks and shifts by the computer,
While we had to provide sufficient functionality to stay in the loop, receive alerts and updates, check statuses and progress of tasks. We created an adaptive platform with just enough features for owners and managers to oversee and monitor all aspects of employee management daily.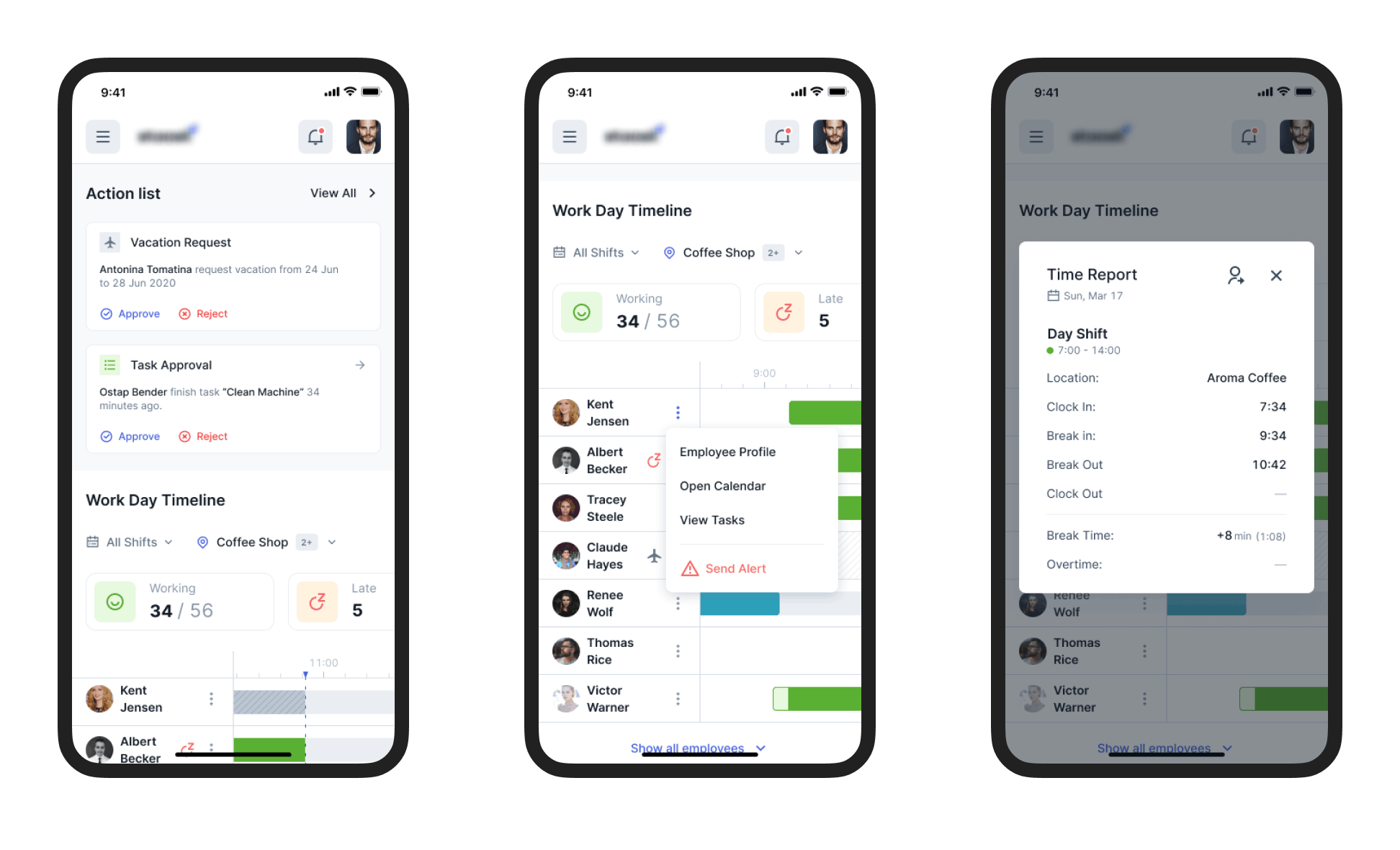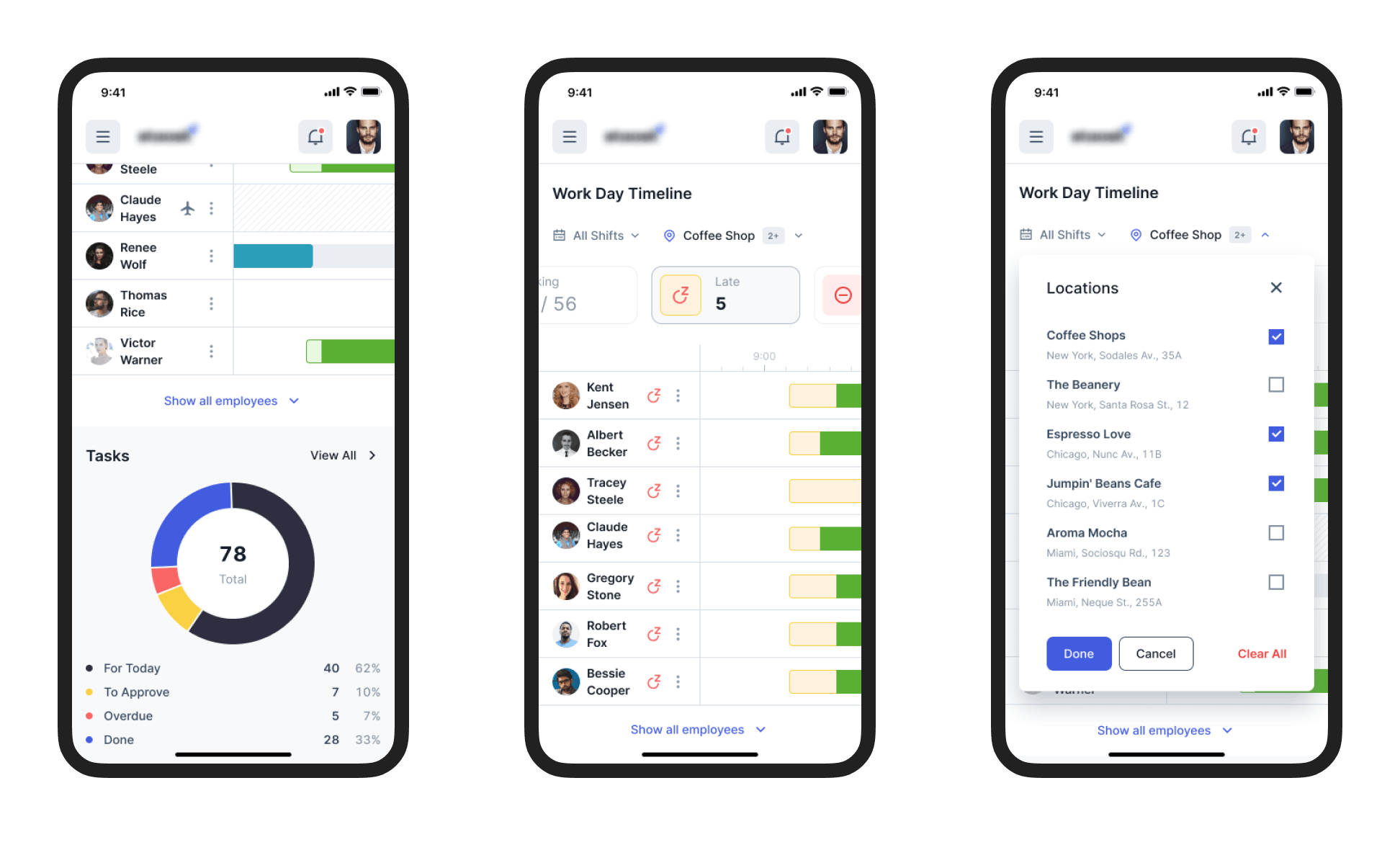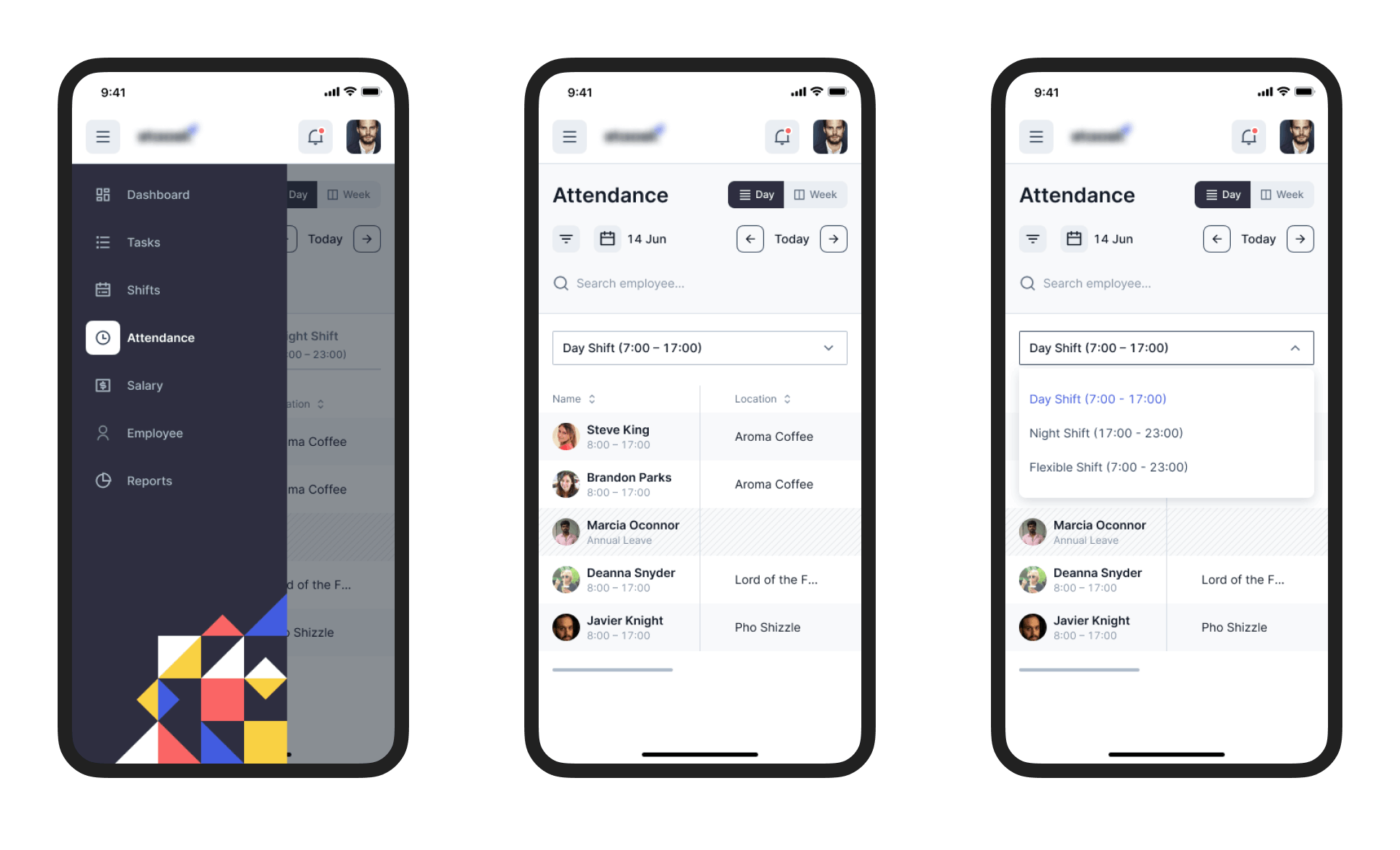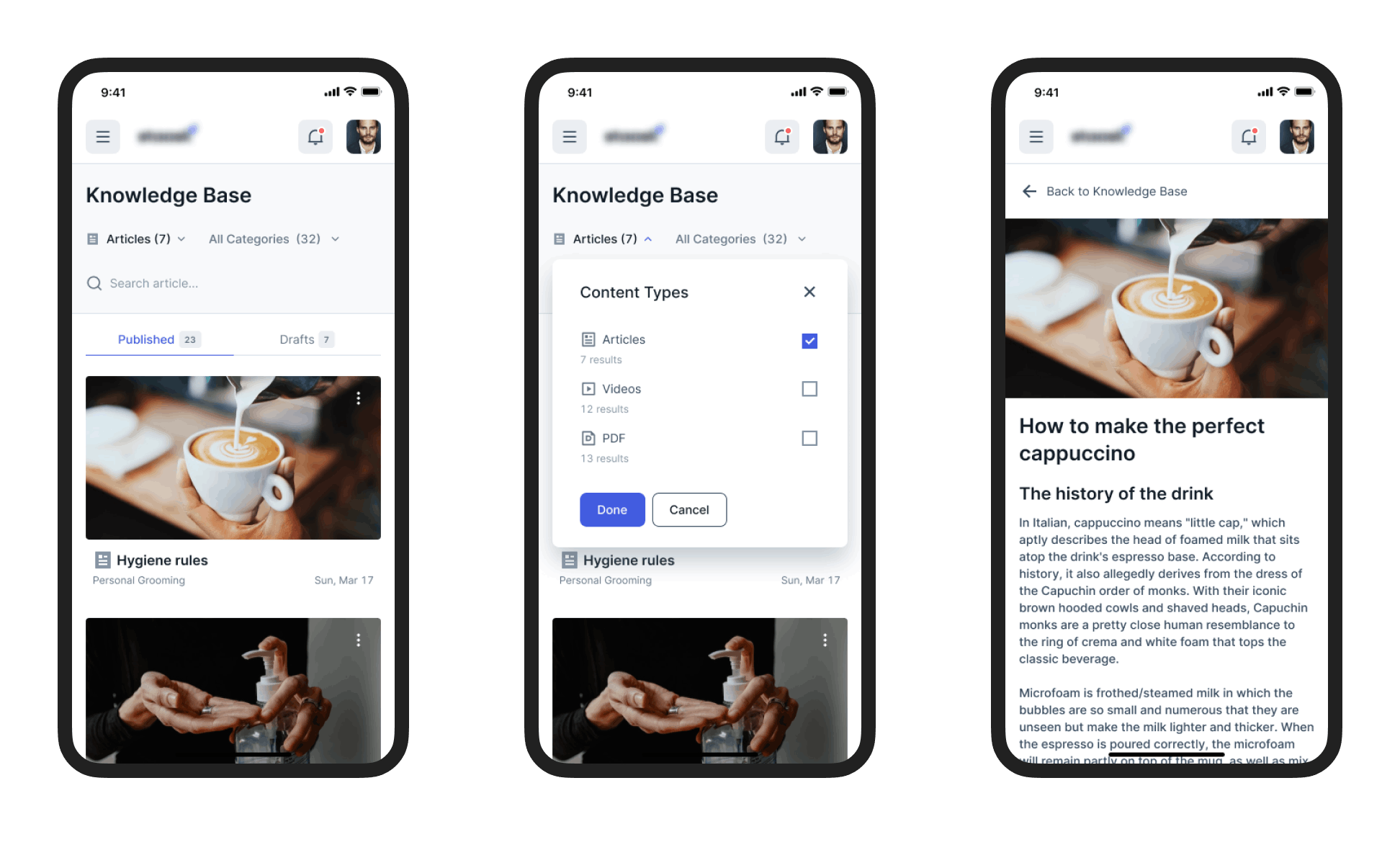 Employee
One of the target personas of the solution is a member of the staff. As revealed during the discovery, this role is somewhat vague because it combines different roles, unique knowledge and skill backgrounds, and even different cultures and languages. As a result, the application design should have been simple and straightforward, with plenty of graphic hints and clues.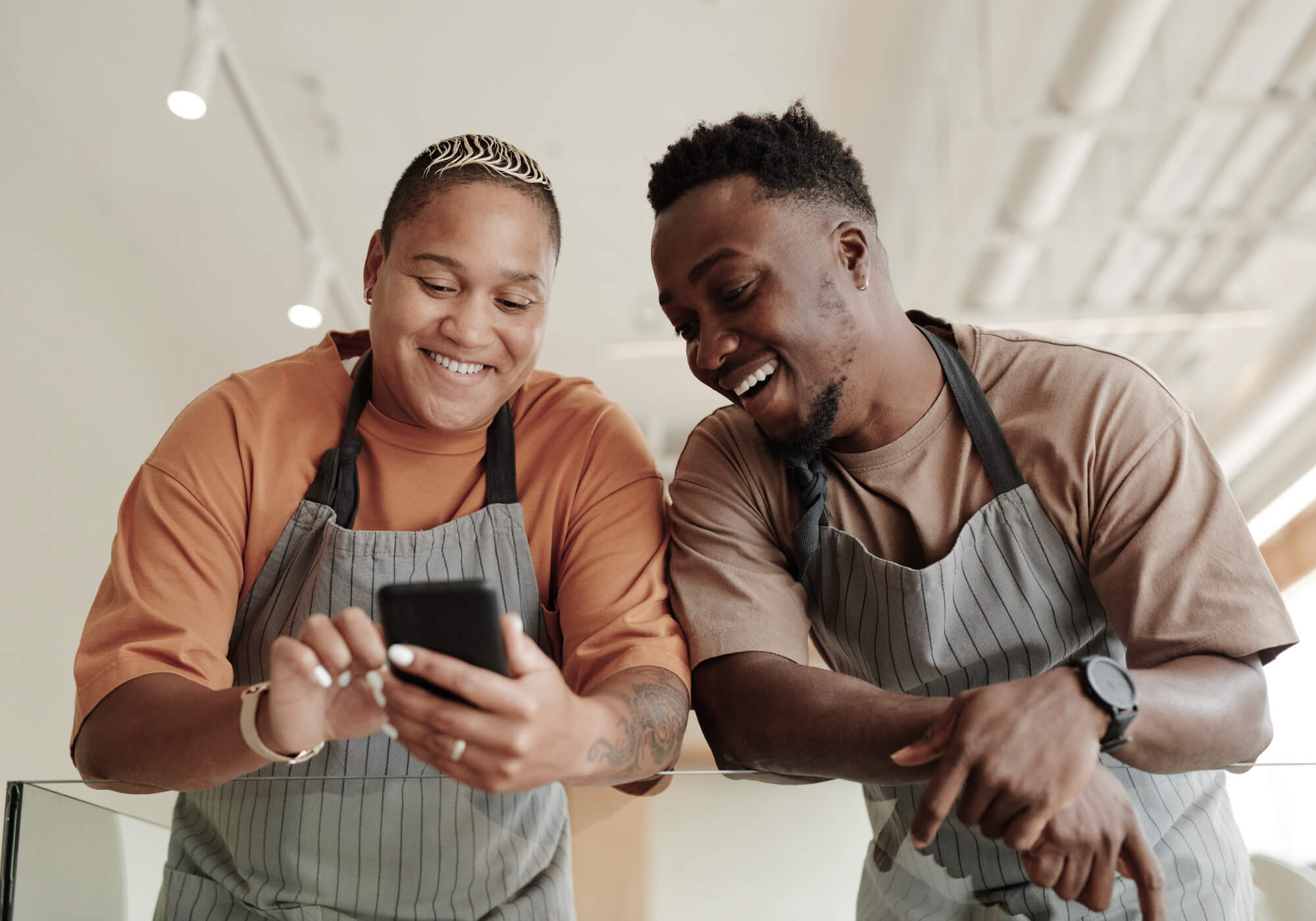 Key Features
The main thing for every employer is schedule. So, it always should be at hand. In our case, we create navigation as tabs, which quickly helps to switch between the main features. We highlighted the shifts as a separate page, this allowed us to put all the schedule information in one place. At the top, we located calendar, so the user can quickly switch between dates. At the bottom, we placed the schedule for the selected day. It includes beginning and end of the shift, address of the restaurant, and user's teammates. User also can create a request to change or cancel his change.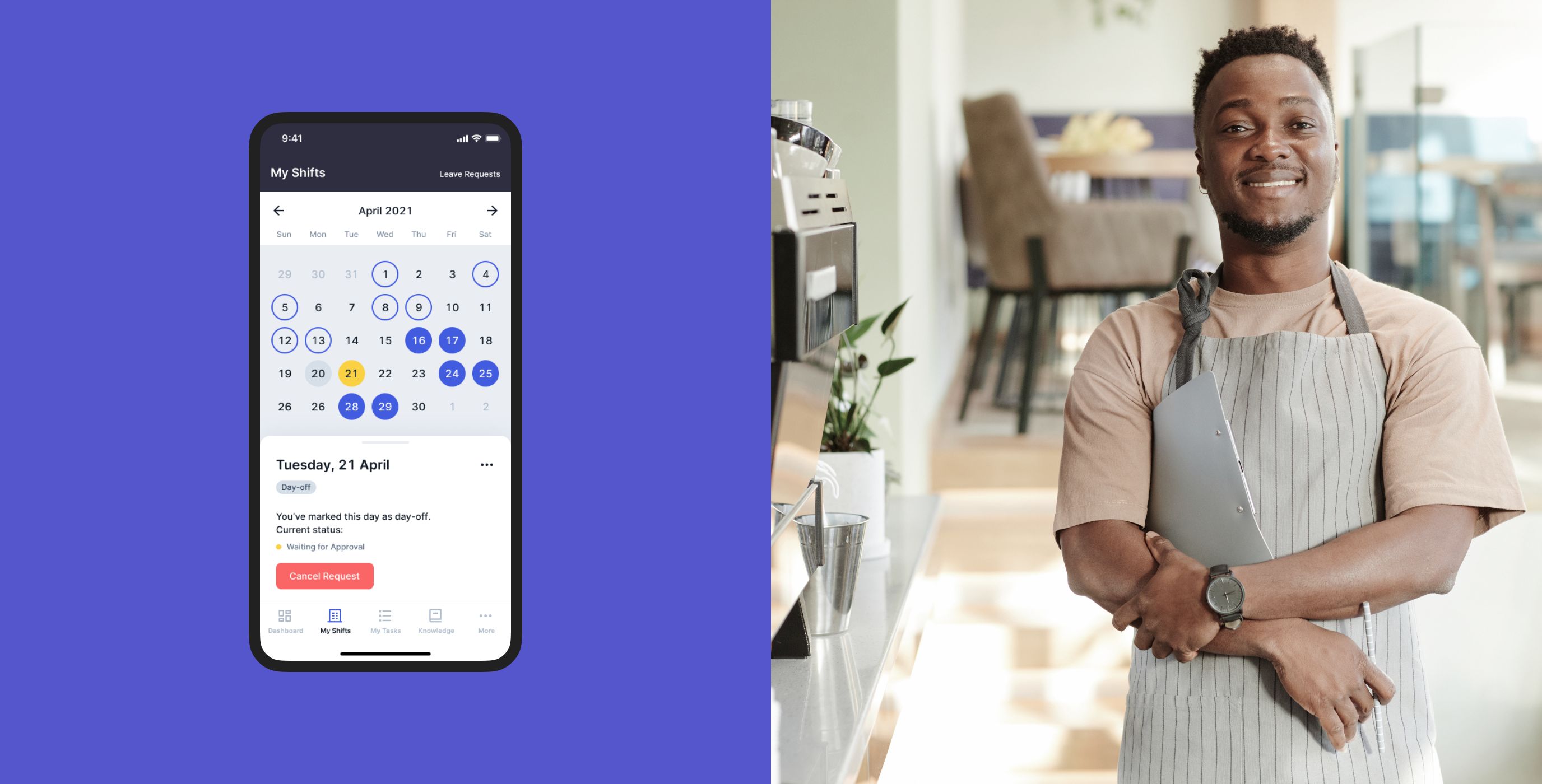 Key Features
The next tab is tasks page. Here, user can check his agenda per day. Every task is shown in card format. It includes title, description due date, status or progress and assigned users. Usually, tasks also consists of sub-tasks and instructions with additional media and text files. In some cases, to complete the task, user need to make video or photo confirmation.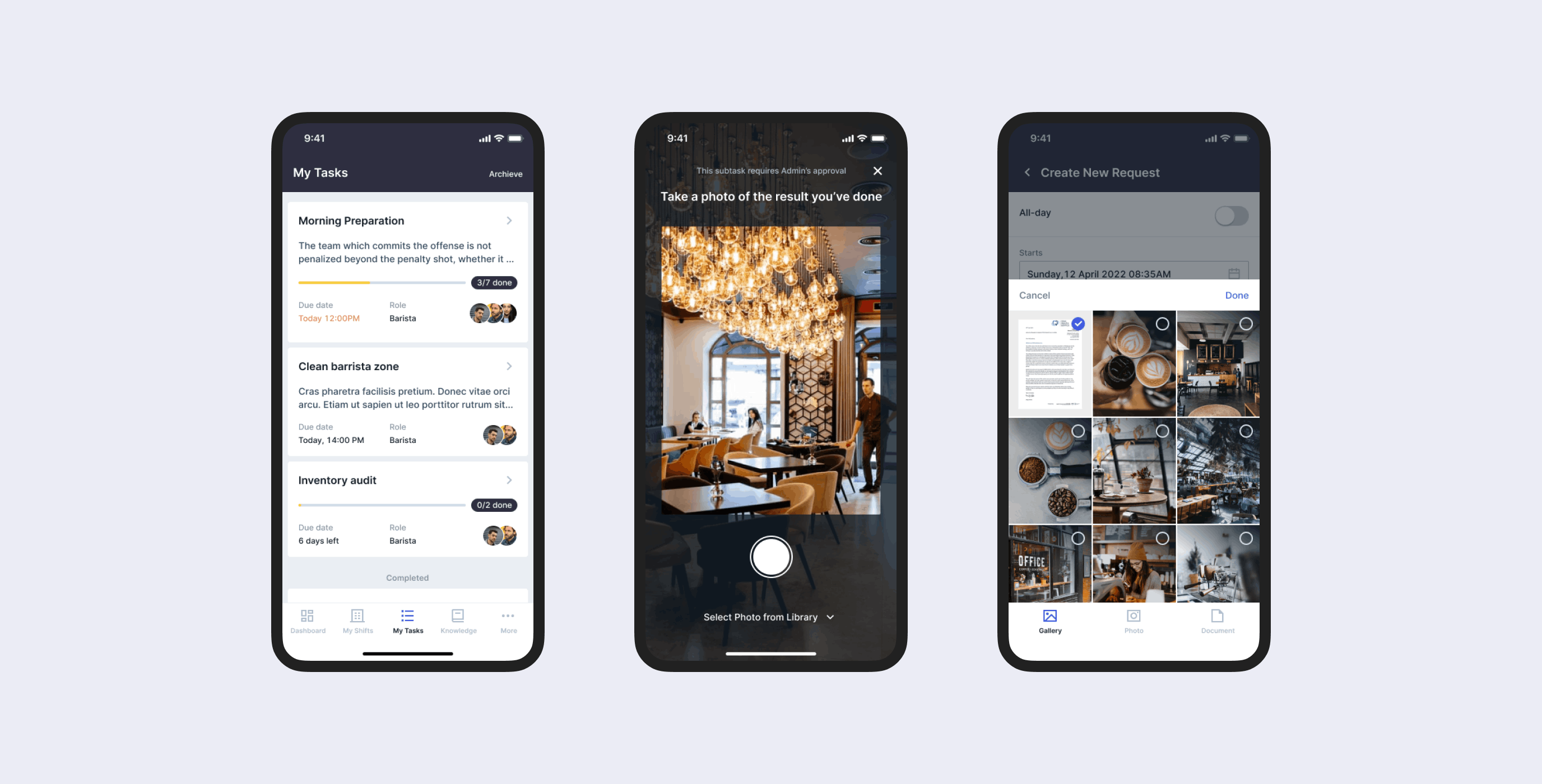 Key Features
Another great feature of the app is the knowledge base. The user can create interactive lessons and share them with other employees. For example, a user can show how to create a perfect cappuccino or how to serve a table in front of visitors. It really helps to teach staff and keep high service at restaurant.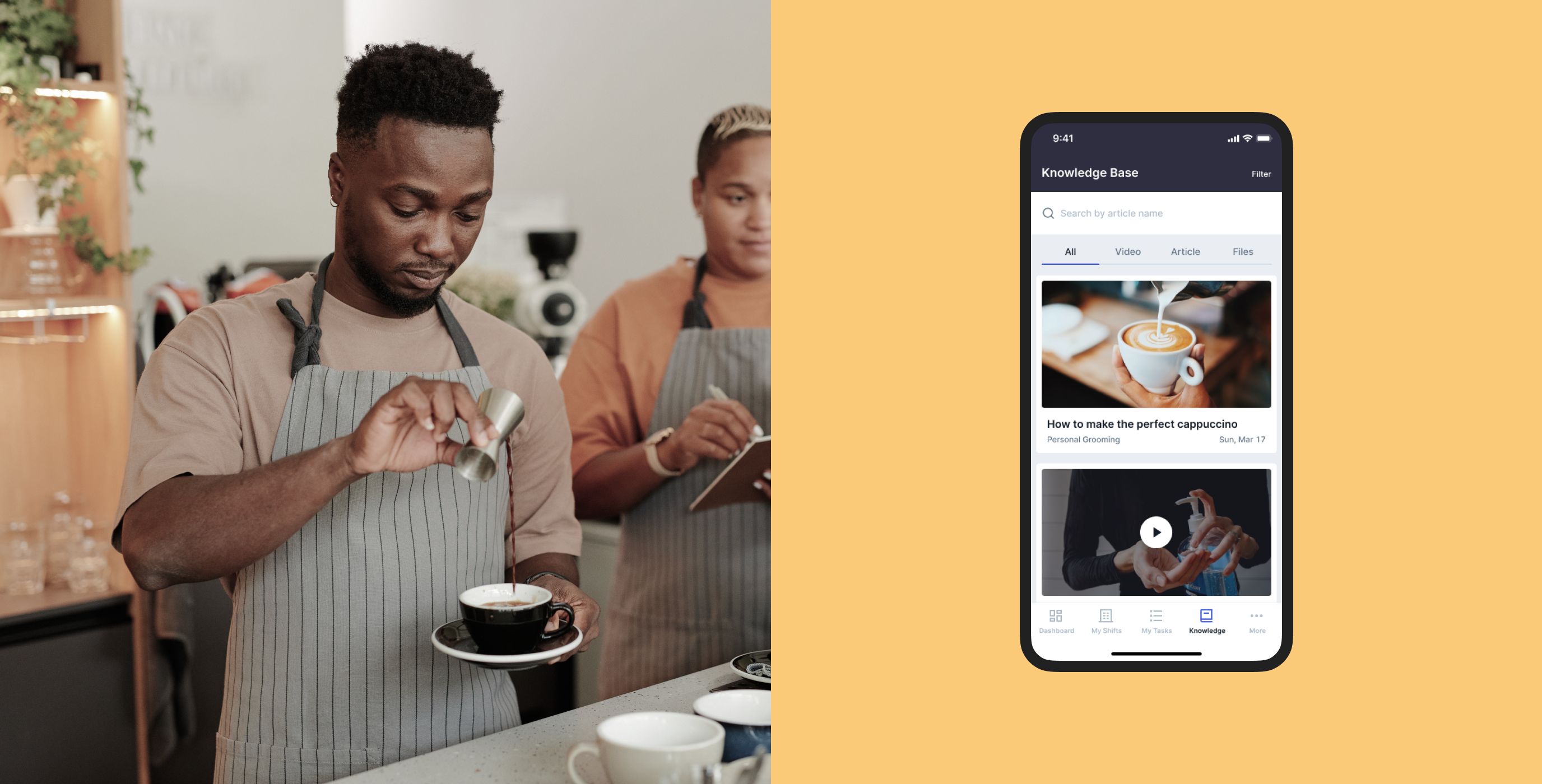 According to the product requirements, we created a small but very useful app for employers in the service industry. All necessary features are in one place. User can easily plan his day and finish all tasks in time.
A truly excellent design goes beyond simple idea visualization. It provides a lot of processes like testing, analytics, and research. Each page of this product is the result of the coordinated efforts of a large group of specialists.
Discovery Phase
Our client was a knowledgeable expert in the domain and, from business logic, there was an understanding of the process of how new restaurants are being created and what they needed to scale effectively. However, the process is very complex and consisted of many touchpoints.

When our client addressed us with a request for a UX/UI design of a task management system, there were ideas in the form of wireframes and a mindmap of features. Since we had experienced in the design of a similar solution, we understood that most of the suggested features are "nice to have" or will not provide sufficient value to the users.
In order to identify the actual needs and pain points of the main target personas, we conducted exploratory user interviews. We outlined three main target personas with different motivations, goals, and needs: owner of the business, manager of the location, and employee. The insights from interviews were synthesized into a Value proposition map, that combined user jobs to be done, pains, and gains, which were later translated into solution features. Out of jobs to be done and pain points, we focused on solving those problems that interfere businesses to grow and scale, and those problems that are not easily solved with the use of other solutions.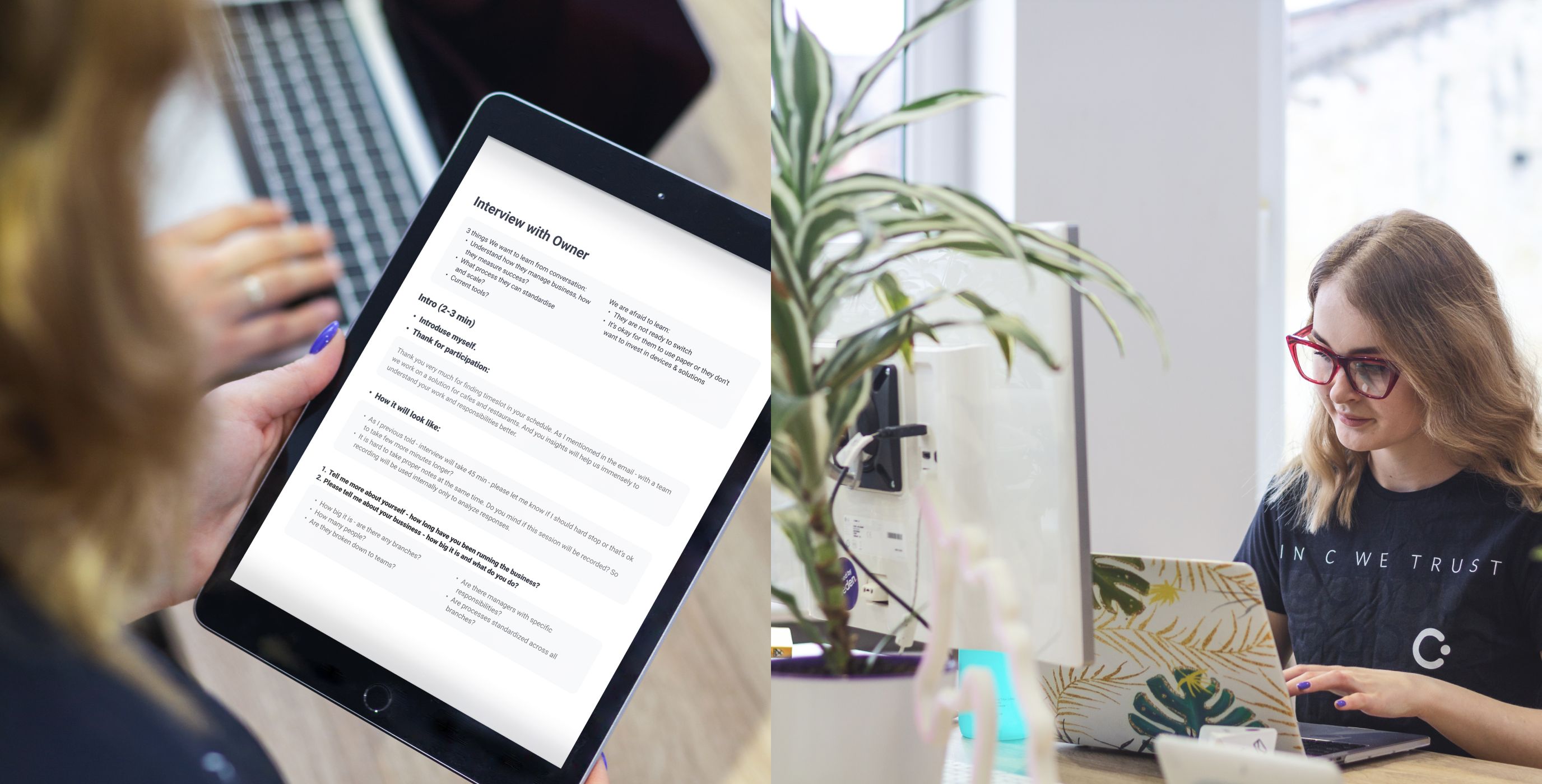 Step 3
After a round of prioritization of user needs and pain points to be addressed, we came up with a list of features that we documented in the form of a mind map. We considered templates of documents provided by the client, operational standards that are used in restaurants and coffee shops, as well as considered local legal requirements—for salary calculations or local hygiene standards that adhere to COVID regulations.
Design. Creating Design System
The suggested solution had two interfaces for three roles: a desktop app for owners and managers, who could also perform some tasks on their mobile via a mobile-responsive interface, and a mobile app for employees of restaurants. For each system, we considered limitations of the environment, frequency, and types of tasks performed. To ensure consistency in the user interface and create one unified brand look and feel, we created a design system that contained elements for different interfaces.
The design system included design styles like colors and typography, as well as components and elements that followed an atomic design principle. This approach is easier to implement, maintain, and update if needed. When choosing the typeface for the solution, we considered if it supported Arabic characters and how it is used in interface design, as many fonts are adapted to graphic design, while only a few support Arabic interfaces properly.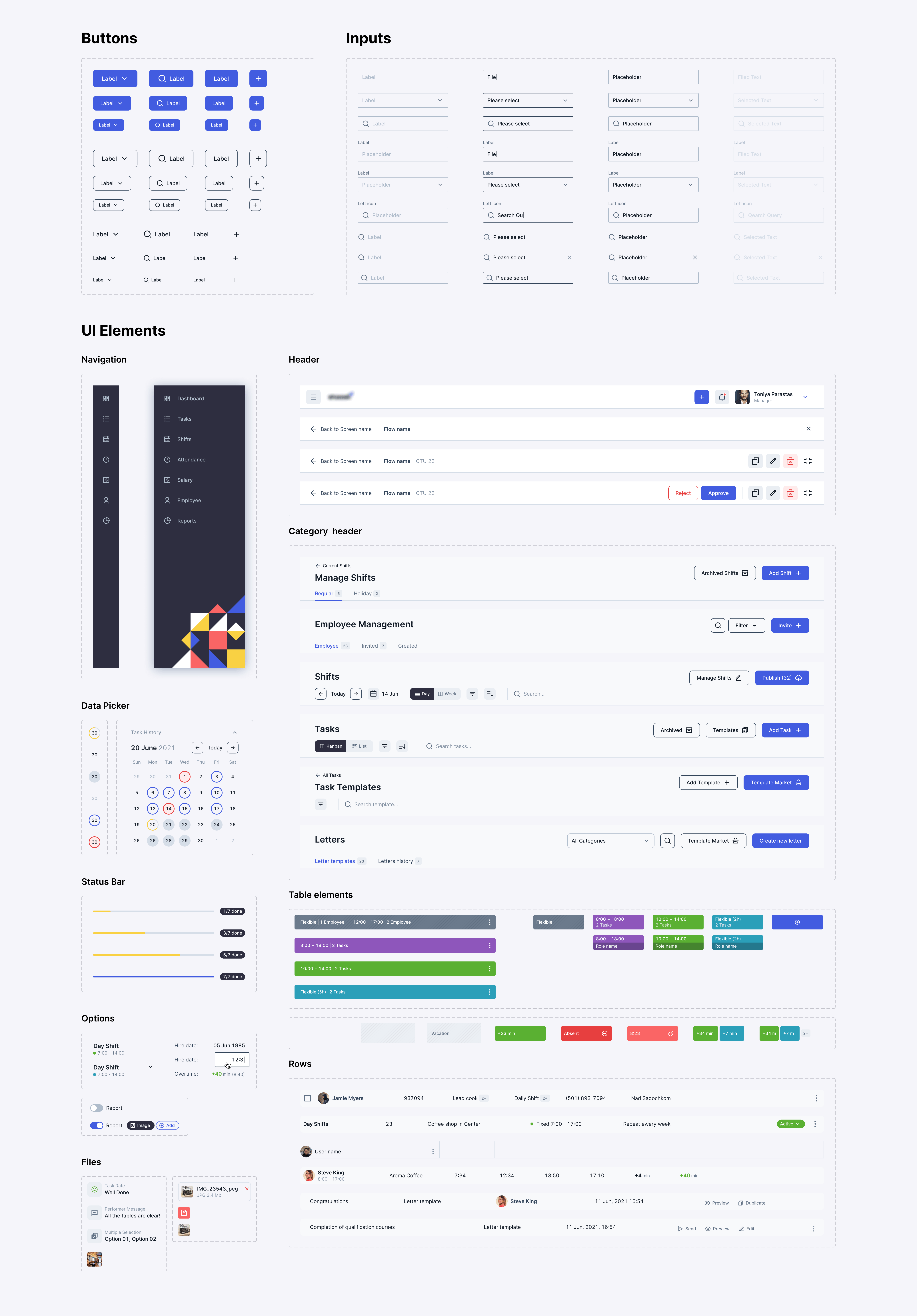 Step 4
The UI/UX process is not the end for design team. This is just a small piece in long product road. After the design phase finished, the product was moved to the development phase. It is colossal and difficult process but also very interesting. We supported developers step by step making product alive.

Implementation process was sliced into the sprints, after every point we had design reviews with global feedbacks and fixing phases. As usually, we had few meeting with devs per week to be sure that everything is implementing correctly.
start your project with us
.
Getting in touch
is
easy
.