Before you launch a product you should get answers to several questions. The first and, I believe, most important one is to define the overall market situation and take a closer look at the potential customer. In this article, I am going to highlight some essential tools in conducting desk research and defining user groups.
Introduction
Desk research will help you gather general information and prepare yourself for qualitative user research.
If you want to become aware of the market size and potential revenue, look at existing solutions and define user groups and potential customers desk research will be a helpful tool for this.
We know how hard it is when you are alone with your product idea and the tonne of useless information throughout the Internet. Don't worry, Rome wasn't built in a day. Step by step, we will break down this process and give you practical how-to advice.
What is desk research?
Desk research (also called secondary research) is a research method that involves using existing data. This technique will allow you to get the first idea of your market and users "from your desk."
Secondary research includes already published materials in reports, articles, or similar documents. I also recommend using software tools that can help you become more familiar with your users (some of them I have mentioned below).
This method is much more cost-efficient than primary research and requests less time for conducting it. Still, a lot of analysis work should be done, and the result is really helpful. I believe the best way is to mix qualitative user research and desk research. It'll help you fit into your timelines and budgets.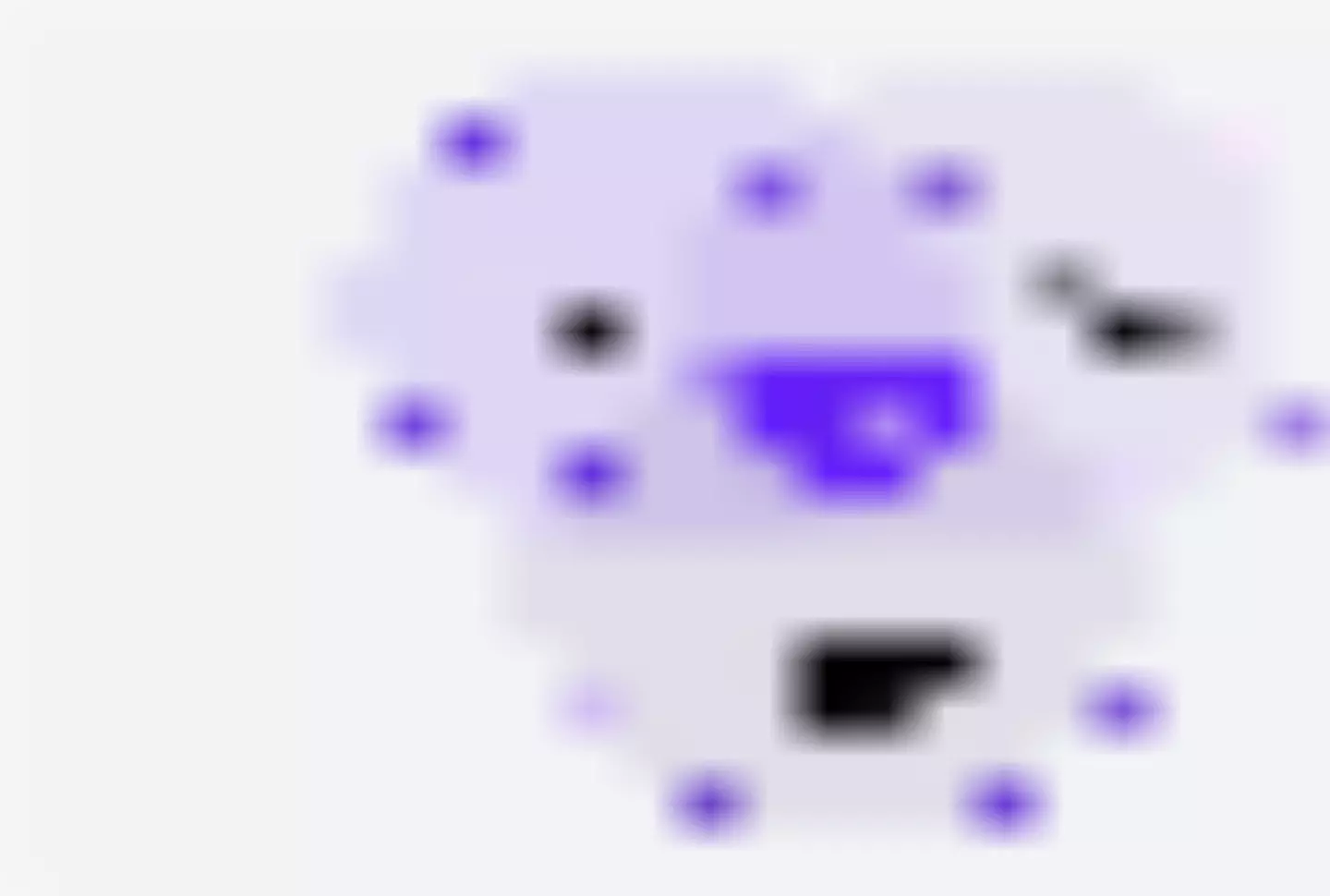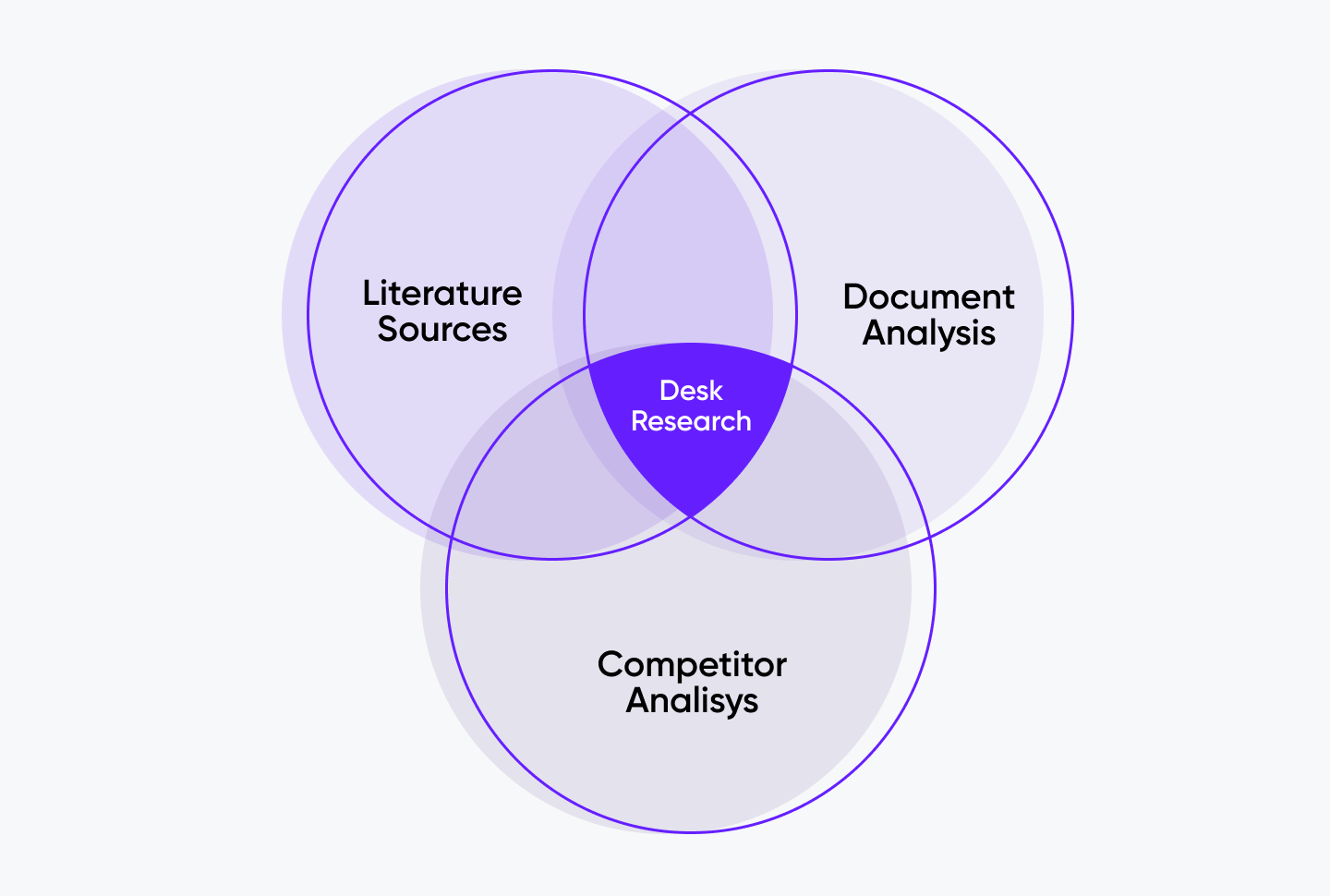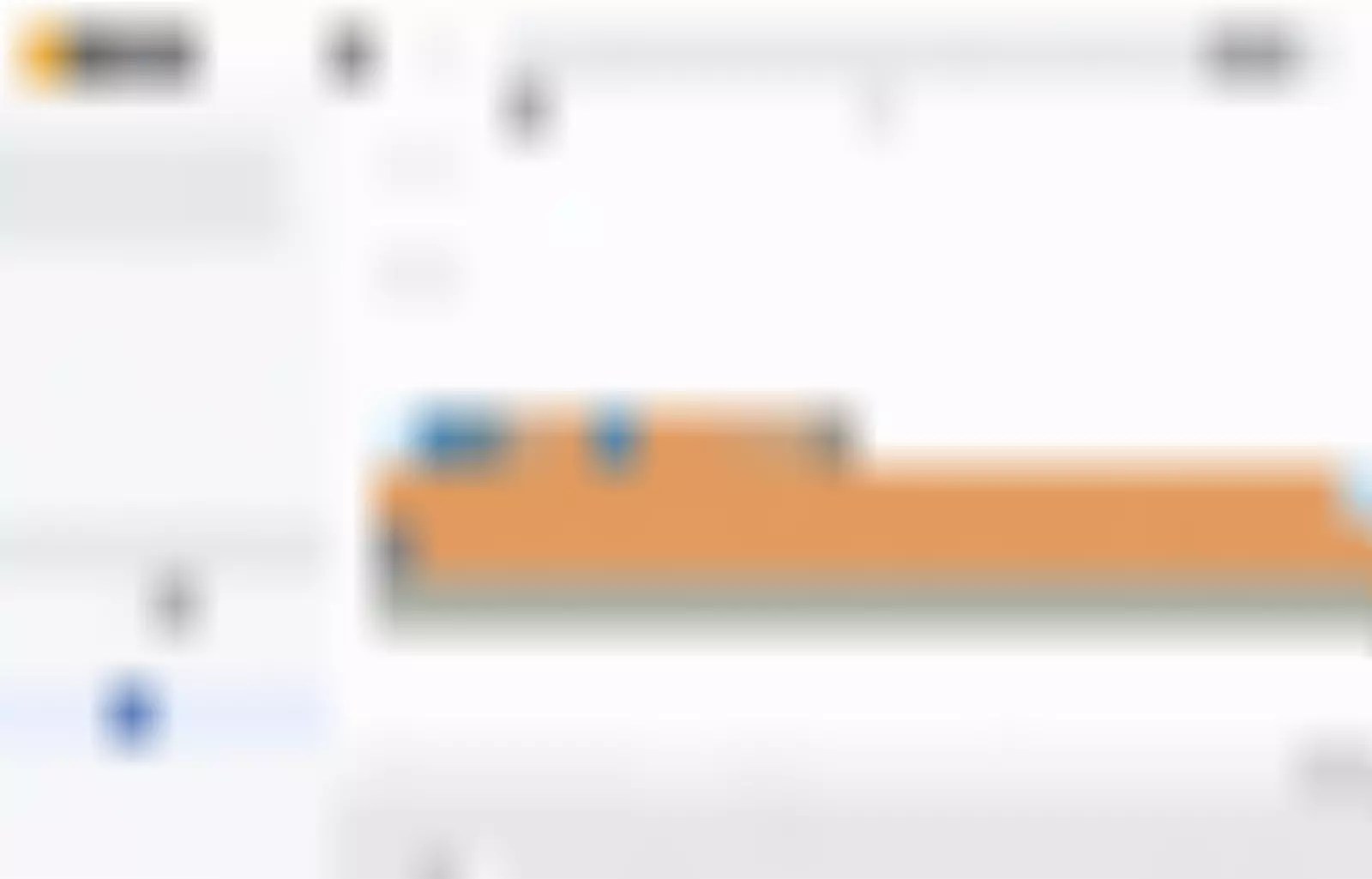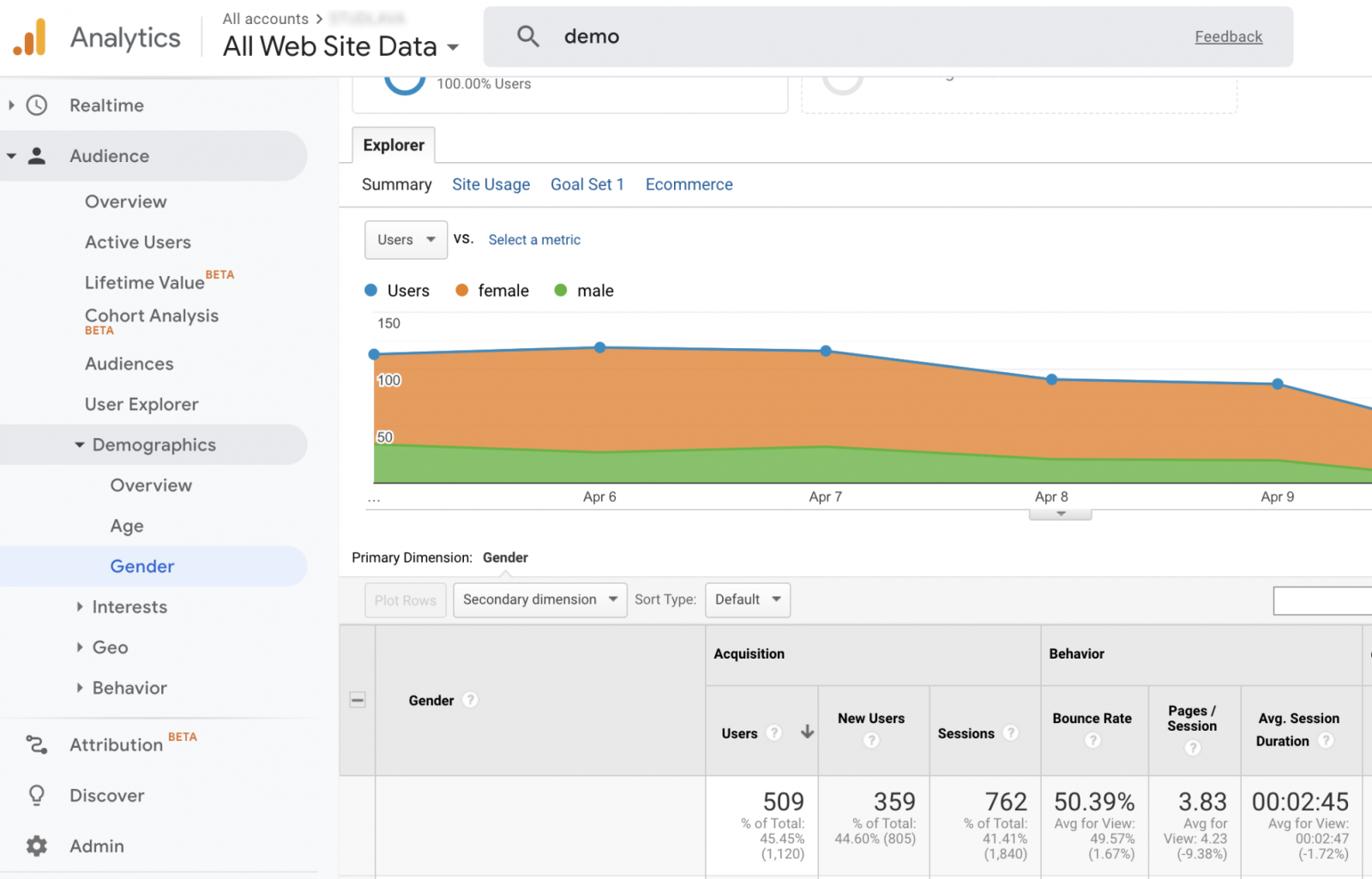 2. Demographics: Affinity categories
Learn more about the preferred interests of your users. As you have already opened an Age or Gender report, you can add a secondary dimension. Select 'Affinity Category' at the dropdown. You will see all the segments your visitors are interested in. It is helpful to identify your ideal online customers at scale.
3. Demographics: In a market segment
One more good analytics to identify the users who are actively researching and comparing items across the Google Display Network (YouTube, paid search results via AdWords, display ads via AdSense, etc.)
4. Geo
This report will provide you an overview of all the languages that your users have set in their browsers and the location they may live. It will be useful in understanding cultural differences and will decrease effort for your marketing campaigns.
5. Devices
If you're going to create a mobile app, think about which devices your guests are most likely to use to access your website. Go to Audience > Benchmarking > Devices. After that, dive deeper into Mobile Devices' info. You will see exactly which brand of mobile devices they are using. Go to Audience > Mobile > Devices.
So we've just outlined some useful data to understand your users better. Now let's move forward to other sources.
Facebook Insights
As almost everyone over the Internet is a social media user, it is good to use the data it represents. It will help you create more target posts and campaigns that cover your customer needs.
1. Take a look at the existing customer list
If you already have a customer list or just a list of users with phones or email addresses, you can use it to gain extra information about these people.
You need a list in the .csv file. In the Facebook Ads Manager, you can create a custom audience. Then the Facebook Audience Insights finish uploading the list and you will receive a 'Ready' notification. At this point, you can analyse your audience.
2. Analyse Required Audience
Initially, you need to open an Audience Insights tool. You can choose an Audience you want to analyse. This tool can give you access to such data:
Age, gender, and relationship status
Lifestyle preferences, demographics, and interests
Education level and job title
Facebook Pages that are likely relevant to your audience
Top cities, countries, and languages
Frequency of certain activities
Device usage
Household size and estimated household income
Homeownership status and house market value
Spending methods, purchase behavior, and estimated retail and online retail spending habits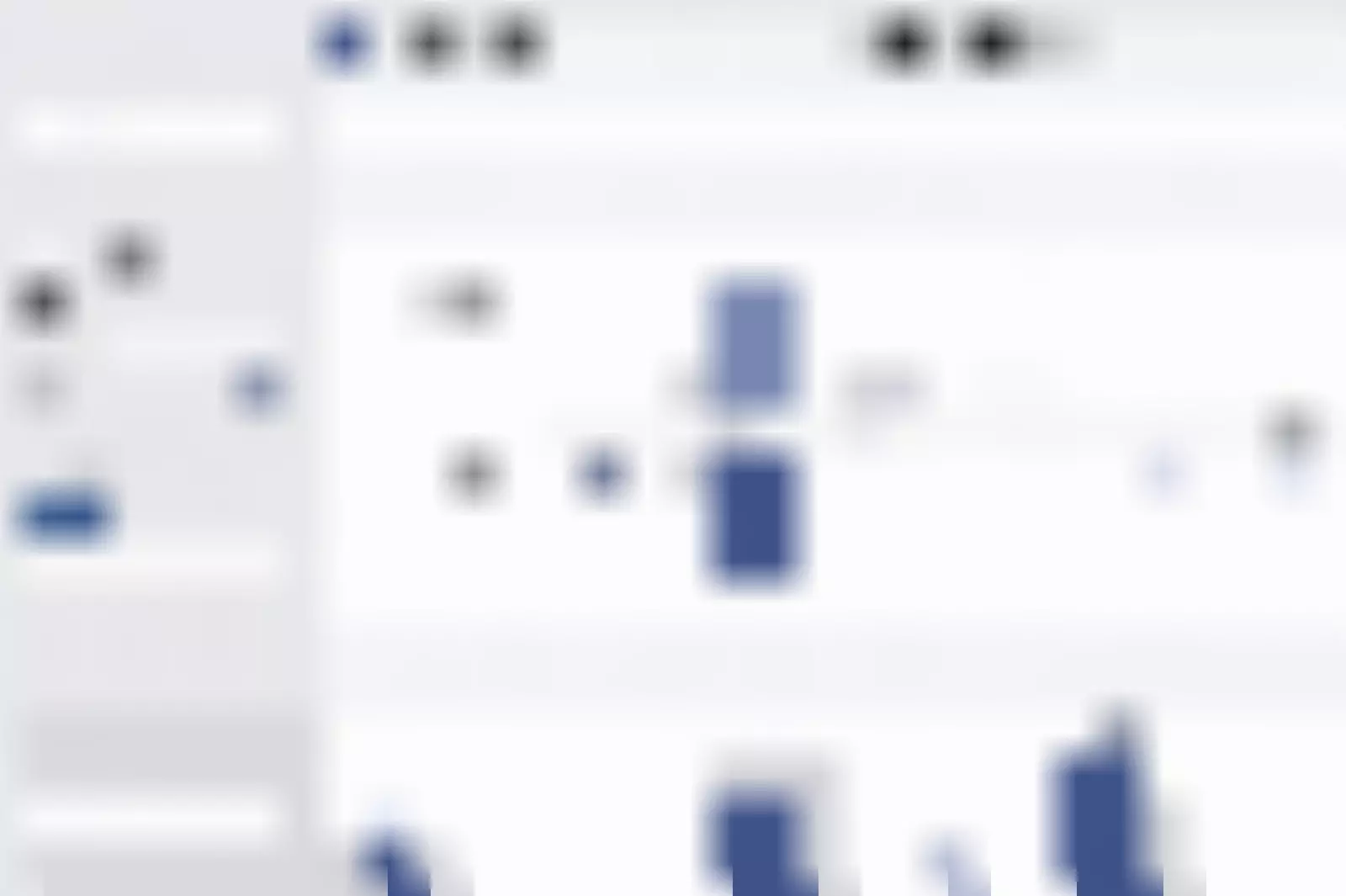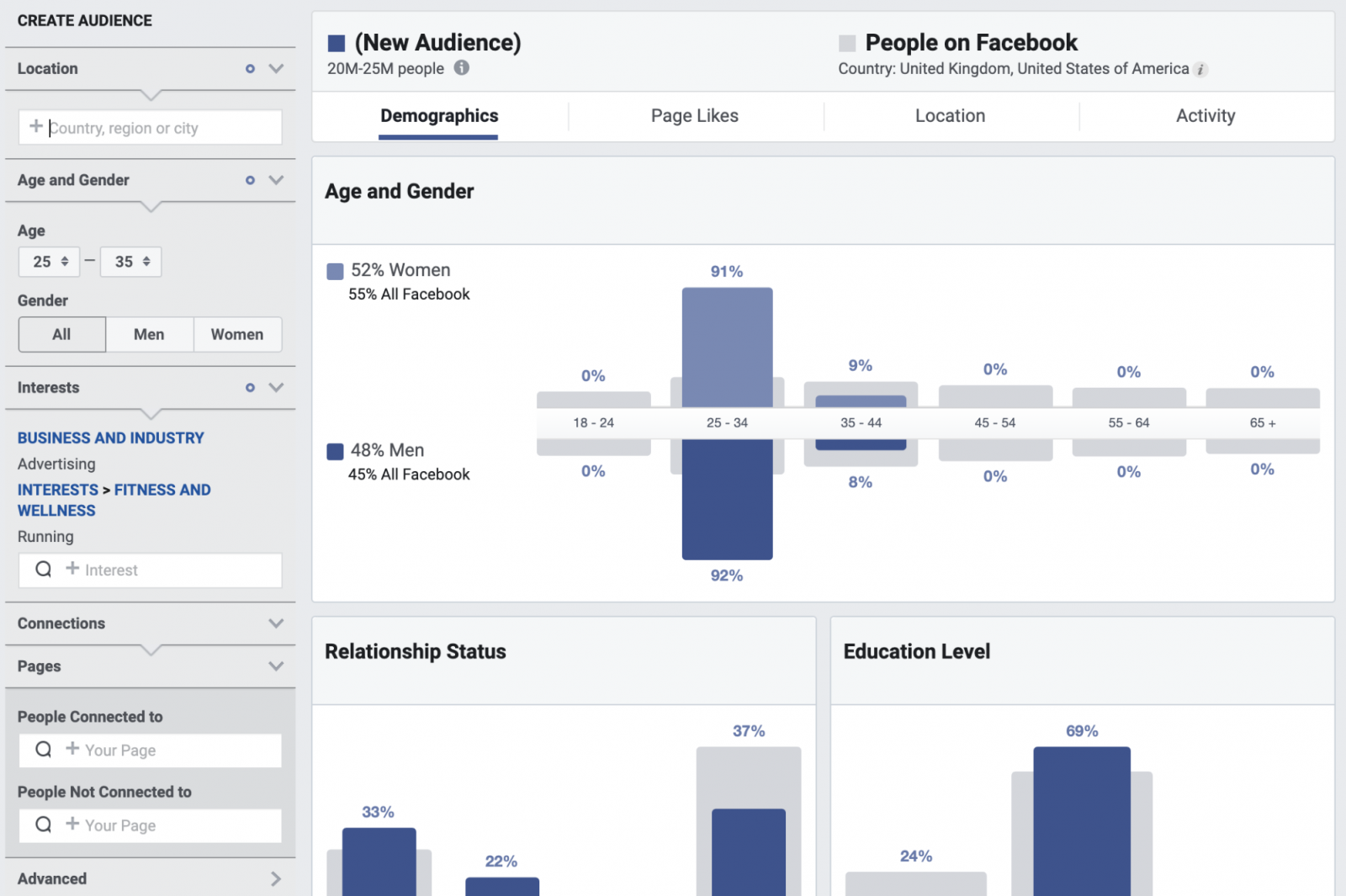 LinkedIn
LinkedIn is one more powerful resource for collecting data. A good LinkedIn profile is a pretty ready proto persona. You can discover the user's location, career path and goals, achievements, and daily work responsibilities. It is especially useful for B2B marketing. By the way, if you are in this segment, you can also use tools like Leadfeeder to understand which companies are visiting your website.
Now we will break out four components that could be revealed from Linkedin: business attributes, pain points, hangouts, values.
1. Business attributes
They give you a deeper view of the demographics of your business page followers and visitors. What can you gather here? You can see location, job function, seniority, industry, company size. There are also data about similar companies and the comparison in analytics. It's a great specific tool to reinforce Google Analytics.


2. Personal profiles
Pay attention to sections "Summary", "Skills & Endorsements", "Activity" and "Interests".
In "Summary" we can get an overview of the person's work trajectory, education, and main skills. From the "Skills & Endorsements" section, we can receive data about a person's strengths and people who endorsed their skills (who can also be useful in the research). The "Activity" section is a great way to observe what the person is talking about, what they like, and comment. "Interests" shows a list of the following companies and people, so it is possible to examine what engages the person.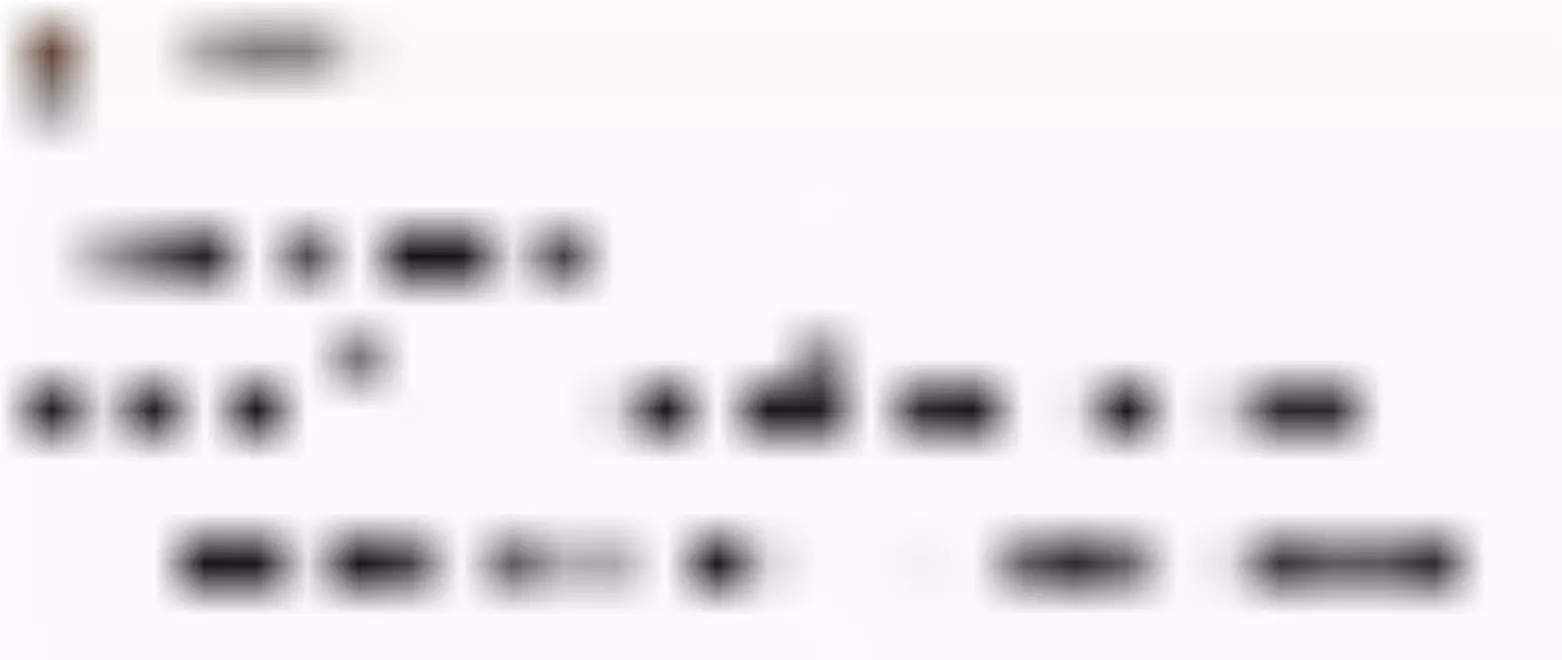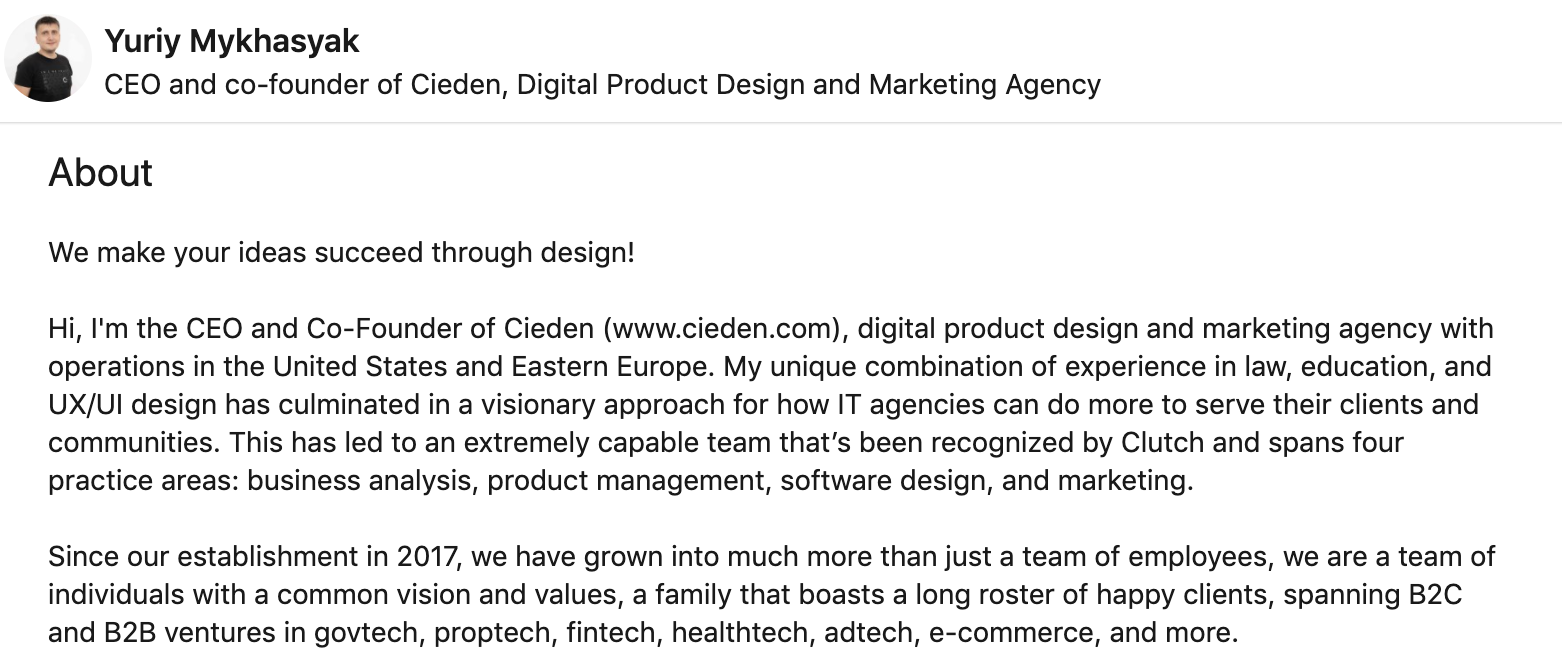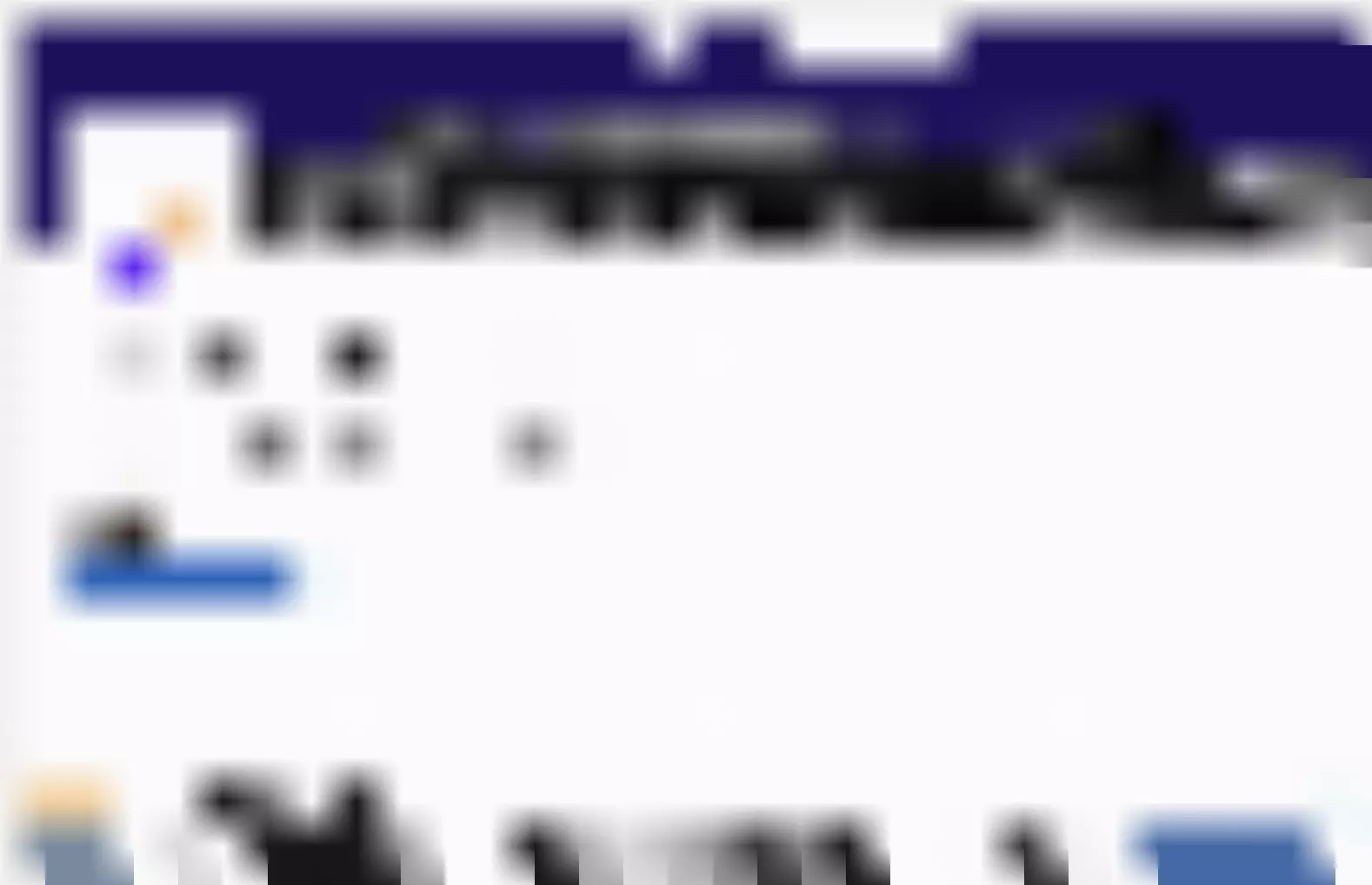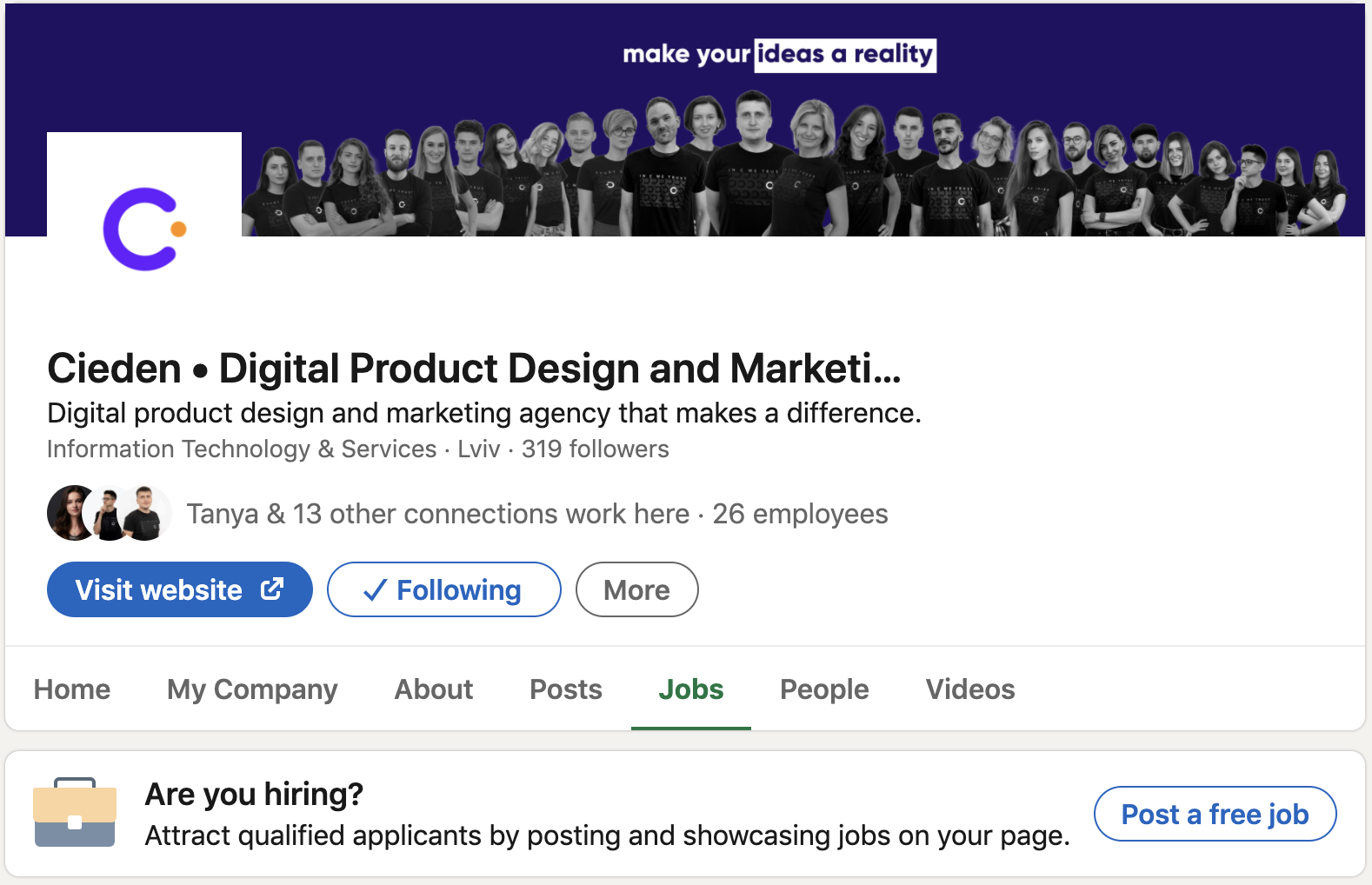 After gathering all this data, you can create a direct message to increase the chances that relevant people will view it. How to do it? Open your Company Page > Click on 'Create Post' > Manage post Audience: from Anyone to Targeted audience. Add some specific details about your audience.
4. Advanced Search
Use LinkedIn Advanced Search to earn data about market size, amount of required companies or people. By working on the filters you can find more insights about locations, education, seniority levels, etc.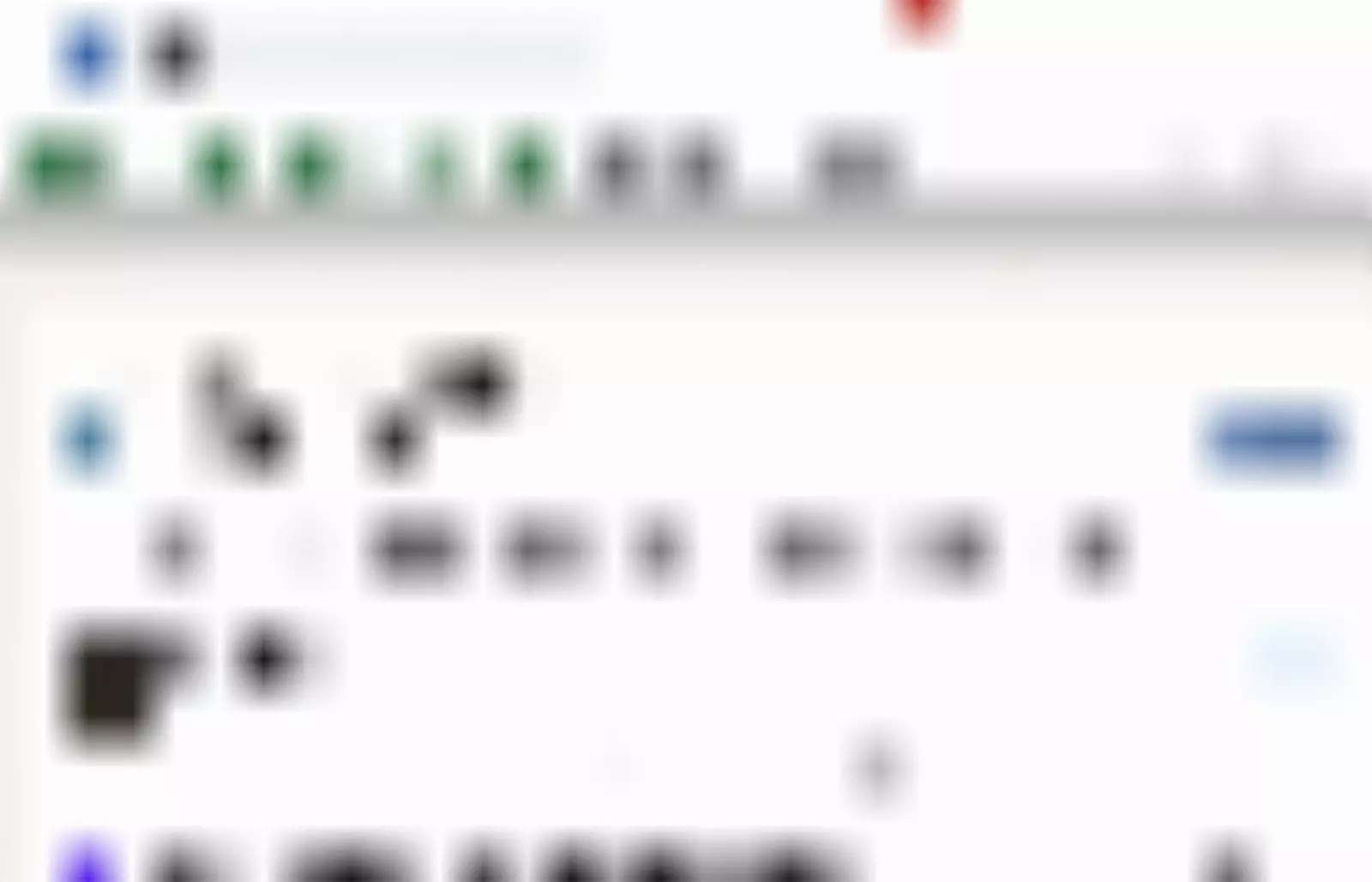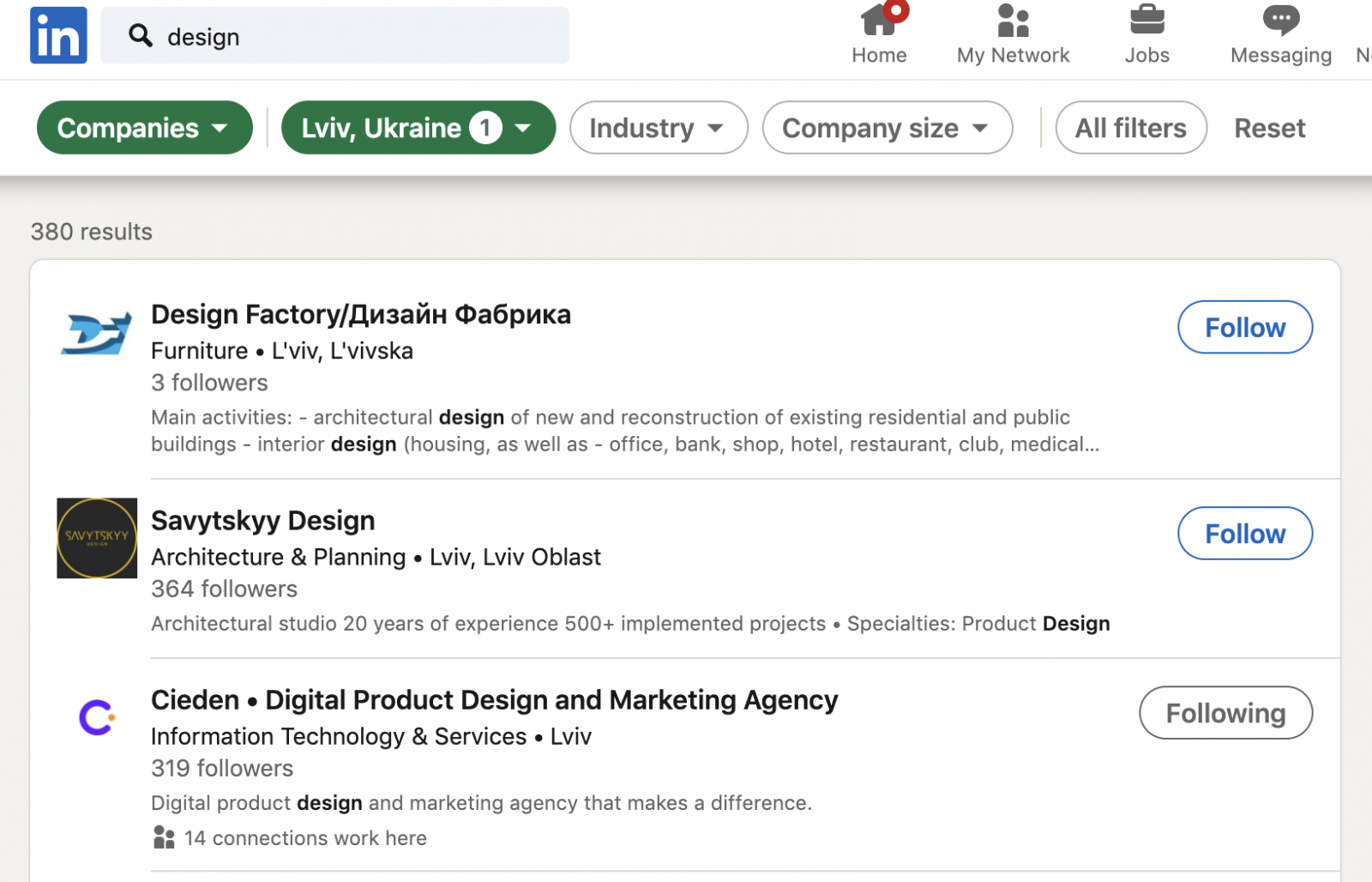 Last thoughts
Taking market temperature and understanding your audience are the key ingredients in a way to creating a successful product. Pay attention to detail, document the whole process, share it with your team and all the stakeholders. Help them to keep an empathic approach to your product and audience.
Have a great time conducting research. If you will need professional help with it, feel free to contact us.