Intro
It is not a secret that education is one of the most crucial parts of Cieden's culture. We believe in continuous self-improvement and spend at least 20% of our weekly time learning and trying new things. It has become a habit, a part of our daily routine, and we truly believe that constant learning is the only way to become better than average. We are ceaselessly striving to become the best professionals in our field, constantly level up our skills, and create successful and winning products.
There is always room for improvement in our industry, and a great way to be well informed about the latest trends and innovations is by reading books.
"Short articles are good as they are up to date, fast, and easy to consume but only books can give you the confidence and structure you need to understand a wide topic." – Yuriy Mykhasyak, CEO & co-founder at Cieden
There are literally tons of works on UX/UI design, product design, business analysis, usability, and much more, no surprise it is so easy to get lost among the amount of information coming at you. We understand that it can be a little overwhelming to narrow down the search and choose your books wisely, focusing on the examples which are worth reading. The question remains open. What should I read next?
Among the huge number of books we have read, here are the ones which undoubtedly helped us grow as designers. These are must-read works that deserve your attention, and we are pretty sure they will contribute to anyone eager to beсome even better in his career.
Here we go.
1. The Mom Test by Rob Fitzpatrick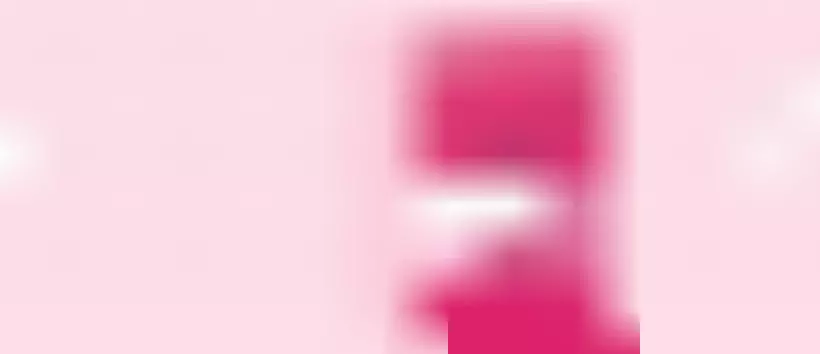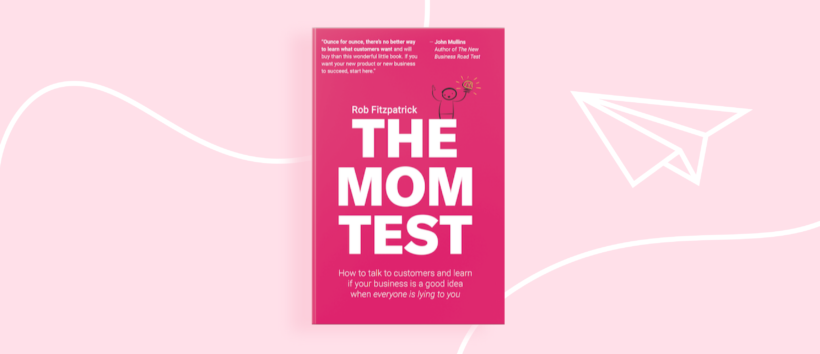 No wonder I begin our list with this book. The Mom Test has won the love and affection of many people, and our designers are no exception. Rob Fitzpatrick gave us a quick and powerful guide on how to evaluate our business ideas and get more out of user interviews.
This book answers hundreds of questions you may encounter on the way to the success of your product: How to be sure that your business or feature idea is actually good and how to introduce it? How to figure out whether someone is really going to buy? How to ask good questions and prevent people from lying? Have no doubts that here you will find these answers. This book is going to reveal to you which directions customer conversations may take and how to perform them better.
So, if a great new idea shows up in your thoughts and you want to figure out what your next steps should be, this book is definitely for you.
"The Mom Test changed my basic understanding of how to conduct user interviews, which questions to use, and which to avoid. I learned how important psychology is in question formulation and how it affects the received response. Often I see how my team leader uses this knowledge in practice and what results they produce, its amazing!" – Valentyn Skliarov, UX/UI Designer
2. Inspired: How to Create Tech Products Customers Love by Marty Cagan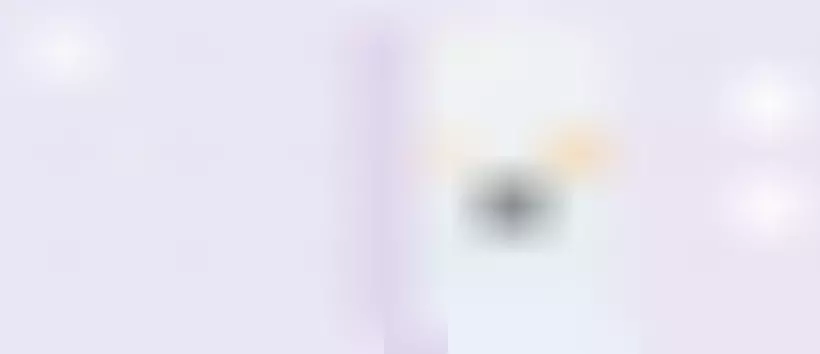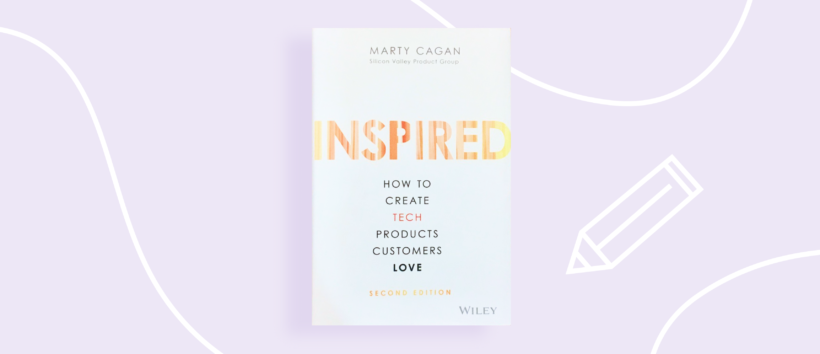 Product Managers are the primary target of this book. However, it is extremely useful for designers, user researchers, and data scientists that work in close collaboration with the product managers and teams. Marty Cagan created one of the most valuable resources for technology product managers by giving great insight into the best practices, techniques, and skills of the most successful companies of this day and age. Amazon, Google, Facebook, Netflix, Tesla- what distinguishes them from thousands of other less successful companies?
Inspired is an invaluable resource that will improve your chances of building successful products that your customers will love through clear, step-by-step guidance and advice.
"Fall in love with the problem, not with the solution. That's the book that you want all your clients to read. You'll learn about: what makes a great product manager, why your product may fail and which risks to tackle first (value, usability, feasibility, and business risks), why customer discovery is crucial, why check analytics and industry change, how to set the right KPIs and OKRs, what questions to ask yourself and how to test assumptions, etc.

This book is a terrific read with plenty of takeaways." – Iryna Serednia, Design Director, co-founder
3. Designing with the Mind in Mind: Simple Guide to Understanding User Interface Design Guidelines by Jeff Johnson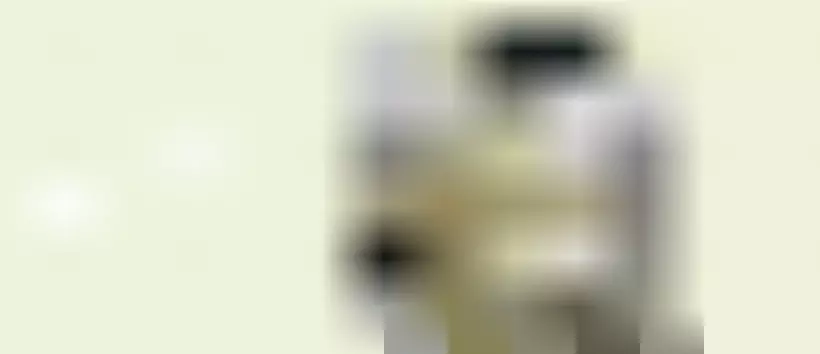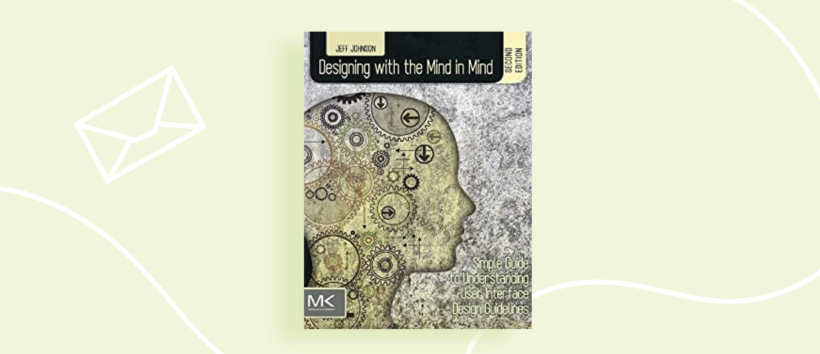 It is safe to say that this book is chock-full of useful information. Jeff Johnson develops the idea that user-interface design guidelines are not just lists of rules to follow. These principles contain much more sense and background than can be imagined at first glance.
As you may have guessed from the book title, the focus of this work is to take a deep approach to the neuroscience and psychology in UI design, show readers how humans perceive the world, and how we can use this knowledge for our sake while building our user interfaces. The book is full of proper and improper design examples, figures, explanations, and provided recommendations on how to do it right.
If you want to learn more about how users make decisions and choices, Designing with the Mind in Mind, is a great choice.
"The scientific approach of this book is what I enjoyed the most. The author shows us specific psychological studies that have resulted in the greatest impact on user interface design. At the end of each chapter, Jeff Johnson lists real-life examples that explain how to interpret given information. This book also describes the neurological aspects and the principles of the brain and nervous system. This explains why users interact with the interface the way they do.

Many of the principles described are intuitive, but after reading this book, you understand why it works the way it does, and I think this is a big plus for the designer's fortune." – Daria Zhiltsova, UX/UI Designer
4. The Design of Everyday Things by Donald Norman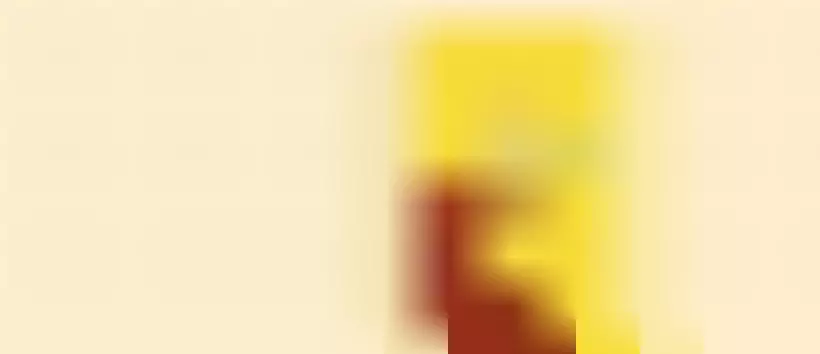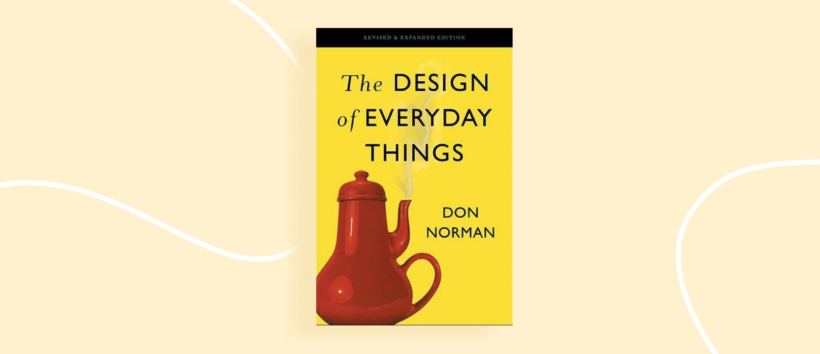 I'm sure you've heard about this book before, and I'm pretty sure many of you have read it. If not, here's another push to finally get started. Do you notice the things that surround you? Or do you ever catch yourself thinking about the importance of design in everyday products?
Don Norman ingeniously demonstrates to us the principles of good design, which are classic and timeless, on examples of things we use every day. Reading this book you will learn how to make designs usable and create products that will delight your customers. The Design of Everyday Things shows how a good design guides your user to the right action on the right control.
This work is a must-read for every designer, regardless of the area you work in, whether it is web design, user experience, product, or interior design.
"A fundamental book and a must-read from one of the fathers of UX Don Norman. The book about a proper mindset for those who are considering UX as a career choice. The author insists that we designers are designing for people, not to fulfill our creative ambitions and self-esteem. This book will bring a lot of pain to your life, as you will start seeing all design inconveniences around in the hotel room, in the bus, using your microwave, browsing websites, and using apps on your phone. However, it is worth it because it is a healing pain. These are 368 pages that will broaden your mindset and will shift your paradigm.

I highly recommend it to everybody interested in usability." – Halyna Kovalisko, Design Director
5. Refactoring UI by Adam Wathan and Steve Schoger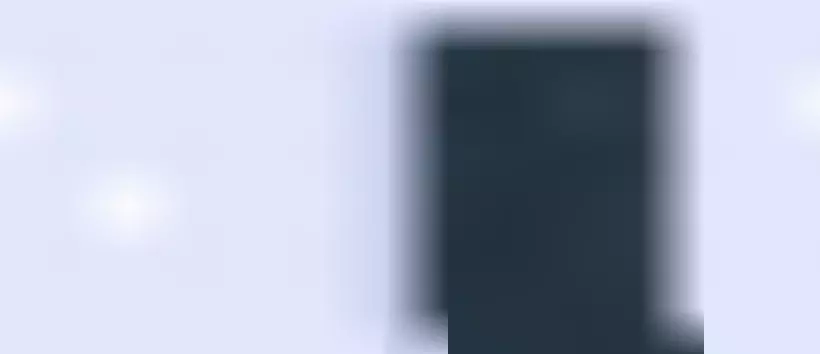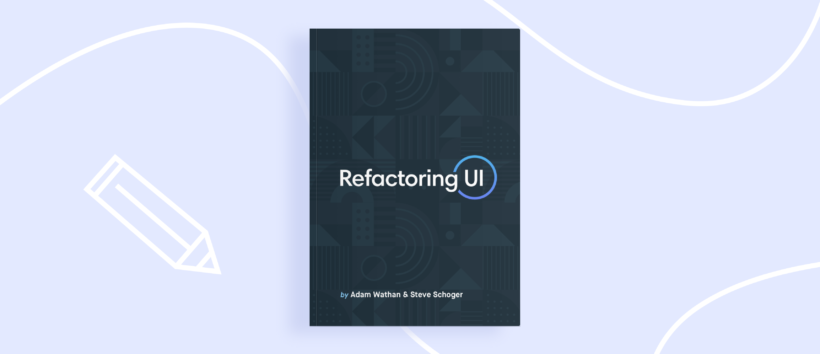 This book is by far one of the most practical and valuable resources for any UI designer. Wathan and Schoger wrote it primarily for developers, that is why all concepts and techniques are explained in a clear and easy-to-understand language.
They split the book into short and easy-to-read chapters, with practical tips and real examples. Here are some topics you will find here: building a color theme, layout and spacing, depth and shadows, text designing, and much more. This book teaches the basics in a more convenient way, for that reason, it would be especially useful for any designer who is just starting out.
Refactoring UI is a perfect guide for those who want to learn UI design from scratch, and we strongly recommend you give it a try.
"For me, Refactoring UI was a kind of introduction to the world of design. It not only showed the dos and don'ts of using patterns, but it also taught me to notice design imperfections. This book develops the ability to critically evaluate interface designs and make them look not only beautiful but correct as well. It also describes cases and examples simply and clearly. I think this book is a perfect choice for beginners." – Anastasiya Mudryk, Associate Product Director
6. Don't Make Me Think: A Common Sense Approach to Web Usability by Steve Krug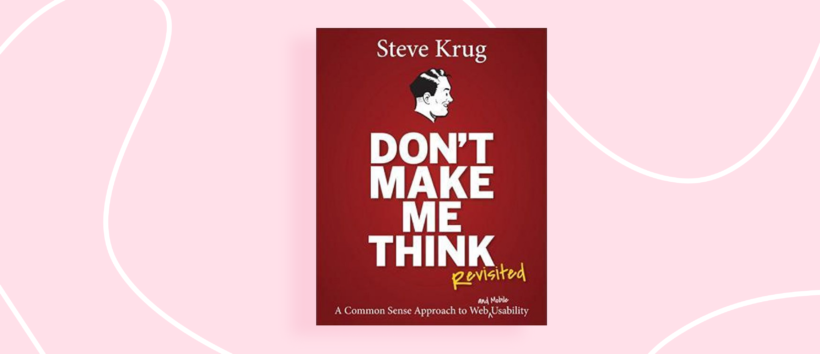 This book can be easily called a "classic" on web usability and it is hard to imagine a person who hasn't read this masterpiece before. If you are someone who is working in Web Design and still haven't read it, then you know which book to add to your list next. It will be extremely helpful not only for designers, but developers, product managers, marketers, CEO's and for any person with "UX" in their job title.
In his book, Steve Krug describes basic UX principles and the key points of website usability in a clear and simple language.
Don't make me think is about understanding human psychology and designing products that people understand easily, products that don't make them think.
"This book is simply amazing. It's about basic practices and laws in web design. Even though it was published 20 years ago, its key ideas and examples are still relevant, and I'm sure they will remain so for a long time. The very title of the book speaks of the primary purpose – do not make the user think." – Andrew Sapkowski, UI Competence Manager
7. The Wall Street Journal Guide to Information Graphics: The Dos and Don'ts of Presenting Data, Facts, and Figures by Dona M. Wong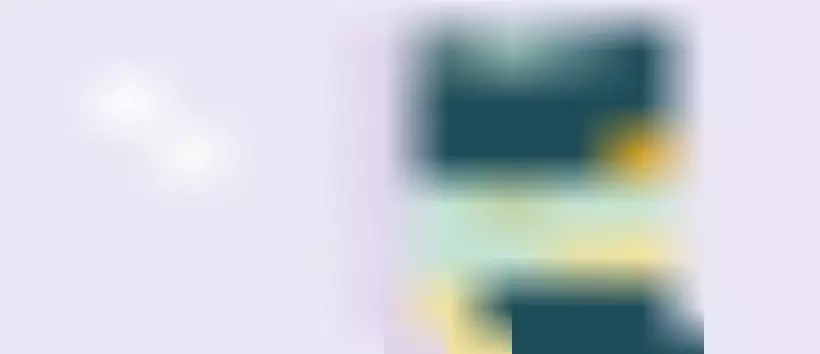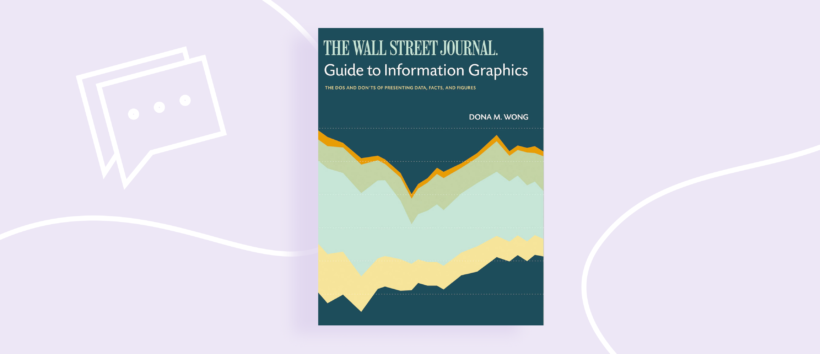 Dona M. Wong, a student of the information graphics pioneer Edward Tufte, committed her entire life and career to bridge the analytical and the visual world. She describes her vast experience and knowledge of graphics information in The Wall Street Journal Guide to Information Graphics: The Dos and Don'ts of Presenting Data, Facts, and Figures, a book that can easily be called an invaluable resource for students and professionals in all fields.
The book itself comprises a series of mini-workshops with illustrated examples and practical advice on how to make information graphics the right way. Here you will learn how to choose the best chart that fits your data, how to use color efficiently, and how to execute clear, concise, and intelligent graphics.
We highly recommend this book to anyone who is looking to learn how to make confusing and complex graphics look simple and engaging.
"This book explains very clearly which mistakes to avoid while designing graphics and how to do it right. I like that visualizations support everything described here helping you to better understand and remember the information provided. Also, it depicts which charts are better to use in specific cases. Definitely, one of the best books I've read, and I'm sure you'll find a lot of practical and useful advice here." – Nazar Sasovets, Lead UX/UI Designer
8. About Face: The Essentials of Interaction Design by Robert Reimann, David Cronin, Alan Cooper, Christopher Noessel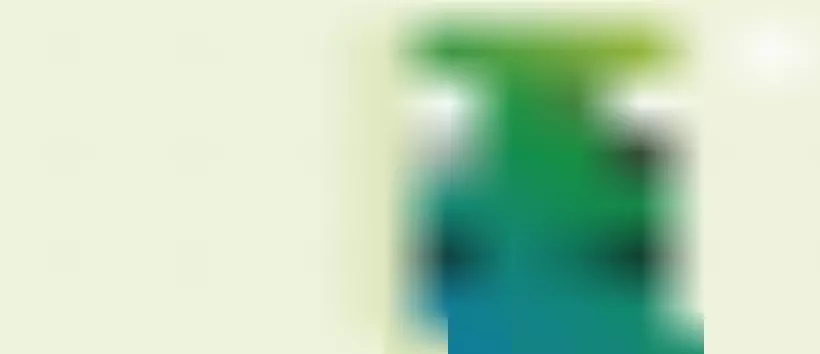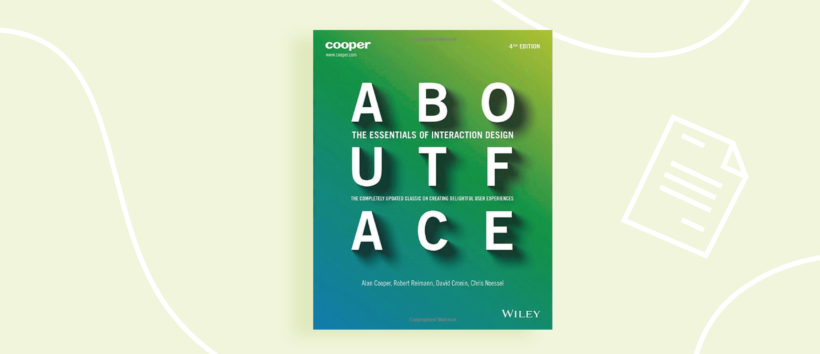 Yes, we know that this book is quite thick and a little wordy. This likely stops many people from reading it. But we are sure if you put a little more effort and time into reading it, you'll never regret it. About Face covers the essentials of interaction design. This includes everything from conducting user research to defining your product using personas and scenarios. Focus on the user's goals, not the product's goals — that's what this book is about.
This book has certainly helped us in our work, and we hope that you will also be able to learn a lot of useful information from there and become a more effective designer.
"About Face is a rather difficult book with a tremendous amount of theory. Designers rarely read it to the end, as most prefer works that are lighter in style, motivating, or in the form of a game. For me, it is more like an encyclopedia which I use when I lack knowledge or can not solve a problem qualitatively. In such cases, I open the corresponding section and find the answers to questions that interest me. This book is a great tool with tons of useful information." – Iryna Sofiian, UX/UI Designer
9. Web Form Design: Filling in the Blanks by Luke Wroblewski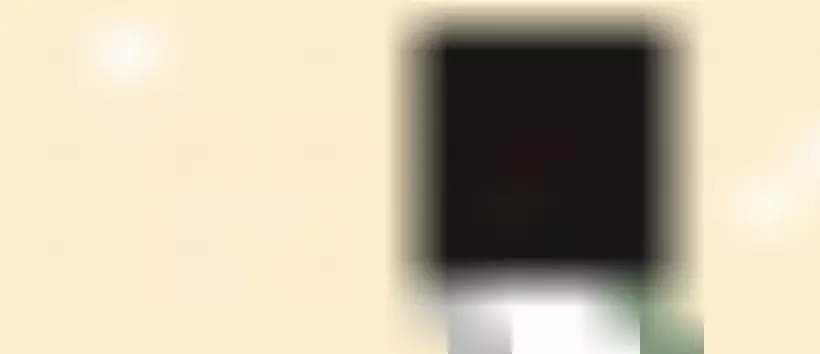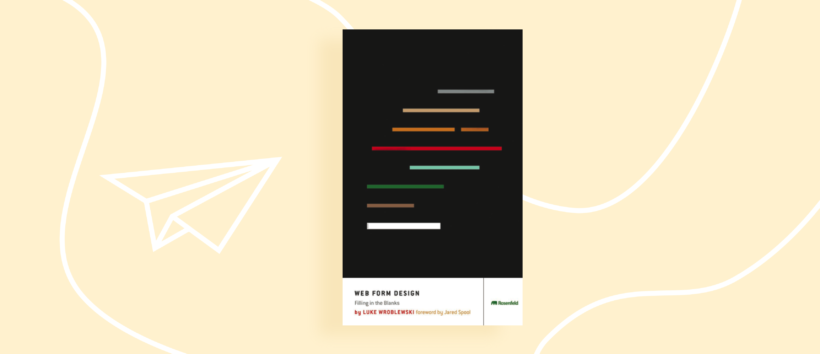 Forms are everywhere, and we certainly cannot escape them. They are a necessity (not an attractive one, right?) for nearly any application you may touch. How to make filling out forms a pleasant and engaging experience, without annoying your visitors? Luke Wroblewski has written a book that will tackle and solve any question you're likely to encounter while designing, building, and implementing web forms.
Web Form Design: Filling in the Blanks is a must-read for anyone who is making forms online: for every web and graphic designer, for the developer, project manager, or usability researcher. It is an excellent guide full of practical advice and actionable solutions for both novice and seasoned designers.
So, if you haven't heard of Luke Wroblewski and his famous work before, it's exactly the right time to get acquainted.
"It's a super practical and easy-to-read book about forms we design almost every day. It bases most insights on tests and research. So, after you read it, there will be almost nothing you don't know about forms." – Yuriy Mykhasyak, CEO & co-founder
10. Lean Startup by Eric Ries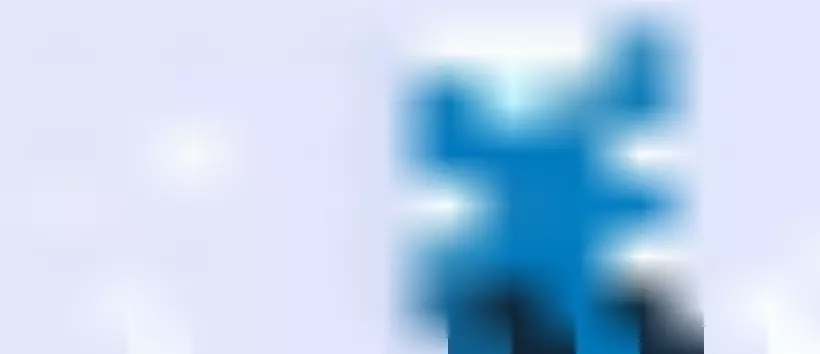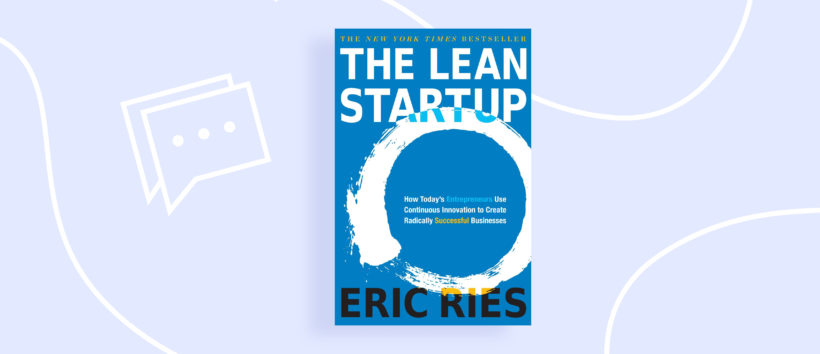 There are many uncertainties when it comes to launching a new product. That is why many businesses fail without achieving success. Eric Ries strongly believes that startup success is not always synonymous with a great idea; instead, it is about following the right processes. In his book, The Lean Startup, he answers the fundamental question which interests every entrepreneur: how to build a sustainable organization around a new product or service?
Having the right process to follow and stick to it will prevent your startup from failing. The lean startup approach aims to determine which is the correct path forward. The crucial advice is to implement projects that are based on fundamental hypotheses that are testable.
It is one of those books which provide actual value and change the way you think about business and innovation.
"This book is a must-read for startup entrepreneurs. It describes a methodology that allows you to quickly create products and test the business model for viability. The primary principles that I can highlight are: feedback of the real users is better than an assumption, and flexibility to changes is better than careful planning. The whole idea of this book is to teach entrepreneurs to build a small version of a product (not a spaceship at once), analyze what happened, and collect feedback. After that, based on feedback, decide whether to continue working on this product or there is a need to strategically change direction." – Olesia Havryshko, Business Analyst
Conclusion
This is just a short list of books that we have chosen from the infinite amount of information available to us today. But we are quite certain that exactly these works will teach every designer to understand people and make better decisions. Since they once taught us.
I hope you have found this article helpful in your search for the next read.
Happy reading.