Intro
I'm sure you are familiar with the situation of having tons of content ideas and creativity but are unsure how to implement them. Well, marketing strategy is a perfect place to start.
Nowadays, content is 20% of marketing activities that make 80% of the result. Social media are powerful channels that promote your product, attract new customers, and help achieve your marketing objectives. With a marketing strategy, you'll make content work on your product and bring significant results.
A marketing strategy will help you understand your objectives, primary channels, target audience, and, as a result, relevant content that will accompany your customer through the buying funnel. A properly built strategy helps better understand your customers needs and tailor an appropriate solution for them. Sometimes business owners don't pay enough attention to content marketing and lose an opportunity to communicate with their audience and promote their product.
In this article, you will find a step-by-step guide on how to build an efficient, data-driven marketing strategy for social media.
What is a Marketing Strategy?
A marketing strategy is a long-term strategic plan that leads a business to attain its objectives, reach target customers, and achieve a competitive advantage.
It helps you see the bigger picture of your business marketing and move in the right direction. A data-driven strategy is based on the insights from the data of customers' behaviors (engagements, interactions, etc.) and improves further decision-making. It is built using such tools as competitive analysis, customer journey, unique value proposition, and a lot of user data. Even if some concepts sound quite confusing, don't worry we are here to explain everything from a to z.
How to build your marketing strategy?
Step 1. Identify your target audience
The target audience is people who will most likely use your product, interact with it, or/and follow your updates. These are people you want to reach through your digital channels, and you can be confident that they will be interested. Identifying your target audience is an initial step to better understanding the needs and solutions of your customers.
A buyer persona is a description of one person that represents your target audience and embodies the characteristics of your potential customers.
To describe your target audience, you should include such characteristics as:
Demographics (age, location, gender, average income, etc.)
Interests (what brands he likes)
Job title
Preferred content type
Buying behavior.
Without understanding your buyer persona, you can spend a vast amount of resources on creating inefficient content.
Let's consider the buyer persona of IKEA — Sally. You should be familiar with Sally if you read about her customer journey in IKEA in our previous article.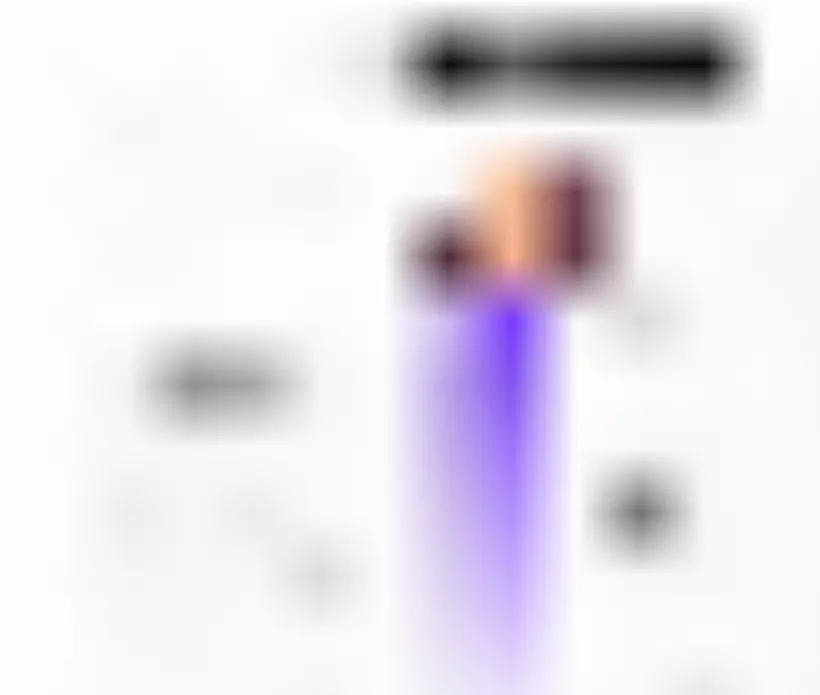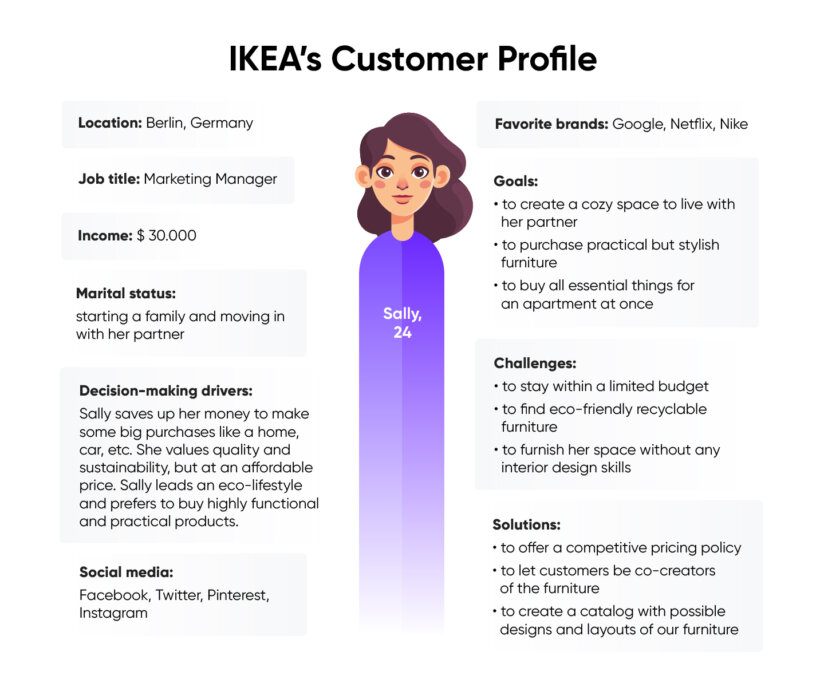 Sally has her goals and challenges, favorite brands, and content she likes the most. She has her pain points, and your product aims to fix them.
When creating a customer profile, imagine a real person who would use your product. Based on this, you could create resonating content to acquire and retain your customers.
Step 2. Set your marketing goals and objectives
At the beginning of the journey, you should know where your endpoint will be. Depending on your marketing objectives, you can form your specific marketing strategy.
Your business should have a goal. Ask yourself which marketing activity helps you achieve it? What you answer will be your marketing goal. To convert this into an objective, make it S.M.A.R.T. (Specific, Measurable, Achievable, Relevant, Time-bound). For instance, increasing sales by 10% by the end of the year is a simple example of a S.M.A.R.T. objective.
Below are some examples of marketing goals. Choose the ones that align with your business:
Sales Growth
Profit Increase
Average Order Value Increase
Customer Experience Improvement.
To track whether you achieve your objectives, you should define Key Performance Indicators (KPI). KPIs are metrics to track your goals' performance. For example, to check whether you increase sales, you can track Sales Revenue, Quote To Close Ratio, or Average Profit Margin.


Strategies don't love improvisations, so ensure you have a clear vision of your goals. Communicate your goals with the team to stay on the same page and keep moving towards the same destination.
Step 3. Conduct competitive analysis
Competitive analysis is a process of researching your competitors' strengths and weaknesses to find your areas of opportunities and field for improvement.
Competitors are not your enemies but the resource of motivation and inspiration. You can learn a lot from them. With competitive analysis, you can understand why your competitors perform well or analyze why they fail and learn from their mistakes.
To analyze your competitors follow these steps:
Determine who your competitors are.
Check out their presence on media.
Identify their positioning.
Find their most popular content.
Write down their strengths and weaknesses.
Perform S.W.O.T. analysis for your company.
S.W.O.T framework identifies your company's Strengths, Weaknesses, Opportunities, and Threats. It helps you understand which aspects of your business need more effort and which are areas for opportunities.
To stand out from competitors, form your Unique Value Proposition (UVP) a unique benefit that your product or service provides. For example, IKEA's UVP is to sell self-assembled furniture at affordable prices.
Step 4. Develop content plan
It is crucial to communicate with your audience regularly. Nowadays, with endless information on the Internet, it is easy to get lost. We recommend posting at least three times a week to your social media and create diverse content to engage more people with educational blog posts, case studies, infographics, podcasts.
By this step, you should know how to analyze your target audience and understand their content preferences. Experiment with different types of content and focus on whichever gains the most feedback from your audience. Don't forget about evergreen content the one that stays in demand for a long time.
To keep track of your postings and not let your content get out of control, keep your content plan in the content calendar.
Here are some content management apps you should definitely try out:
Hootsuite
Notion
Google Calendar
Trello
Buffer
Here is how Cieden's content calendar looks like: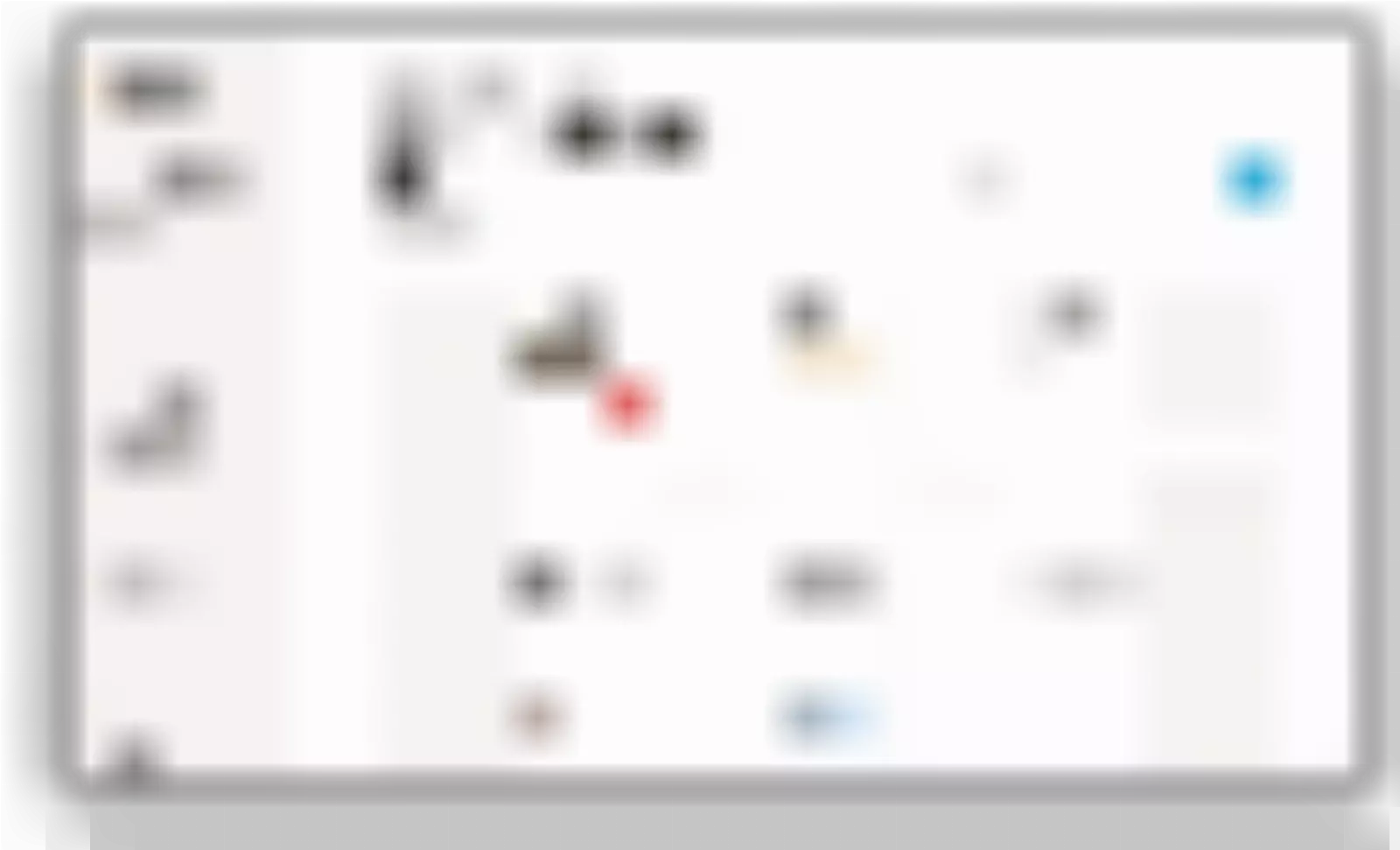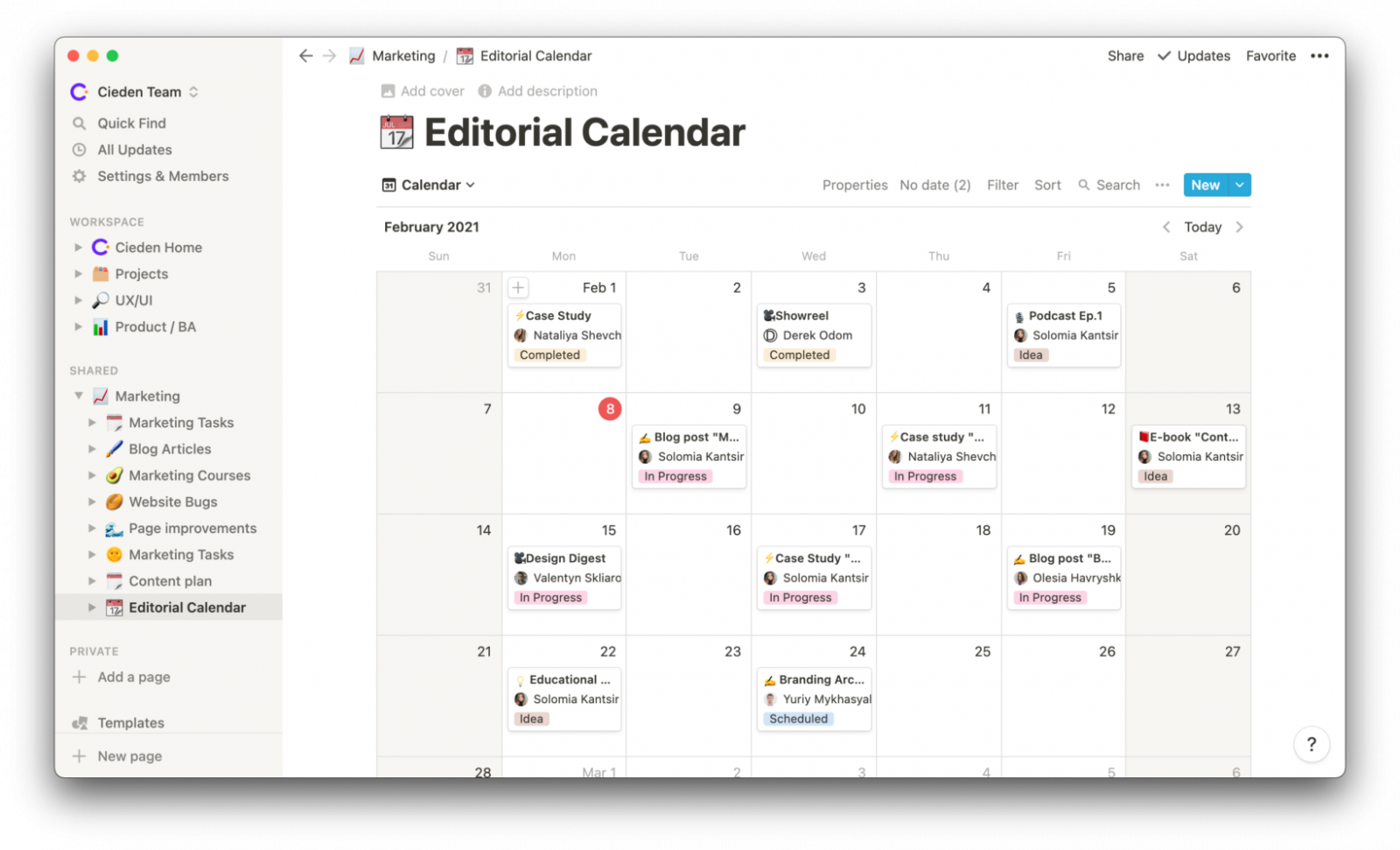 Make a regular audit of your content and check what is working and engaging many people, which networks are the most active, and don't forget about competitors.
Step 5. Estimate the results
You can understand whether your strategy is working or not only with the help of data. By setting the marketing objectives step, you should have defined your KPI's because this is where they come into play.
For example, your goal was to increase brand awareness and the corresponding KPI is your website traffic. You can use Google Analytics to check the number of users who visited your site and the source from which they came.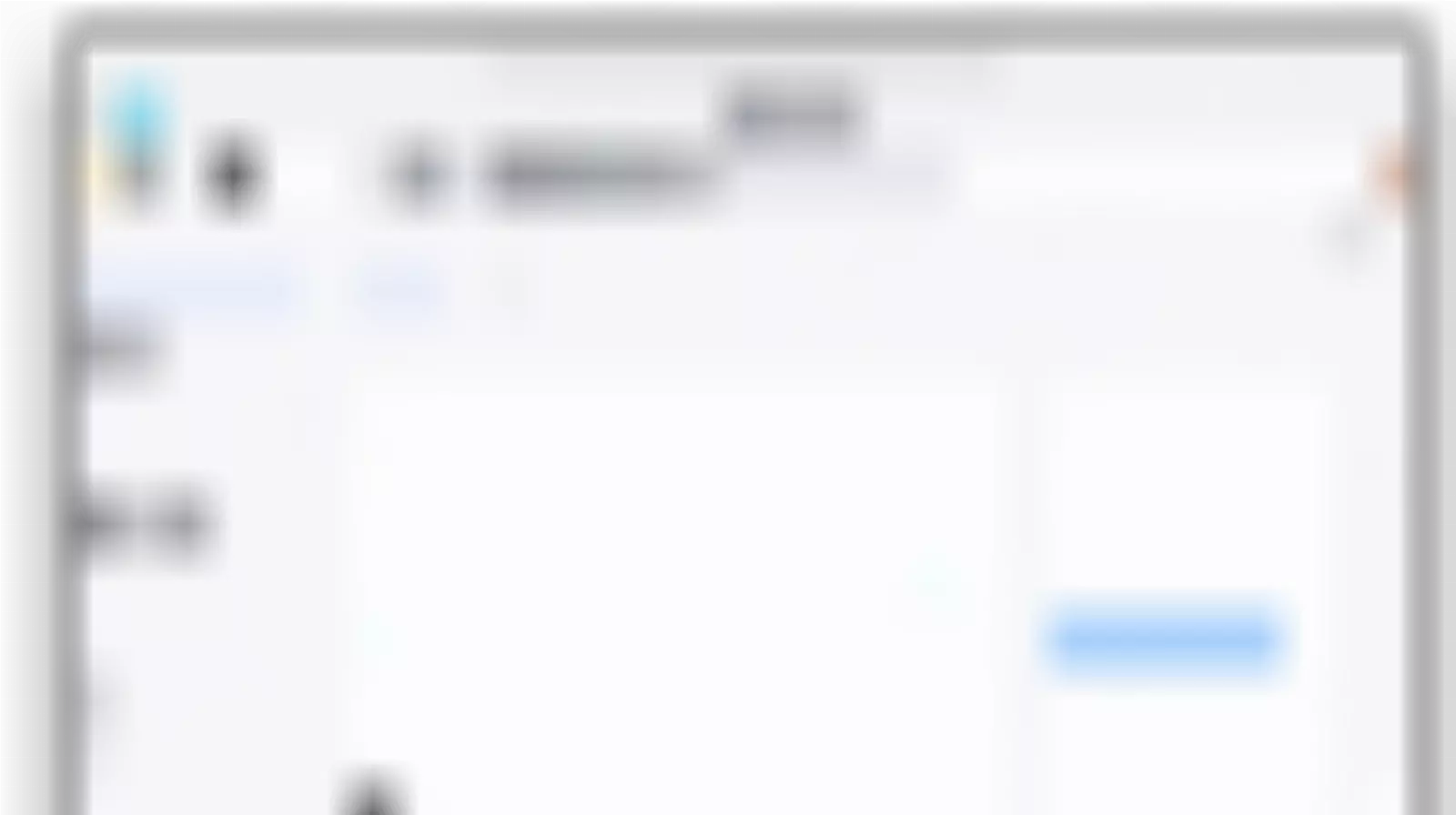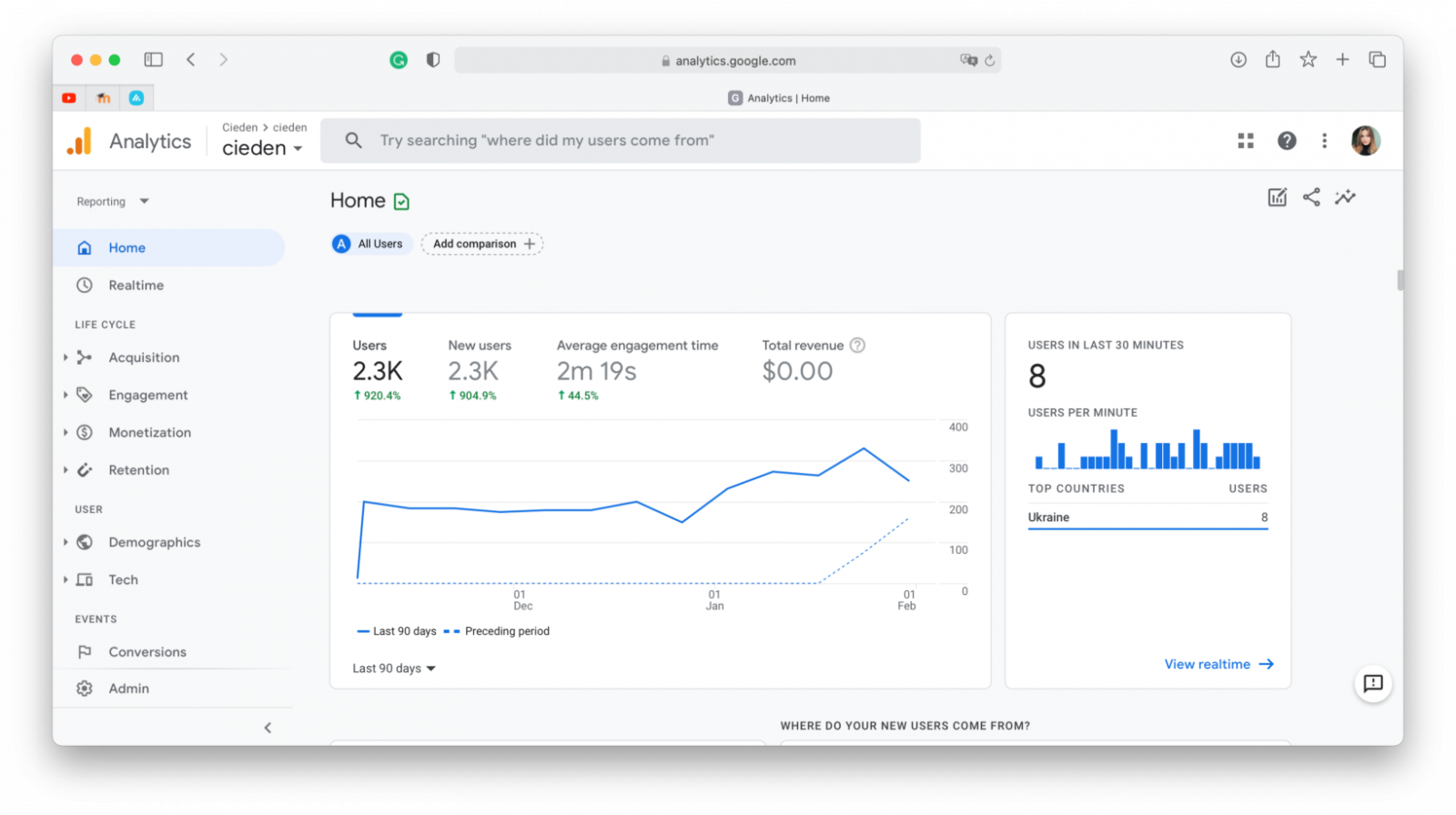 To track your content performance on social media, you can use in-built analytics tools like Facebook Analytics or Instagram Insights.
Here are some essential metrics to track your content success: