Intro
As you might have read in our previous posts, Cieden has been up to a lot of stuff recently; namely, we've got ourselves quite a few awards. We are happy to announce that Cieden was entitled "Lviv's no. 1 agency for design and creative in 2019" by Upwork. Being on the winning streak two years in a row is flattering as our hard work doesn't go unnoticed, and we celebrate this as every member's victory. It is also very challenging as it stimulates us to strive for better, do better, and create more, regardless of the market situation. And you know how we love challenges!
We want to thank our clients who trusted us with their projects – this award wouldn't happen without you, and we want you to know that our collaboration means everything to us. To our incredible team: thank you for living and breathing every project, for non-stop learning, client-orientedness, and competitive team spirit.
Since we love to coach others and like to contribute to the growth of a healthy tech ecosystem in Eastern Europe, we thought it would be nice to reflect upon our Upwork journey and attempt to pinpoint the things that have most contributed to our success.
Side note: after getting our first award from the Upwork team, we were curious to learn what criteria Upwork used to determine the top agencies, so we contacted them. The answer we got goes as follows: "There is a number of criteria, but the main ones are: earnings in the last 12 months, no suspensions, red flags, high-value client communication and feedbacks, projects, etc."
So.. without further ado, let's get into the meat of this article.
Our hard work
The most important thing that truly made us successful on Upwork has turned out to be simple and intuitive. No gimmicks or tricks; just hard work.
As you might see in the screenshot below, we do our absolute best on each and every project we get. Meeting and exceeding our customers' expectations is something that we strive to do no matter what, and it doesn't only apply to the work we do. It also applies to how we do it – being clear and consistent in our communication, pushing back on ideas that we don't think are the strongest, and coaching our clients throughout the whole process. That's what gets us these sweet five-star reviews, which is the key factor Upwork takes into account while ranking agencies.
It's worth noting that the interaction with our customers does not end when a project is finished. We at Cieden keep up a variety of activities aimed at retaining our customers, such as sending out feedback forms, newsletters, and special offers. These efforts may seem trivial, but they can work wonders in maintaining a positive and mutually supportive relationship with the businesses that we truly care for.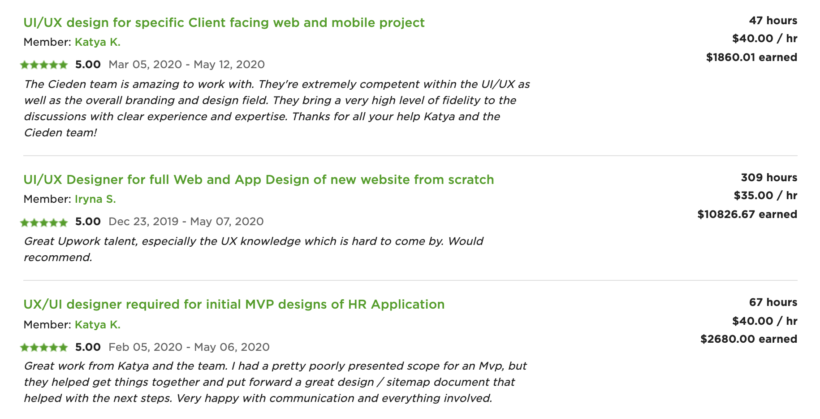 Our company description structure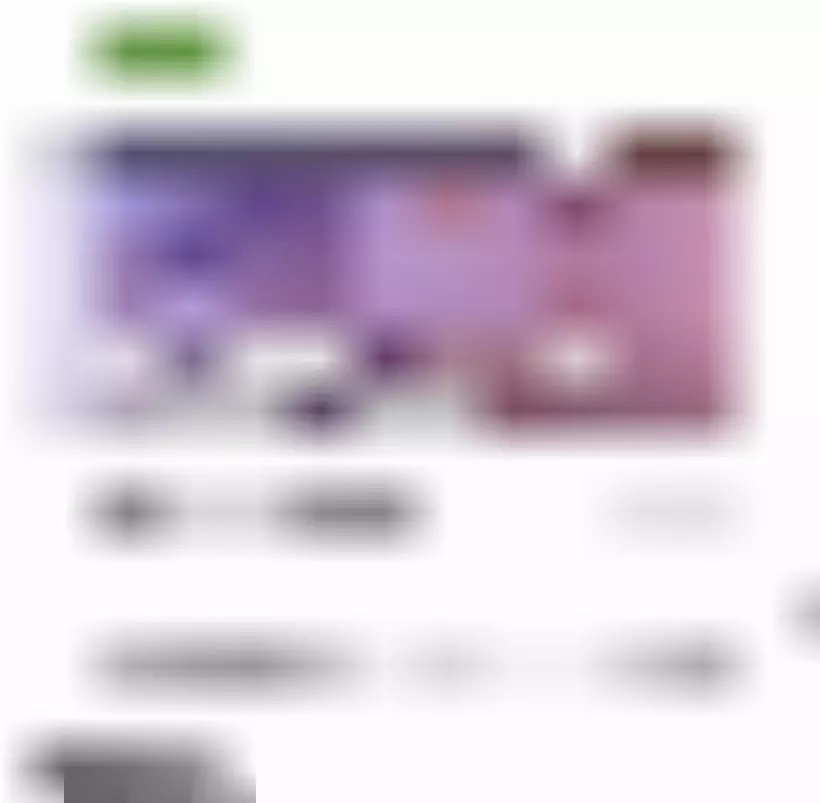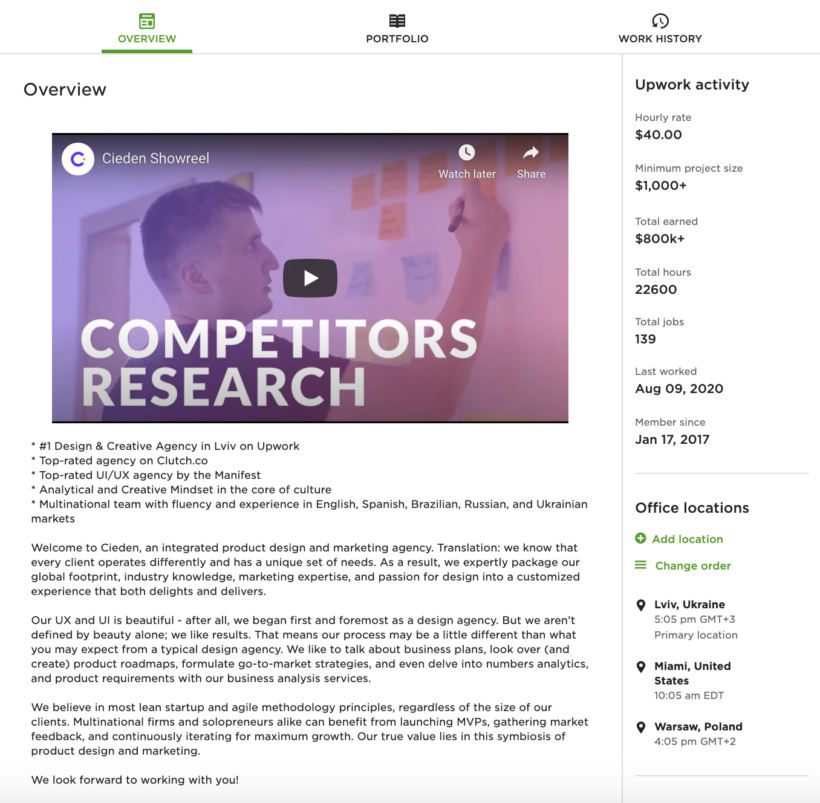 The first thing that prospective customers notice on our Upwork profile page is our video. By showcasing a custom video like this front and center, we make our team at Cieden much more relatable and friendly. This is very important when dealing with international clients because humanizing our team helps our leads see the people behind the agency, above and beyond a few text paragraphs that they may not even read through. While providing people with a glimpse into our office life is one of the main reasons we like to highlight our video, we also make sure that we explain what we do in a concise and visual manner.
After the video, we like to list the awards and facts we are proud of. Including information like this is a bit at increasing people's confidence in what we can deliver. After all, #1 agencies are doing something right and surely delivering quality work if they get these awards.
Once leads have now learned about our agency through the video and then seen the awards we've won, we're pretty sure that a lot of confidence has been built up about who we are and what we can deliver. Then, we proceed to provide more detail into the services we provide and our unique approaches. We really try to stress what makes us different, especially since there are so many potential vendors they can hire on Upwork. As you'll see on our profile, we think that a business and marketing-oriented approach to design is what we consider a key differentiator. Everyone has something unique to offer, so take some time to identify yours!
Finally, we list a more or less comprehensive list of the services we provide. This is useful for the leads who skim agencies' profiles to find something specific. Although Upwork does not provide many formatting options, you should try to layout your content in a structured and easily scannable way with the help of upper case letters, bullet points, etc.
Talents we allocate to Upwork
We have five business managers at Upwork: three designers and two marketers.
In our opinion, a good sales representative should have a crystal clear vision of what we do and how we do it. Sales representatives with no marketing or design background have a hard time estimating, selling, and providing quality consultations. That is exactly why we involve actual design and marketing project leaders during the early stages of pitching. Doing so both expedites the estimate process and smoothes over the transition for a lead to become a client, thereby avoiding future headaches.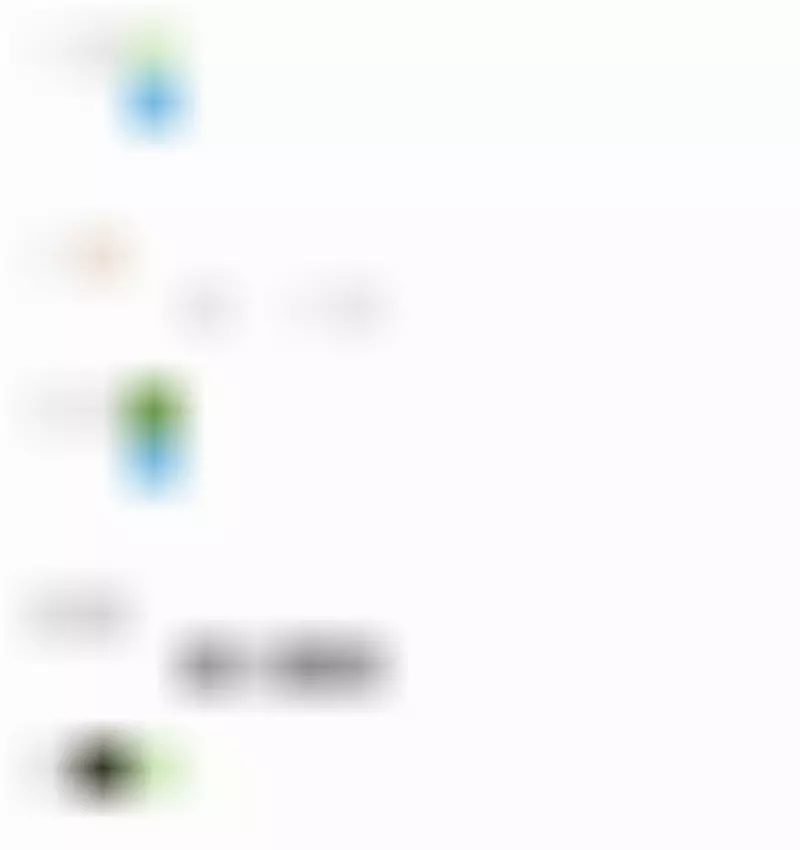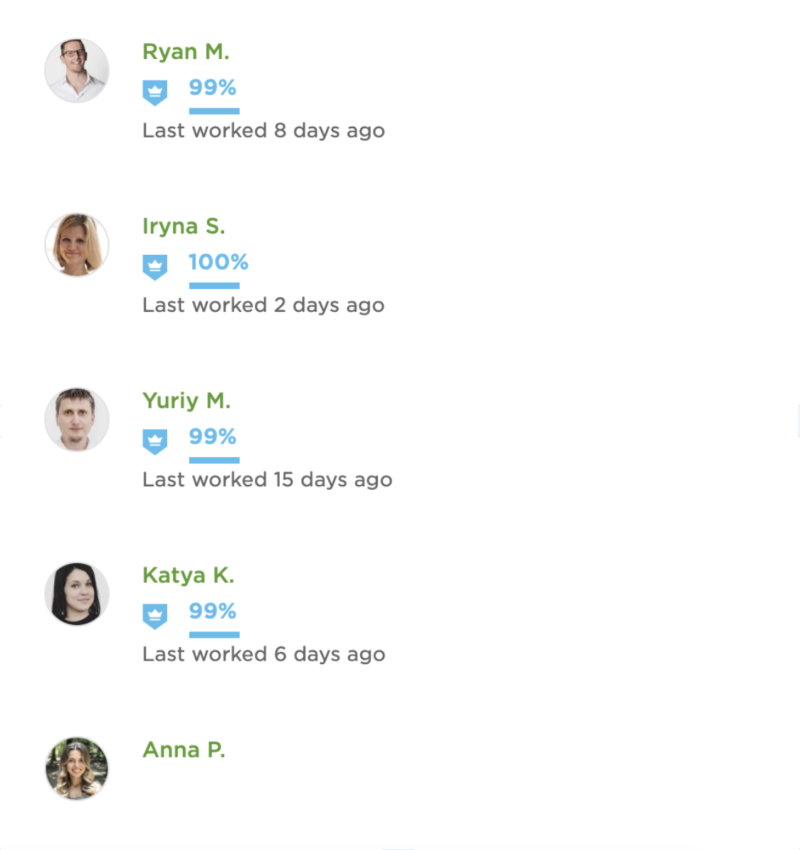 Did anything change after we got an award?
We're guessing you're all curious to see if the award boosted our sales. Of course, getting an award is quite pleasant and ego-boosting, but has it changed anything?
Well, take a look at the graph below. As of the time this article was published, it has been three months since we received the award. It might seem like a lot of time, but in our Upwork-lifetime-perspective, it is not a lot.
However, what we can see is that the total number of open projects at any given point in time has begun to climb more steeply. Does the award have to do anything with it? – Probably.
While many different factors can contribute to this uptick in business on Upwork, we are confident that the award – which serves as social proof – does help potential customers see our value.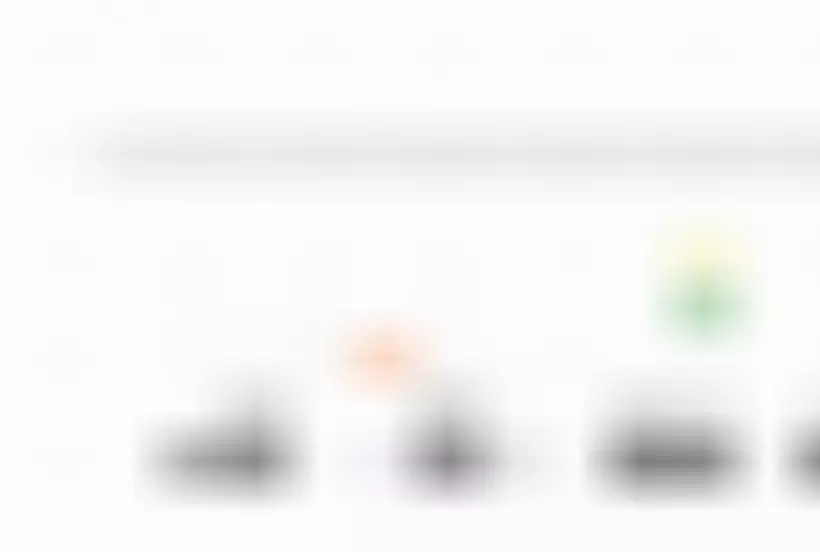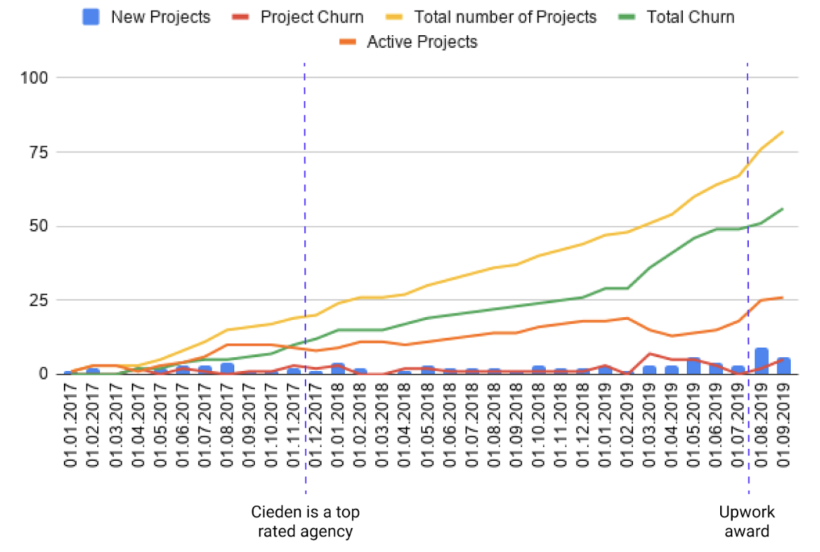 The approach that goes beyond Upwork
While this article focuses its tips on how to excel on Upwork, many of them are an integral part of everything we do. Simply put, it's our dedication to improvement, thoughtful treatment of our clients, and sheer hard work. These practices have yielded many great results not only on Upwork but far beyond.
Cieden is proud to be a regular on diverse agency ranking websites, like Clutch, the Manifest, and Goodfirms. We've dedicated a whole article to these accolades. Quite recently, though, we've also been recognized as one of the top graphic design agencies by topbrandingagencies.com, which couldn't help but delight us.
Conclusion
Awards aren't everything, though. There are numerous ways to recognize your company's success, celebrate it, and share it with potential clients so they see the incredible potential and value in working with you. For our Upwork leads, our success on the platform is a major feather in our cap.
And how about you, dear readers in Ukraine? What are the feathers in your caps? We'd be happy to celebrate alongside you and your accomplishments! If you'd like to share them or learn new ways to build up your professional competencies, you're welcome to drop by our sister company's event space, called Rist. Rist's lineup of workshops, masterclasses, presentations, and networking events will surely leave you feeling refreshed and ready for your next challenge!